First time in Spain? Let me introduce you to this amazing destination named Spain. The place is blissful of amazing culture and tradition. What Image do you get when you think of Spain?
Well, I think of bullfights, Muslim places, Cathedrals, and white structures. Long to go in this amazing place which is a mixture of an old and new tradition. The place is known for its city life on one corner. And the countryside life is on the next corner.
For first-time Travelers, I have listed amazing tips and top destinations in Spain.
Destination type- Best for couples. Best for Tourists. An ideal destination for families.
Spain is known for its- Cathedrals, Luxurious Living, Countryside life, Food, and Wine.
As a first-time Traveler in Spain, I have listed the best places to visit in Spain for you. When choosing these destinations for you I have chosen the top destinations of Spain.
Granada- Top city of Spain known for its history and culture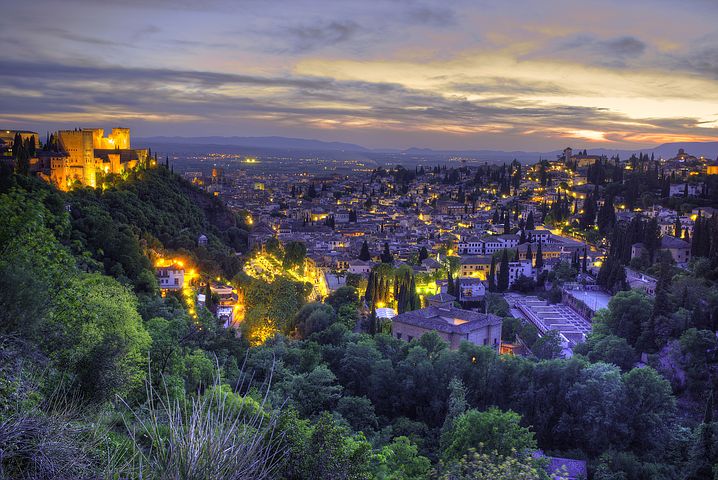 Firstly, Spain is a hub of amazing traditions and culture. Granada is a perfect destination for first-time visitors in Spain. As the place is a fruitful city with spectacular attractions and tradition.
Nightlife with culture and tradition is one of the most fun parts of Granada. Luxurious Gardens, beautiful markets, and Moorish architecture will hold you in the place for long.
The top attraction of Spain in Granada –
Alhambra- Moorish architecture which is considered the most beautiful architecture in Europe, Granada Cathedral- A huge dome cathedral with luxurious Gardens. Albaicin- Arabian Quarters which is home to the most amazing markets in the world. Spice market selling beautiful tapestries, wall hangings, teas, and spices. A must-visit place in Spain for first-time visitors.
Things to do in Granada, Spain- Snow skiing, Sledding, Cable Cab rides, Mountain climbing, Paragliding, Horse riding, cafes.
Madrid- A cosmopolitan city to stun you with it's charming life
As chosen perfectly for a first-time Traveler to visit in Spain. A very beautiful and lavish city in Spain. The city shines at night and its nightlife is the taste of a perfect European city.
Not just known for its city life. Madrid is the place where many Old and beautiful Architectures can be seen. All in all, a perfect place to visit Spain for the trip.
As the city is modern and traditional at the same time. It promotes a lot of social gatherings. Festivals, gatherings, events are enjoyed to the fullest in this city. Experience the nightlife with explicit Madrid. Madrid is one of the best places to visit in Spain for first-time visitors.
Top attractions of Spain in Madrid- Puerta del Sol- Known as the heart of Spain. A beautiful Plaza for gatherings in Spain. One of the best places to visit in Spain for a first-time Traveler. Plaza Mayor- A market with many cafes, shops, and markets. Royal Palace- Spanish Palace is one of the top attractions in Spain.
Things to do in Madrid, Spain– Street-singing, Bar Hopping, Cafes, Museums, Shopping, Churches, landmarks, zoos, parks, beautiful sceneries.
Mallorca- Beautiful Island of Spain
As of now the cities of Spain are serving with great architecture and nightlife. Here comes another must-visit place in Spain for first-time visitors.
The island serves the amazing experience of beautiful seashores. The beaches are lined by pristine waters and shining golden sand. This amazing beach is amongst the best places to visit in Spain for first-time visitors.
The largest Islands of Spain are Spain's Balearic Islands. This beautiful beach will not let your expectations down. Lined with top mountains. This mountain brings lots of opportunities for tourists fun. Hilltop monasteries in Mallorca are a must-visit for every traveler.
Beaches are always engaged with water sports and local cuisines. From swimming to sunbathing the place is always so exciting. One of the must-visit places in Spain for first-time Travelers.
Explore the beautiful shrine of the sea with Mallorca. This place is ideal and one of the best places to visit in Spain for first-time visitors.
Top attractions of Spain in Mallorca- Palma de Mallorca- Colourful city with great architecture. Unique art galleries and cafes to show up. Soller- A beautiful village with scenic beauty and tons of fun things to do. Also known as Valley of Orange. Valldemossa- A unique village intricated with lush green mountains and old houses. Monasteries, old structures in the village.
Things to do in Mallorca- Swimming, water sports, surfing, Sunbathing, monasteries, Seafood treat, Old buildings, unique streets, and charming villages.
Barcelona- Most visited destination of Spain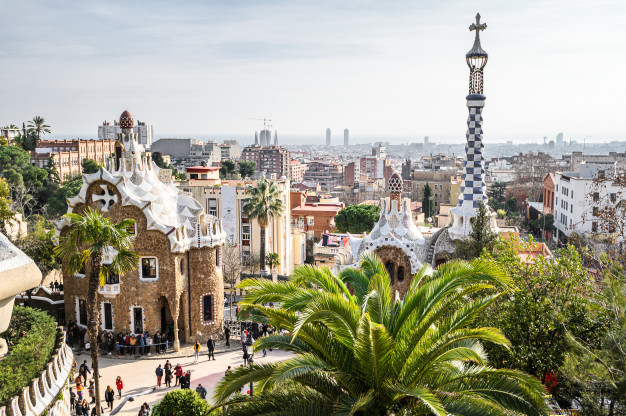 Most ideal place in Spain for first-time Travelers. Barcelona is the place in Spain which is most rated by Tourists. A total satisfying destination in Spain that gives European city experience. Visit Barcelona as it's perfect for the best places to visit in Spain for all.
A bubbly city that offers an amazing nightlife experience, a buzzing city with a superb shopping experience. The city is filled all over with beautiful churches, cafes, and restaurants. The Tourists visiting Barcelona tend to visit it again. This place in Spain is best for first-time visitors.
The city has a plethora of beautiful fountains, architecture, and fun activities to do.
Are you visiting Spain with your partner? Well, if yes. You can not have any other place other than Barcelona for an amazing trip for couples in Spain. You will get an unbeatable food option in Barcelona. The trip to Spain is successful because of Barcelona Michelin-starred gastronomic temples. The bars and drinks in Spain are world-famous and serves drinkers very well. Dive into the beauty of Barcelona with Sunrise points and tasty food cuisines. Most residents also recommend Barcelona over other places cause of its beaches and city life.
Top destinations of Spain in Barcelona- Sagrada Familia- Most famous attraction of Spain. Attracts over millions of visitors to Spain. A sky-touching huge structure that will halt your eyes. Majestic, huge, and most famous place in Spain. Absolutely one of the must-visit places in Spain. La Rambla- A bustling city with fancy streets. Plaza Catalunya, ports, and Beaches are the most famous attractions. Parc Guëll- A city which seems like a sort of amusement park. The designs and structures will let you go crazy about the place. Casa Batllo- A rich building in a European city. A beautiful dome that has amazing architecture. Famous as "House of Bones".
Things to do in Barcelona- Street shows, beaches, famous attractions, museums, plazas, Shopping, Amusement Park, Theatres, Shows, Hiking, Cable Cab ride, Underground lake, Black Madonna.
Seville- A place you should visit twice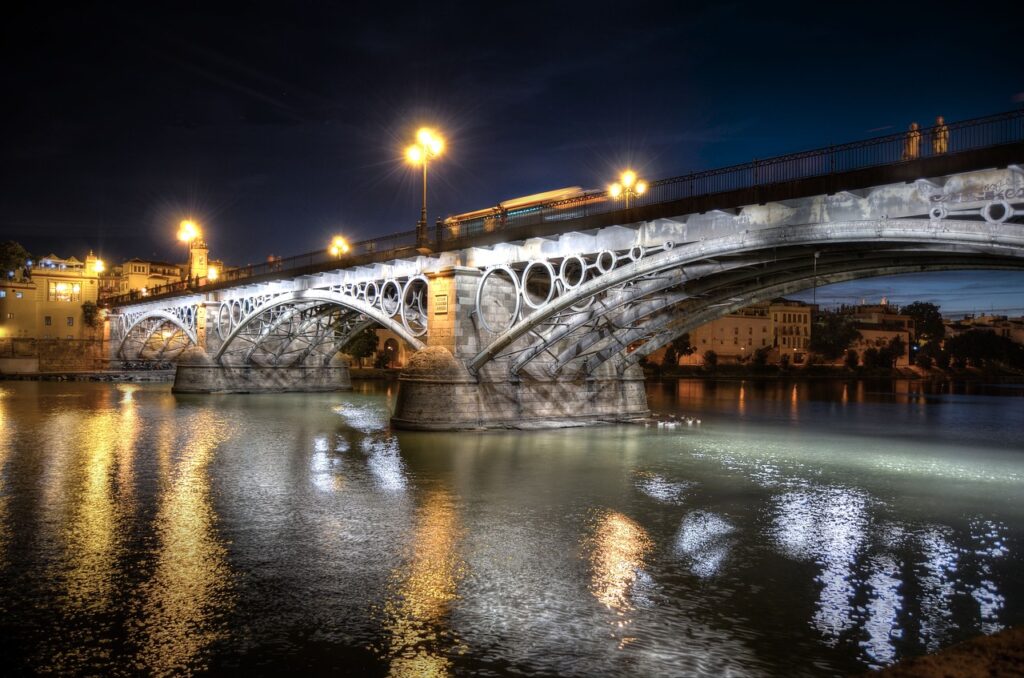 One of the top destinations in Spain that would let you think of visiting it twice. A buzzing city that is known for its explicit nightlife. Home to amazing beaches, buildings, and structures.
Do you know any Moorish Places? Well, Seville is blessed with amazing Palaces and luxurious Gardens. The world's largest wooden structure is located in Seville.
If you love clubbing, Seville is having a list of clubs to try your feet on. Foods, drinks, and clubs in Seville will make your Spain trip successful.
What's a fun game of Spain you remember of? Yes, bullfights. Seville counters such amazing bullfighting shows for tourists. Seville is one of the best places to visit in Spain for first-time visitors. Seville makes it one of the best places to visit in Spain for all.
Valencia- One of the Largest city in Spain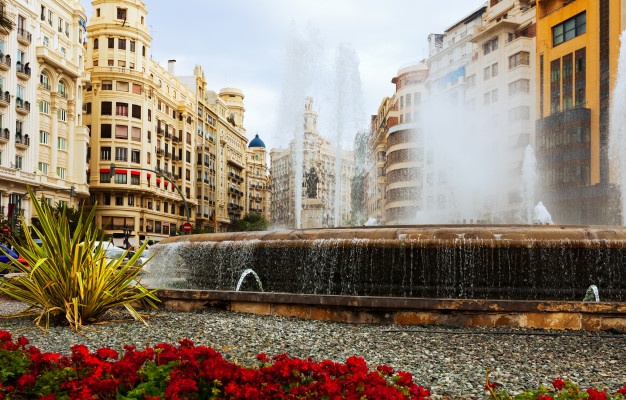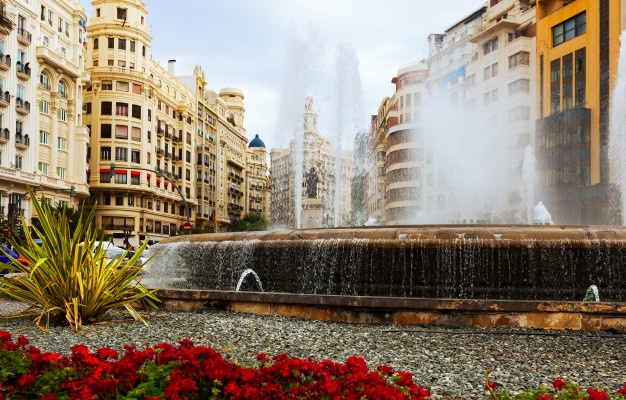 The top destinations list in Spain is not complete without this amazing place. If you want to bound with some Art and Science, Valencia is best suited for you. Renowned for its festival of Fallas Festival. Many luxurious structures and architecture can be seen in this city.
River Turia is amongst the most beautiful rivers in Spain. Beautiful gardens and parks hold many tourists here. One of the best places to visit in Spain for first-time visitors. Nightlife is decorated with colorful lights and nightclubs.
If you want to experience a European city's party then Valencia is an ideal destination in Spain for you.
San Sebastian- A dynamic destination for beach lovers
A golden beach with pristine water is the next destination in Spain for you. A majestic beach which has almost all exciting water sports. The city holds an amazing crowd with outstanding culinary traditions.
This coast of North Spain gets cozy and romantic in the evening. A lot of Tourists and couples come to San Sebastian for a wonderful evening. The place is lined with pintxo bars, restaurants, and fancy shops. Experience an explicit range of clubs and discos in Spain. Pintxos and appetizers of San Sebastian are most famous in Spain.
Many Jazz shows are held to entertain you. Dive into this amazing Destination of Spain to make your day.
Spain is no doubt one of the best places to visit in the world. Another top destination on people's nerves is Japan. Japan has got some amazing places and beauty like Spain. Japan is an advanced country with great cultural and religious values. Japan has Beautiful places you must watch. I have listed some of the best places to visit in Japan for first-time visitors.
Read more-
8 beautiful places to visit in California in 2021 
10 places to visit in Texas 2021-Texans Favorite
Best places to visit in Bangkok for Couples
What is Spain famous for?
Siesta. The Spaniards are probably the most laid-back people in the world and everyone knows that.
Mediterranean Beaches.
Call Alhambra.
Alcohol And Drinks.
La Sagrada Familia.
Spanish Football.
Paella.
La Tomatina
Is Spain a safe country?
In the 2020 Global Peace Index, Spain ranks number 38 out of 163 countries when it comes to safety and peace in the country. In Europe overall, Spain ranks 25 out of 36 countries. Violent crime is rare, and Spanish locals are usually very accommodating to tourists.
What makes Spain so special?
There is an infinite variety of food, wine, landscapes, towns, and customs. Every single town is unique. Spain seems to be a country with a thousand different countries in it. Every town has its own unique food, pastries, wine, and very interesting history and places to visit.
What is the best month to visit Spain?
The best time to travel in Spain is spring and fall because that is when good weather occurs. The months of April, May, June, September, and October are very good for travel. Summer is quite hot, especially in inland cities like Seville, Cordoba, and Madrid.
What is the cheapest month to fly to Spain?
February
The high season is considered to be June and July. The cheapest month to fly to Spain is February.
What is the number one tourist attraction in Spain?
The Sagrada Familia
1. The Sagrada Familia. The outstanding Sagrada Familia Basilica located in the city of Barcelona remains the most visited attraction in Spain and is arguably the best place to visit in Spain.