This hill station in Idukki has got amazing lip-smacking foods. A misty climate and south Indian cuisine are the best foods in Munnar and South India. The lush greenery landscapes promise you a leisure trip. Along with this best foods in Munnar will promise to fill you up with a love of Munnar.
From street Foods in Munnar to top-notch restaurants in Munnar servers well. The best foods in Munnar reflect the Culture and believes of South India. Every food in Munnar is focused on nutritional value and a filling diet. A new experience you will have with food in Munnar. It's served on Banana leaves for more added nutritional value.
Let's Dive into the list of the top best foods in Munnar to make your trip successful.
Idiyappam with Egg Curry- One of the most famous food in Munnar
Locally known as noolappam, is one of the best foods in Munnar. A dish made up of richness of rice, eggs and spices.
Idiyappam is the most important part of the dish. Idiyappam made of rice flour is shaped in noodles. The noodles or sewai are paired together. Curry is another important factor in this dish. No doubt it's one of the best foods in Munnar. The flavour of the curry goes well with Idiyappam.
If you are not so fan of egg curry you can opt for chicken curry. Any curry goes well with Idiyappam. Simple yet lip-smacking food of Munnar. To get most of this food of Munnar try this dish made by locals.
If you don't get any locals you can try this dish at post offices in Munnar. This place serves the most authentic Idiyappam.
Spicy Chicken Fry- Most famous food in Munnar
Chicken served on Banana leaves. Well, this would be something new for you. But not so new to South Indians. Coming to our top food in Munnar- Spicy Chicken Fry. As the name comes up the mouth is filled with water. The tastiest food in Munnar is Chicken Fry which has a unique taste.
Locally known as "Nadan Kozhi Varuthathu". The chicken is fried with the tasty spices of Munnar. Mostly onion, garlic, chilli and coriander are the main ingredients of this dish. The flavour is the one that is apart from it from other chickens. And the flavour comes from Munnar. The aura and the atmosphere makes it one of the best foods in Munnar.
Try this authentic, spicy food of Munnar to fire up your taste buds. Everything served in Munnar is mostly made with the goodness of nature. So, induce yourself in this another most famous food of Munnar.
Appam and Stew – Most tasty food in Munnar
Most easy-going food in Munnar. The one thing about the dish is that it will make you overeat. These soft and smooth rice pancakes are the best food in Munnar. You just can't resist this dish no matter what.
Light and paper-thin Appam are the most important part of this dish. Made with fermented rice batter. The taste of this Appam is salty and when dipped in spicy curry makes it all. Appam can easily go alone. But when you dip Appam with chicken curry or coconut curry it tastes best. No wonder this is one of the best foods in Munnar.
Munnar famous stew is served with Appam. Mostly chicken or meat is added in coconut curry. All in all a blissful blend of soft, light rice pancakes with stew. Appam is one of the best foods in Munnar.
If you are in Munnar the best place to try this dish is in Sarvana Bhawan. Make this dish easy to go for even travelling.
Puttu and Kadala Curry
Another wonder of Kerala's cuisine. Puttu is basically famous cause it's served in a cylindrical shape. This dish served on Banana leaves is one of the best foods to eat in Munnar.
A cylindrical shaped steamed rice and curry of Kadala are the best combination. The Puttu or the rice is blended with coconut shavings. This coconut and steamed rice give this dish a nutty and sweet flavour. Most people opt for this dish for breakfast. Kadala Curry is basically a curry made of Chickpeas and aromatic herbs.
The aroma of the Kadala and Puttu make you crave more for this food in Munnar.
Sweet and nutty rice along with spicy curry is the best combination ever. To hang up a little more on its taste you can side it with coconut chutney. A filling and nutritious breakfast option for you in Munnar. No doubt it's one of the best foods in Munnar.
Beef Fry and Malabar Parotta- Munnar's top food to eat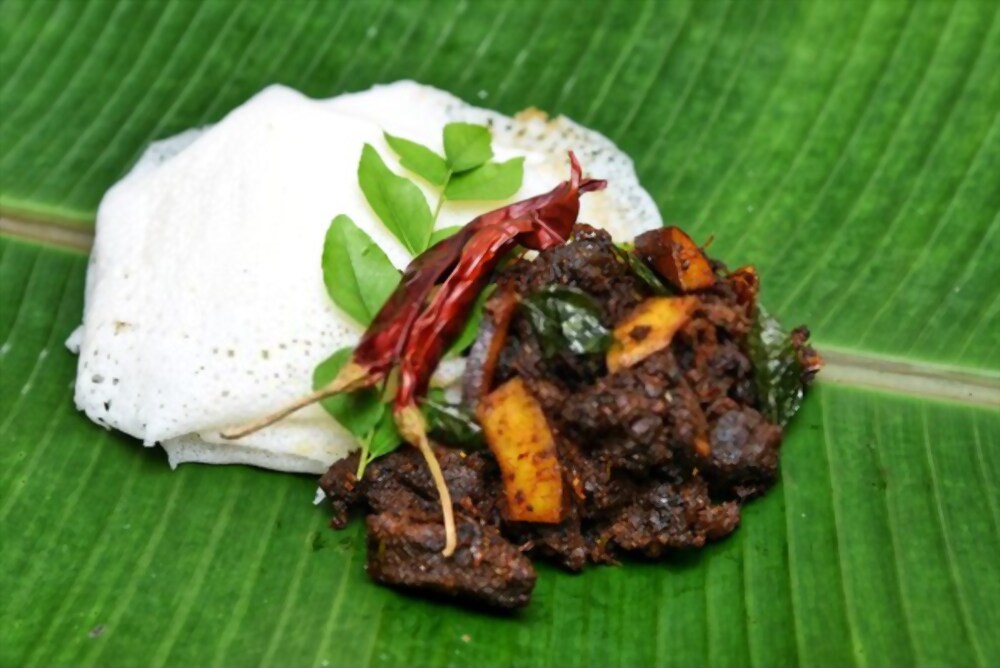 Beef in Kerala's style. Everything in this dish is tasty and yummy. To make sure you get the most of this best food in Munnar keep reading.
This mouthwatering food of Munnar is spiced with Kerala spices and gravy. Fresh beef is fried with aromatic ginger garlic flavours. Onion, Curry leaves, and other spices add to make this famous food of Munnar.
To make this dish tastier eat this beef Fry with Malabar Parotta. It's basically a Naan that is the tastiest companion of Beef Fry. The fine spices and Malabar Parotta makes this dish of the best foods in Munnar to eat.
If you are searching for the best places to eat Beef Fry and Malabar Parotta. For your convenience, I have chosen one of the best places that serve beef, Fry. It's the Rapsy's restaurant in Munnar.
Kerala Style Fish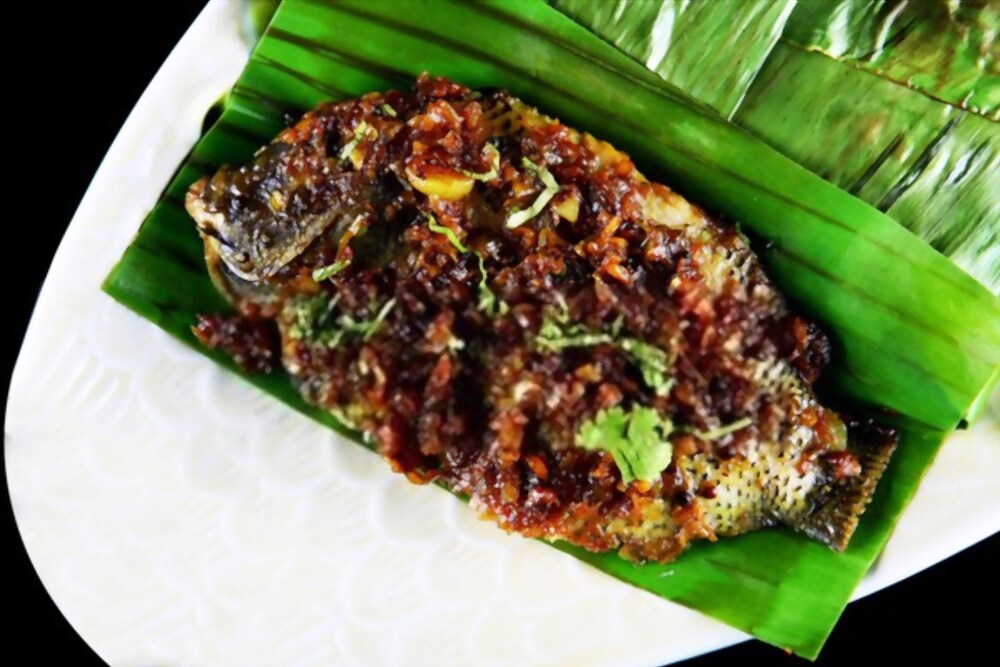 Are you a fish fry lover like me? Well, if so Kerala Fry fish is gonna be one of the best food in Munnar you tried.
This seafood delicacy when meets with the flavours of Munnar you can't afford to resist this dish. Flavourful and tasty fish fry which is now one of the best foods in Munnar to try.
Sensational and flavorful because of one of its ingredients. That one ingredient that makes it one of the best foods in Munnar is Kokum paste. Well if you don't know Kokum it's basically more like a sour fruit that adds flavour to curry. This sour and salty taste makes the fish fry even tastier.
Most famous food in Munnar for dinner and parties. Sensational and flavorful bliss with Kerala spices. Spicy and lip-smacking food of Munnar that you can't miss.
To make this dish more successful you should eat it with hot steamed rice or rice pancakes. To get the best taste of this dish tries out Guru's Restaurant in Munnar.
Prawns Curry- Tasty Curry food of Munnar
No doubt a prawns dish is amongst one of the best foods of Munnar. Love Seafood? Then definitely try this Kerala edition of Prawn Curry.
Simple and tangy flavours induce to make this Prawn Curry one of the most famous food in Munnar. A delicious dinner option that serves your heart and your tummy. A little spicy, tangy, and coconut soup curry that is best for all seafood lovers.
This curry is a bit different from other dishes of Prawns as it is a bit sweet and savoury. The curry leaves are added to the top to add more flavour to the dish. The spices and prawns go well. To make this dish successful the chef even adds a bit of jaggery in the curry. Jaggery ultimately gives the curry a sweet flavour.
If you are planning to have this wonderful food in Munnar try out the Mayabazzar market in Munnar.
Here you get an amazing experience of foods in Munnar. Similarly, Delhi is a place which is known for its amazing dishes and foods. We great love for foodies I have listed the best foods in Delhi for you. Check out NOW.
Read more-
10 world-famous best foods in ITALY- Italian cuisine
Best foods in Delhi to kick off your diet
15 best foods in the world you must try before you die
What is the famous food of Munnar?
The mascot of Kerala's cuisine, puttu is a steamed rice cake made with coconut shavings. It is served alongside kadala curry, which is cooked with black chickpeas and infused with aromatic herbs and spices.
Which is the tastiest food in Kerala?
Idiyappam With Curry. One of the famous dishes of Kerala is Idiyappam which is relished by most of the people. …
Erissery (Pumpkin And Lentil Stew) …
Puttu And Kadala Curry. …
Appam With Ishtu (Stew) …
Ela Sadya. …
Parippu Curry (Dal Curry) …
Dosa Ghee Roast With Kerala Style Sambar. …
Idli Sambar.
Is one day enough for Munnar?
A minimum of 3 days (full) is required to see Munnar. You cannot do anything in just 1 day. Great planning is required if you are planning a good vacation. Day 03 – Pothamedu area, viewpoints, Forest Flower garden, Hydel Park and afternoon visit to Chinnakkanal area covering Devikulam.
Which is better Munnar or Kodaikanal?
Munnar is the best place. Munnar still maintains its pristine beauty. Lots of beautiful sceneries and lovely spots for the young couple to discover themselves. Kodaikanal and Ooty have become more urban and commercialized.
Which is colder Munnar or Ooty?
Ooty will be extremely cold compared to Munnar, but you opt for it only if you want to do some activities with friends. As ampere suggested, since you don't want to roam around much and simply enjoy nature, Valpaarai is an excellent place to consider.
Is Munnar safe for couples?
1) Munnar: Munnar is the most south after tourist destination for both domestic and international tourists. In fact, you may struggle to get accommodation in Munnar or may have to pay a premium to get a room. … Top 5 attractions are Namdroling Monastery, Talakaveri, Abbey Falls, Dubare Elephant Camp, and Iruppu Falls.