Hands up if you are crazy about Asian countries! It's a box of surprise in every corner.
Travelling to Japan for the first time- Make these Places your Golden mark
Japan's an Asia's top country in terms of economy and power. An unusual blend of two ultimates- Past and Present. Well, you know it is beautifully correlated with its traditions and culture. If you visit Japan, you will see people's still wearing Kimonos on usual basis. Kimono is a beautiful traditional wear of Japan. They hail and enjoy their tradition and culture.
Be ready to eat food with chopsticks. As of a Asian country. You will have to eat food with chopsticks. Apart from food and culture Japan is a Heaven for travellers. Most beautiful places are spotted in Japan to stunn you. Nature, Architecture, malls, and perfect Infrastructure are highlights of Japan.
Japan is hard core fan of its music and anime. Apart from that, you will get entertained by top places in Japan.
In just 2 weeks you will fall in love with this country. I have listed some of the best places to visit in Japan for first time visitors. Also, dive into some instructions for first time visitors.
Tokyo- Must visit place in Japan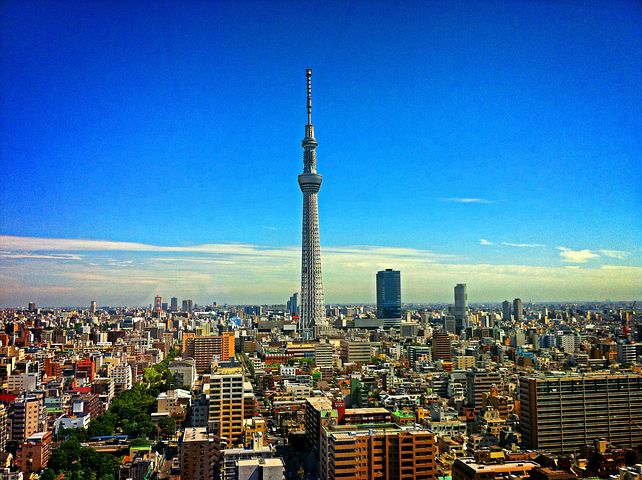 Anyone can guess this place. Tokyo is one of the best places in Japan for first time visitors. No doubt, a trip to Japan without Tokyo is incomplete.
Tokyo has most top things to do in Japan. The list is never ending. Food, culture, fashion, nightlife, tradition, malls, temples are best in Japan. So far, one of the best place in Japan rated by Tourists. The vibe of Japan is in Tokyo.
An hub of entertainment in Japan. Are you into fashion, Food or Pop culture. Well, Tokyo is a Heaven for you. Fashion street- Harajuku is best place to visit in Japan. Don't miss it. Also, the temple of Asakusa is another treat for travellers in Japan. One of the must visit places in Japan for first time visitors. Enjoy!
Top 5 hotels in Japan for you-
Top 3 things do in Tokyo, Japan
Kyoto- A total opposite of Tokyo
Another top destination in Japan. But, in Kyoto is the magic of Japanese tradition and culture. Kyoto is dotted by many wooden houses, temples and beautiful gardens.
Many Buddhist temples can be seen in Kyoto. Kyoto is one of the best place for Tourists in Japan for culture lovers. Most fun part is the cuisines and traditional dining. The dining is decorated by kaiseki dining and geisha.
Kyoto is an amazing destination of Japan for nature lovers. World famous shrine sides in Kyoto. Shrine Fushimi Inari-taisha Shinto is the most famous attraction of Japan.
Kyoto has one of the most healing aura that will make you fall in love with Japan. Check out the most amazing things to do in Japan.
Top 5 hotels in Japan-
Top 3 things to do in Kyoto Japan-
Mt. Fuji- A hub for adventure freaks
Have any adventure freak in your group? Mt. Fuji is ideal for you if you have a adventure lover in your group. Hakone is one destination near Mt. Fuji. Hakone is a beautiful and serene place with beautiful mountains.
Many activities like Trekking and Paragliding are entertained here. Mount climbing is a very famous sport in winters. Mt. Fuji has a lot of activities for junkies. One of the best places to visit in Japan for adventure lovers.
In the cold and breezing climate the most fun is its got water springs. Hot water springs are totally a worth experience in Mt. Fuji. Cruises are also available near lake Ashi. Witness the beauty of nature in Japan.
Hokkaido- Serene and blessed with Nature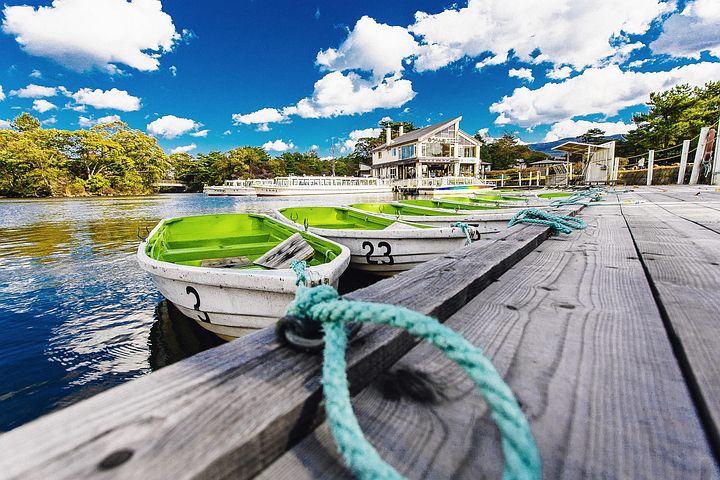 The threshold of serene Beauty and Nature. Hokkaido is a popular place in Japan for its nature, blue sky, pristine water, mountains, Valleys and what not.
Hokkaido is a beautiful picture book. On every page it's opening new and beautiful views. It stands out cause of its wonderful springs, hot springs, ski areas, and scenery. The pond in Hokkaido is breathtaking. You can have a great day in Hokkaido exploring the nature's serenity. You know that you will get all picturesque views here. So don't forget to take your camera with you.
Hokkaido is one of the best places to visit in Japan for all reasons. Another thing is it's Blue Pond. Whenever a pond comes into the picture Japan seems more beautiful.
Blue pond and surrounding fresh air and serene views are next thing you shouldn't miss in Japan. If you are an animal lover you will just love Hokkaido. Hokkaido's zoo is another most visited destination in Japan.
Dive into this serene nature in Japan in Autumn and spring season.
Nara- The Culture hub of Japan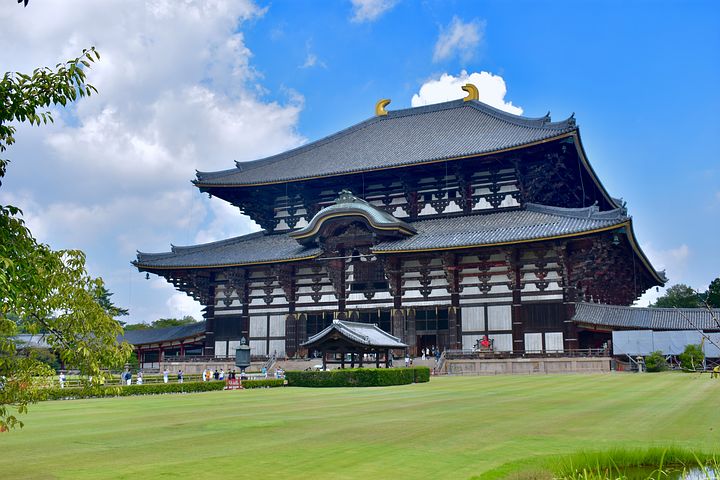 Taking you to extreme back in time. Come to Nara and experience the 8th century.
An ultimate destination to take you to ancient Japan. Most glorious temples, and artworks sides in Nara.
One can sight an adorable deers here. Nara is filled with many cute deers.
Shrines, monasteries, temples, Japanese art, and museums sides in Nara. Explore the unique culture of Japan in Nara. The stories told by the locals here are amazing. Every part of Nara has a story. Dive into this amazing place of Japan. Nara is truly one of the best place to visit in Japan for first time visitors.
To hail the wind of love in Nara. Nara park should be considered. Sight deers, spend time in Park and endless things to do in Nara, Japan.
Taste the culture and tradition in Nara. One of the most famous place in Japan you can't miss.
Osaka- A Destination to taste nightlife of Japan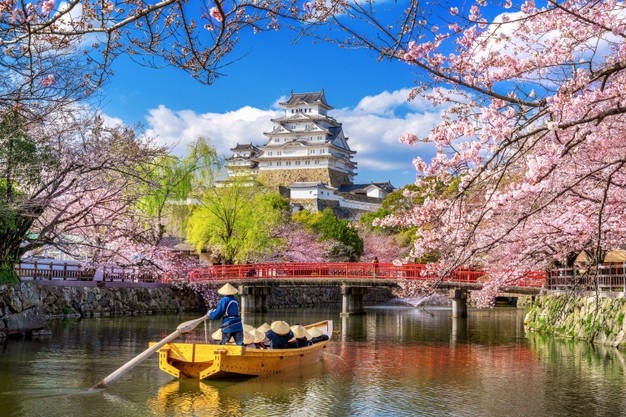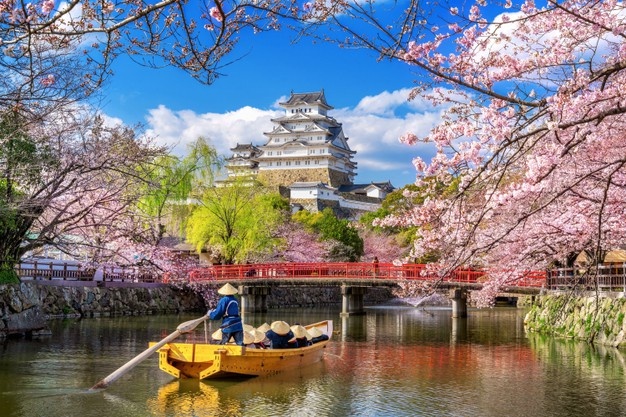 Do you want to experience the nightlife of Japan. No other place is better than Osaka.
A hub of desired night time shoppers. Highlighting with its modern architecture and malls. Most fun things to do in Osaka for you. Check out the Himeji Castle of Japan in Osaka. This castle is one of the most famous attraction in Japan.
Best time to visit Osaka is in Spring. Spring is the time when cherry blossom in Japan is celebrated.
At night the city shines with city lights. Many malls, shops and cafes close up very late. Dive into the cuisines of Japan in Osaka. The next thing Osaka is known for is its food and cuisines. Top notch restaurants serve tasty food in Osaka. One of the best place in Japan for first time visitors.
If you have a party lover with you. The person will love you the most for this place. Must visit destination in Japan for party lovers. For a first time visitors to Japan this is the one most recommended.
Japan is fairly one of the best places to visit in the world. Many other places like Spain also gives attracts a lot of Tourists from all over the world. I have listed top rated and best places to visit in Spain for a perfect vacation.
Read more-
8 beautiful places to visit in California in 2021
10 places to visit in Texas 2021-Texans Favorite
Best places to visit in Bangkok for Couples
What is Japan so famous for?
Japan is known worldwide for its traditional arts, including tea ceremonies, calligraphy and flower arranging. The country has a legacy of distinctive gardens, sculpture and poetry. Japan is home to more than a dozen UNESCO World Heritage sites and is the birthplace of sushi, one of its most famous.
Is Japan expensive?
The truth is, Japan is probably not as expensive as you think! While it may be pricier than countries like China, Thailand, and Vietnam, to the surprise of many travelers, it's generally less expensive than places such as Singapore, the U.K., Australia, and Scandinavia.
What is famous in Japan to buy?
A high-quality Japanese knife. Japanese knives are renowned for their incredible quality and craftsmanship. …
Green tea Kit Kats. Credit: saechang. …
Super-soft Imabari towels. …
Unique kitchenware and ceramics. …
All the MUJI things. …
Barware at Bar Times Store. …
Drugstore makeup and skincare products. …
Fun fashion accessories.
Which is the best month to go to Japan?
Unless skiing is in your travel plans, March to May and September to November are the best months to visit Japan. This is a country of extremes in terms of its weather, so these months are the best to avoid the high temperatures and humidity of Japanese summers or its chilly winters.
Is Japan a tourist friendly country?
Japan is a friendly and welcoming country, steep in history and tradition. While visitors are often amazed at how polite, courteous and gracious the society is, most first-timers may experience some sort of culture shock.
Is Japan dangerous for tourists?
Overall, Japan is considered a very safe country for travelers. It ranks in the top 10 in the Global Peace Index. Like any country, Japan has areas that are less safe than others, and travelers should use common sense, especially when visiting entertainment districts and using ATMs.
Do Japanese hate tourists?
Japan's traditional sense of "omotenashi", meaning wholeheartedly looking after guests, is wearing decidedly thin. Residents of many of the nation's must-see tourist spots are increasingly expressing their frustration at loud and disrespectful foreigners, crowded public transport and poor etiquette among visitors.