The Golden State is ready to please you with alluring landscapes, beaches, serene mountains, and gold deserts. The State is an explicit version of fun and enjoyment. We have chosen the top places to visit in California to make your vacation more fun.
But there's more with California other than just movie stars and Disneyland. The land is appealing to the eyes with its pristine beaches with sizzling heat and whitish sand.
California is home to the world's most famous towns, cities and rich areas. San Francisco is the hot stop for all tourists. It also doesn't let you back and disappoint you. San Francisco treat starts with shopping, museum, gourmet dining and lively atmosphere. Make a whole out of the trip to California with San Francisco on the top.
Los Angeles will treat you with Hollywood glamour and stunning scenery of the Southern parts. But when it comes to beaches San Diego and Santa Barbara with not let you go away from them.
The list may go on but there's even more fun for you in California. I have listed the most amusing top 10 places to visit in California to make your trip here a big success. Don't rush anywhere else cause this list is a whole package of fun things to do in California and where you will get the most fun on your trip.
Starting with the most visited place in California without a doubt.
The San Francisco Bay Area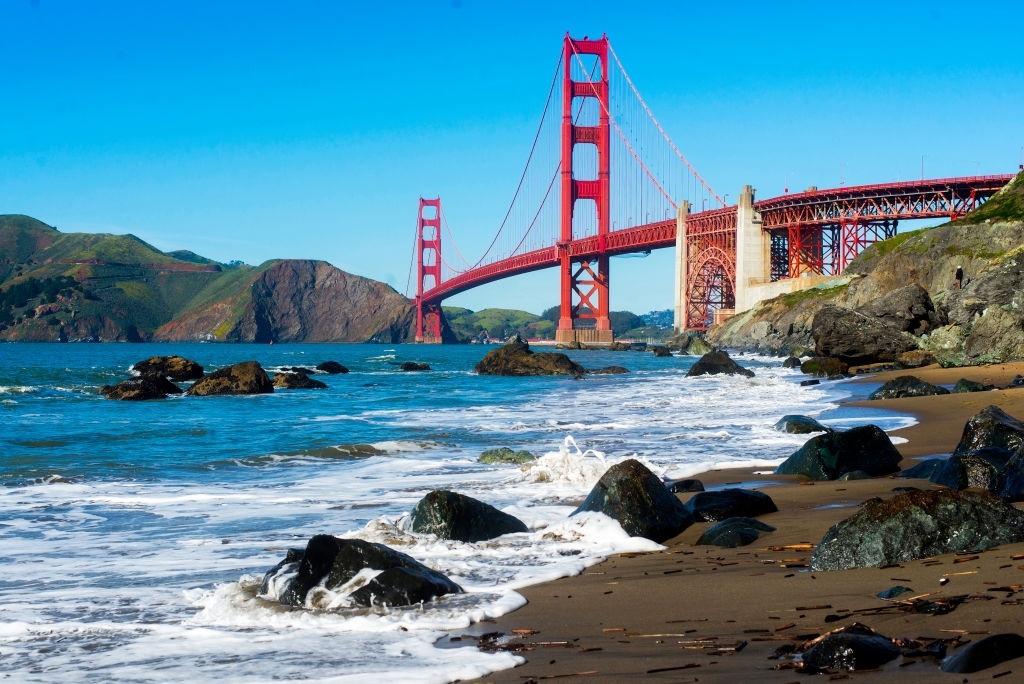 Believe me, it's the most deserving place for you to visit in California. The sun strikes here with the most alluring view. Fun-loving, beautiful and most touristy place in whole California.
Undoubtedly, the Golden Gate is the No. 1 attraction of San Francisco. The most beautiful time to enjoy San Francisco is in the afternoon. As the sun shines from the hillsides the city shines in Gold.
Golden Gate surrounded by the Pacific Ocean, it is surrounded by fog which feels so mystical. Searching for picture-perfect scenery or Insta worthy pictures? Well, you hit a perfect spot then!
You can walk, drive, or take a trip to Tourist's favourite picks.
Lombard Street on the other hand will give you the most picturesque scenes on the go. Lombard Street is famous for its high curves and elegant Victorian houses.
Most fun when you walk down the street with marvellous bay views. You can experience thrilling cable car rides and attractions here.
Don't forget Chinatown, the most famous neighbourhood which is the biggest outside Asia. Shop for authentic Chinese stuff and Restaurants here.
After that hit Fisherman's Wharf and Alcatraz Island are the most touristy Places here.
If you are looking for an impressive place with cable cars, world-class opera and ballet performances and entertainment. The entertainment hub in San Francisco in the Mission District with top restaurants and leisure. Also, kick off some fancy boutiques in this area.
The city of Oakland and the University town of Berkeley is within the walking distance from here.
Are you a Nature lover? San Francisco has also got something for you. Just a 30 minutes drive to the South. Hike, walk, golf, fishing, beach, and relaxing are the fun activities near the bay.
No doubt San Francisco being on top of our list of best places to visit in California.
It's no surprise that San Francisco needs a whole different blog to justify its beauty. But some tips to get the most out of this amazing place for you.
The ideal destination for Children, families, hikers, swimmers, nature lovers.
Key Highlights- The Golden Gate, Lombard Street, Chinatown, North Beach (Little Italy), and Fisherman's Wharf, Infamous
Los Angeles– Best Places to visit in California
Los Angeles will make your trip memorable with sprawling metropolises and unique neighborhoods. A spice of Hollywood glamour and stunning beaches. The two is most highlighted here in Los Angeles. It's another most visited place in California, making it the best place to visit California.
The backdrop of L.A. changes around the year. The summers strike with sizzling beaches and winters with cool nights. With lots of art galleries, you can see the beauty of Los Angeles.
If you are the one more into Hollywood you will just fall for this place. The ones who are foodies will have a whole bunch of fun here.
What if you spot a Hollywood star? For this, you can head over to Rodeo Drive of Beverly Hills and Bel-air. Don't dare to miss Walk of the Fame, a place lined up with stars plaques featuring many popular stars, and celebrities.
The glory of Griffith Park is another fun thing to do in California. The flora, views and beautiful trails of flowers are perfect for the one who came here to chill.
Walk along the Venice Canals. Sounds fun right? The most beautiful canals you can witness in the world.
Jog, walk, surf, cycle and other fun activities can be done at popular beaches like Venice Beach and Santa Monica State Beach.
Los Angeles has got a lot, no doubt it's one of the best places to visit in California for all.
Ideal destination for Children, Families, Hollywood fans, Beach lovers, and Teens.
Disney Land- A Paradise of Fun in California
A Real-life Fantasy world for you located in Anaheim. Disneyland is a picture of your dreams land. Over the decades, Disneyland is foremost the most famous destination for families.
Trip to California with Kids? No other place than Disneyland will please them.
Its lovable and favourite Disney characters make this place so amazing. Come here to meet your favourite Disney character!!!
The amusement park is the largest with endless fun things for you. You have tons of rides, games, food, entertainment, and shopping here. A destination that is fun to even adults.
Now it's easier for you to get here. No long queues, no extra cost, and much more fun in Disneyland. Just get the FastPass that will give you much more fun rides, a hug with characters, and entry to entertainment events.
Drive here to enjoy your summer vacations. The land of Disney has many hotels, dining, rooms, and shopping for you.
Love to get a water splash? Well, Disneyland's resort is the one with hell lots of slides and water sports.
Alice in Wonderland and fireworks shows are one of the most fun activities to do in Disneyland. No doubt, this cool and stunning place for kids is one of the best places to visit in California.
Ideal destination for– Children's, Teens, Couples, and Families
Key Highlights– Alice in Wonderland, Astro Orbitor, Thunder Mountain Railroad, Disneyland resort, Cool Rides,
Tips– Celebrate your birthday at Disneyland. With special treatment celebrate your birthday in the most fun way.
Shop for the stuff of your favourite princess, barbie, heroes and characters.
See a live show of your favourite Disney characters.
It most fun Parade with all Disney characters
Yosemite National Park
If you crave some inspiration then head to Yosemite. It's one of the awful pieces of nature. The place is like Heaven for Nature lovers and hikers.
Situated in Nevada mountains, Yosemite has top attractions like National Park, 1,000-foot waterfalls, trees of Sequoia and adventurous campgrounds.
The lush greenery spread over attracts people from all over the world.
While in Yosemite, don't miss these attractions- Cathedral Rocks, Half Dome, El Capitan, Yosemite Falls, and Nevada Falls.
The place is like a boon to hikers with amazing hiking trails. You will get more like you on the way, hiking lovers. But when it comes to hiking, don't miss visiting other destinations also.
For those who are not much into hiking and adventure. Don't worry, this place has got relaxing options for you. At every destination, you will find relaxing options. Especially at Yosemite Falls, Half Dome, and Bridalveil Fall.
The ideal destination for Hikers, Nature lovers, Adventure lovers, Couples, Teens.
Key Highlights– Yosemite Falls, Cathedral Rocks, Half Dome, Nevada Falls, Glacier Road, Half Dome, High Sierra, Tenaya Canyon and other places.
San Diego- One of the best places to visit in California for surfers
San Diego gives all the Western U.S. to step on the sand of shores. Just sense the warm and calming breeze on the shores of San Diego. You can say this place is full of fun things to do in California.
Tourists enjoy walking, surfing, and playing along the long stretched shores. San Diego has a lot for you other than beaches.
The place is great fun with attractions like parks, museums, food festivals, lighthouses and many others.
San Diego serves you well as it has a history with Mexico and Spanish when it comes to food. When in San Diego, don't miss the cruises treat like San Diego Dinner cruise, and harbour cruise.
La Jolla Cove is one for swimmers, surfers, scuba diving, hiking, and biking. This tropical beach along with marine life to watch. The restaurants here serve fresh marine food.
When it comes to San Diego Zoo, in San Diego, and Balboa Park is the Kids all-time favourite. No doubt, San Diego is one of the favourite places to visit in California for kids.
An ideal destination for Hikers, Nature lovers, Adventure lovers, Couples, Teens.
Key Highlights– San Diego Zoo, Downtown San Diego, La Jolla Cove, Balboa Park.
Lake Tahoe- The best place in California for Hiking, Skiing, and relaxing
Lake Tahoe is ideal for relaxing. The pristine lake, cool water, cool breezes can make you one with the universe.
The place is surrounded by lush green trees, the water of Lake Tahoe is clear and with a translucent quality.
Lake is spread over a large area, with half a part covered with cool land. The serenity and peace are one can feel in the place.
You can do a lot of activities here at Lake Tahoe. Being place close to nature, you can enjoy Hiking and Skiing here. On the alpine landscape, there are lots of Hiking trails on the Southside.
Lakeside scenery is even more beautiful with Emerald Bay State Park, D. L. Bliss State Park, and Ed Z'berg Sugar Pine Point State Park. These parks are beautiful, peaceful, with a backdrop of Alpine trees. One way you should visit Kings Beach on the North Shore for more fun on the beach.
You can easily find many eateries, restaurants, shops, and street vendors along the coast.
The best time to visit Lake Tahoe is in the Winters. In Winters the place becomes more awful as it is covered in snow. In winter, the place gives you a gift of skiing experience. Visit ski resorts Squaw Valley and Heavenly which are the most famous in the area.
If not a resort, still the area experiences powered snow which is another chance for snow sports.
All in all, lake Tahoe is one of the best places to visit in California for all.
An ideal destination for Hikers, Nature lovers, Adventure lovers, Couples, Teens.
Key Highlights– Ski Resort, Lake Tahoe ski, Bliss State Park, Emerald Bay State, hiking trails, Squaw Valley.
Big Sur- The best place in California for trekking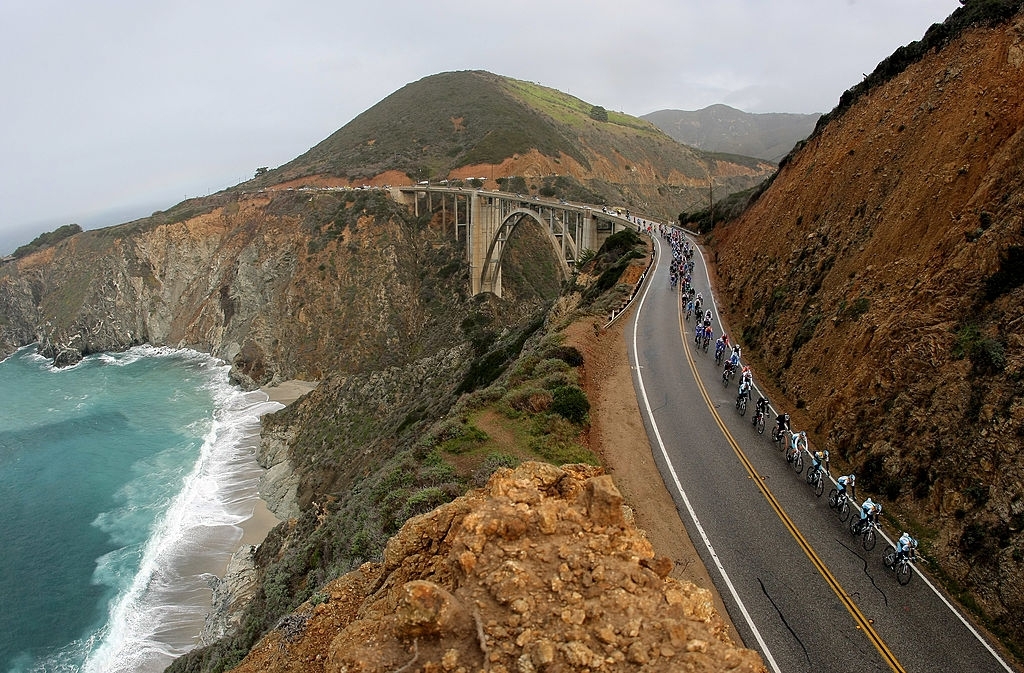 Want to experience a Road trip in California? Big Sur is one of the most fun trek and hike destinations for most.
While the trek to Big Sur you will experience amazing nature with beautiful features. Redwoods, lush greenery, hills, Pacific Ocean, sandy beaches, and much more. The place is a must-try for the one who loves to explore nature.
It's a favourite destination for people in not just California. Big Sur is among the top 35 destinations of the world. Along with the long coast, Big Sur is an isolated stretch of road, mythic in reputation. It is as popular as Yosemite with around 7 million visitors coming here.
Apart from coastline and hiking trails, big Sur has many other fun attractions. Like the parks of McWay Falls at Julia Pfeiffer Burns State Park. These parts have 2 beautiful waterfalls which are ideal to relax and enjoy nature. Also, visit the waterfall at Grand stone cliffside.
Other famous points are Point Sur Light station and The Ventana Wildlife Center, which best features teens and kids.
On the way, you can camp on the camping grounds on the coast. Kirk Creek, Limekiln, and Plaskett Creek. For a large group, halt at Plaskett Creek.
Pfeiffer Beach is the most popular if you wish to have a sunny day on the beach. Pfeiffer Beach offers scenic views with surfers, hikers coming here to relax and have fun.
Big Sur is all in all one big place to cover up in a few hours. It's recommended to stay at nearby Restaurants here.
Santa Monica- Destination with lots of outdoor activities
Santa Monica is all about outdoor activities. The place has a lot to do when it comes to enjoying. From guided Hollywood tours to picnic trips, you can have more fun here.
Santa Monica, one of the best places to visit in California for kids. With lots of parks and beaches. Pacific Park and Heal the Bay Aquarium are been the favourite of kids for years.
Santa Monica allows you to get a little tan on the coasts of Pier and beach. With recognizable landmarks and beautiful beaches, you will never get bored on this coast.
Another popular destination in Santa Monica, Three Street Promenade. A shopping destination store like Urban Outfitters and H&M, as well as more unique boutiques. The list is long including some boutiques like Kenneth Karmiole, Bookseller Inc., and the toys-focused Puzzle Zoo. The place also finds a chef within you with farmers markets with tasty fresh farm ingredients.
Biking is another most enjoyed activity here in Santa Monica.
Another hot spot for kids in Santa Monica, Pacific Park and Palisades Park. Featuring, big rides, carnivals, fairs, food treats, rose gardens and much more here. Other destinations are underrated but are much fun for kids. Tongva Park and Heal the Bay Aquarium are also must-try.
What are some best places to travel to in California?
California entertains its visitors with great beaches, hiking trails, the best foods and much more. Some of the best places to visit in California that are suggested by locals are- 
San Francisco 
Los Angeles 
Yosemite 
San Diego 
Lake Tahoe 
Disneyland 
Big Sur 
Napa Valley
What is the best time to visit California?
September
The month of September and October are ideal months to visit in California. These months let you avoid the fog and the crowds and the temperature of California. It lets you explore the beach, sight-seeing, and attending festivals.
What is the coldest city in California?
Bodie is the coldest city in California. It is among one of the best places to visit in California.
What are the best things to do in California?
Here are some things to do in California and why they'll rock your socks off!
Visit the famous Hollywood sign
Visit Big Sur for adventure
Death Valley National Park
Visit San Francisco city
Visit Lake Tahoe for Hiking, Skiing, and relaxing.
Santa Monica- For outdoor activities
Is it safe to visit California?
Southern California is the safest for tourists.