INDEX
After all, the winter comes there are so many options to spoil us. From buttery parathas that just don't taste the same in the summer to Gajar ka halwa that makes us drool. But can you guess the kingpin of all winter delicacies?
Yes, you guessed it right: Sarson ka saag!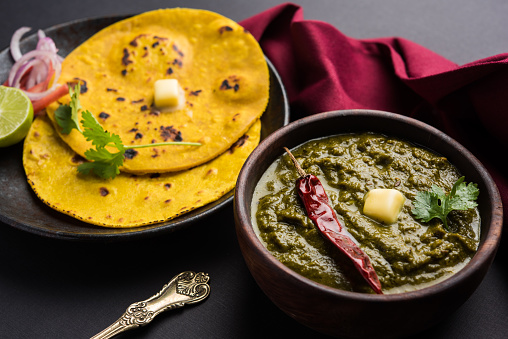 Sarso da Sag and Makke di Roti
Punjabi Food Sarso ka saag not just offers a scrumptious taste that you wait all year for, but it's also healthy. You see, a study published on PubMed states that mustard leaves have a protective effect on the body–especially when it comes to diabetes.
But that's not all! Sarso ka saag has a lot more to offer. Here are five reasons why this gleeful Punjabi dish needs your attention this season
Health Benifits of "Punjabi Food" Sarso da Sag and Makke di Roti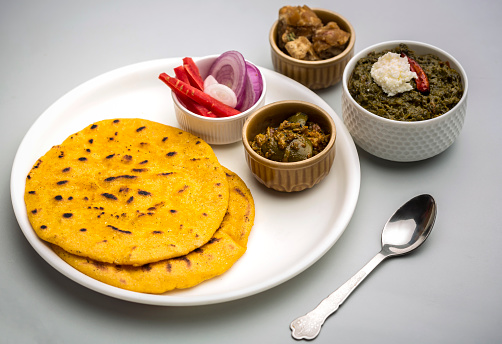 Health of bones and joints

In terms of nutrition, mustard greens contain 692% of our daily requirement of vitamin K. Vitamin K makes bones hard and strong, does not allow blood clotting, as well as reduces the amount of calcium from the part of the body where calcium is excessive. In addition, it increases brain function and maintains metabolism. Cancer can be prevented with the presence of antioxidants it. Many studies also show that taking a good amount of vitamin K removes osteoporosis and does not cause stomach cramps during menstruation.
This greens is full of antioxidants
This greens are full of antioxidants
In mustard greens contains Manganese, vitamin E, and folate found in mustard greens. The vitamins A, Vitamin C, and Vitamin K found in it protect us from harm from free radicals. Also benefit from symptoms of asthma, heart diseases, and menopause.
Important for eye health
Important for eye health
One cup of mustard green leaves contains 124% of the daily requirement of vitamin A. Vitamin A is very important for the health of the eyes, which also prevents night blindness. There is no lack of moisture in the eyes due to the presence of Vitamin A.
Keep your heart healthy
Eating greens is very important to avoid heart-related diseases. The beta-carotene and vitamin C present in it protect us from heart diseases.
Pregnant women must eat
A good amount of vitamin K is very beneficial for pregnant women. Pregnant women also get relief from vitamin K morning soreness, nausea, and vomiting.
Butter Chicken .One Of The World Famous Punjabi Food
If you are in or around restaurants, you will undoubtedly have tasted butter chicken at some point in your life.
First It was served back 1950s, its invention is attributed to three Punjabi restaurateurs, Kundan Lal Jaggi, Kundan Lal Gujral, and Thakur Dass, who founded the world-renowned Moti Mahal restaurant in Delhi.
The "Punjabi Food" Butter Chicken is Just 60 Years Old !
For well over 60 years this dish has been a staple of Indian restaurants around the world, from London to New York, Sidney to Moscow, and back to Delhi itself. While millions of people have enjoyed a butter chicken feast, many still don't know the history surrounding its creation and the story of the three refugees, also entrepreneurs, who headed for Delhi after partition from the Peshawar region.
What is Butter Chicken?

Punjabi Food Cooking of Butter chicken can be done in a traditional clay oven or tandoor. It's first marinated in a mix of spices including cumin, turmeric, garlic, and ginger, along with yogurt and lemon juice. A tomato sauce with butter and cream is then poured over it. Time and experimentation have inspired many different versions of the recipe which can be found online, many using a variety of different spices.
What you get here is two recipes in one—a traditional tandoori chicken with an added makhani (or butter gravy). The recipe originally made at the Moti Mahal used fewer spices than many of the versions you see today.
The History of Punjabi Food Butter Chicken
The birthplace of Butter Chicken, Moti Mahal Restaurant, New Delhi, India
The story of butter chicken that how it came into existence is almost as interesting as the dish itself. The Moti Mahal, in pre-partition days, was a restaurant in Peshawar founded by Mokha Singh Lamba. Both Kundan Lal Gujral and Kundan Lal Jaggi worked there as servers for some years. Thakur Dass was at his family's rice and pulses wholesale business just across the road from the restaurant.
The Moti Mahal shut down just before the partition. During these difficult times, many refugees moved to areas of India because of partition, bringing their various skills and culture with them. Peshawar cuisine was soon to find a new home in Delhi when the chance came to revive the original Moti Mahal in the capital territory. Mokha Singh Lamba, although he was then too old to continue running the restaurant, was happy for the three entrepreneurs to use the original logo and gave his full blessing to the enterprise.
Journey Of Butter Chicken From Pakistan to Canada !
With a growing population of Punjabis in the region, there was a ready-made legion of potential customers who wanted to eat traditional Peshawar fare. The trio began by selling bread and tea but then purchased three tandoors and began serving fish and chicken too.
There's no doubt that the trials and tribulations that partition created also forged a strong bond between the three entrepreneurs. They wanted the restaurant to work and, though it took a lot of hard work with their wives earning extra money sewing, the intrepid entrepreneurs put their heart and soul into the project. They finally found a shop in Daryaganj in 1947 and raised the funds they needed to start their tea room. As the business began to grow, their fame did too. And the innovations started to come. Cooking tandoori dishes, they were presented with a problem—left hanging, the tandoori dried out and, not wanting to waste anything, the team were searching for a way to make the chicken moister.
One Of The Traditional "Punjabi Food" Dal Makhani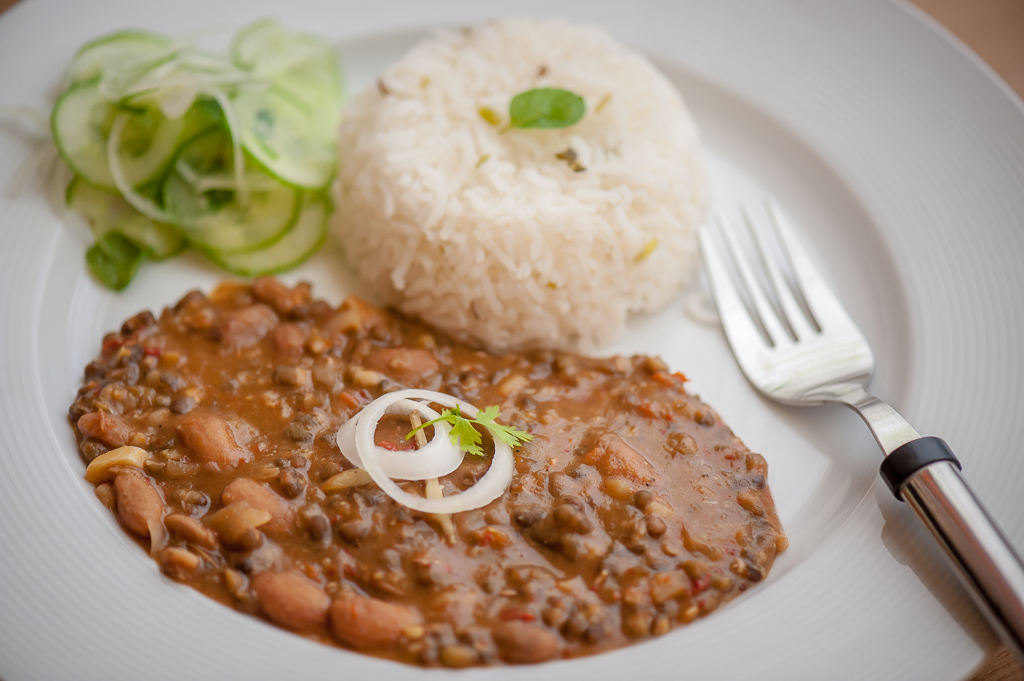 The original Dal Makhani, which was made in the Western part of Punjab, which is now in Pakistan was made by the Peshawaris. The Punjabis sold this dal with a few flat unleavened breads called roti in Peshawar dhabas. When the Peshawar came across the border after partition they brought this dal with them. It was made with whole urad dal and it simmered in a clay pot or handi for long stretches of time. Lily traces the antiquity of this delicious Punjabi dish, in the weekly column, exclusively for Different Truths.
If one is a Punjabi then one has grown up with one's family's version of the ubiquitous urad dal, which is known as Maash ki dal in Sanskrit and Ma ki dal in the vernacular. It meant umpteen whistles of the huge cooker as the dal cooked away slowly for a long time. By far the tastiest black dal as my friends choose to call it is the one that I have eaten in the free kitchens or Langars in various Gurdwaras. They are or places of worship. The dal cooks on huge wood fires in massive cauldrons, sometimes all night long. The taste is remarkably addictive and keeps one longing to go back for more. This Ma ki dal from the gurdwara could well be one of the reasons for my pull towards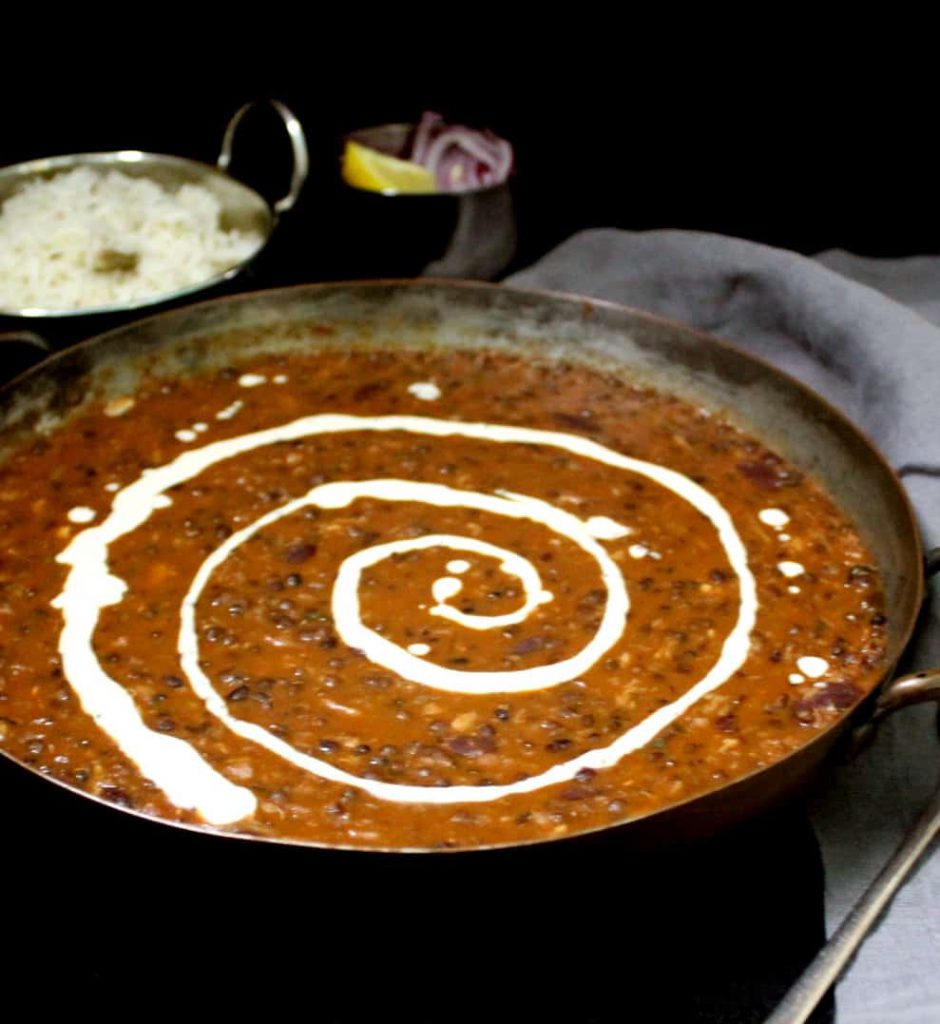 Punjabi Food which is Popular in Sikh temples and Spiritual leanings!
Popularly identified as Dal Makhani in most restaurants that serve Indian food, it has a similar history as Butter Chicken. Makhan means butter in the local language, so you know that this dal is bound to be a feast for dairy lovers. The original dal which was made in the Western part of Punjab, which is now in Pakistan was made by the Peshawar. The Punjabis sold this dal with a few flat unleavened slices of bread called roti in Peshawar dhabas. When the Peshawar came across the border after partition they brought this dal with them. It was made with whole urad dal and it simmered in a clay pot or handi for long stretches of time. The other version of this dal which was more popular in East Punjab and Lahore has few red kidney beans, Rajmah, and some split gram.
Post by Fooditraveler
Read more-
10 world-famous best foods in ITALY- Italian cuisine
8 Best foods in Summer-Protect yourself naturally
Best foods in Delhi to kick off your diet
15 best foods in the world you must try before you die
What is the famous food of Punjab?
Tandoori Chicken, Sarson Da Saag,  Shami Kebab, Makki di Roti, and other Punjabi cuisine are favorites among foodies throughout. The state's culinary habits are basic, rustic, and unique in their own right.
Which dish is one of the best Punjabi food?
Chef and author Maunika Gowardhan publish the delectable recipe for Punjabi Chicken Curry, also known as Punjabi Tariwala Murgh, we knew we had to give it a try. The mouthwatering sauce, prepared with whole spices, garlic, turmeric, and ginger, checks all the comfort meal boxes.
Best Punjabi Food and Their History?
Tandoori Chicken, Shami Kebab, Sarson Da Saag, Makki di Roti, and other Punjabi cuisine are some of the best Punjabi food. 
What are the top 10 Best Punjabi Recipes?
Here are the best Punjabi dishes–
Butter Chicken
Lassi
Shakkar Para
Chole-Bhature
Chole
Amritsari Fish
Parantha