Kochi, a true essence of nature in Kerala. Blessed with Arabian coast and one of the exotic location in Kerala. One can say that trip to Kerala is not complete without Kochi. I have listed some of the best places to visit in the Kochi for couples.
Keeping its name "Queen of Arabian sea". A blissful place in Kerala with a long list of tourist places. A beautiful place unwinding the backwaters and coast. Beautiful backwaters are lined in Kochi. If you a sea food lover then you will definitely love Kochi. Beaches, backwaters, Palaces, churches are truly renowned in Kochi.
The environment of Kochi is Tourist friendly. Rich in flora and fauna. One will totally love the place. Listed some of the best places to visit in the Kochi for all.
Santa Cruz Basilica , Kochi. Kerala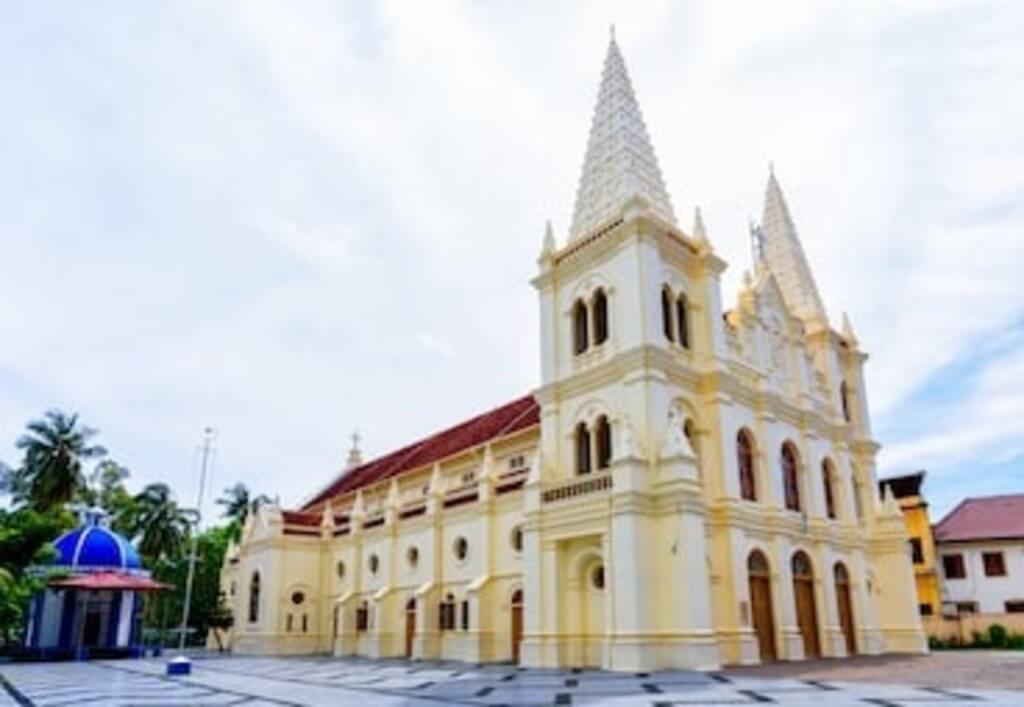 One of the best tourist place in Kochi starts with Santa Cruz Basilica or Church. As it's the oldest Basilica in Kochi. A heritage site built by the Portuguese in 1505. Now depicts the Cathedral of the Diocese of Kochi. The church is attracting people for its architecture. The exterior walls are polished with white with beautiful designs. The designs, the architecture and the aura of the place makes it one of the best tourist places in Kochi.
Architecture- Gothic architecture painted famous Italian painter who was Fr. Antonio Moscheni. Intricating paintings are on the wall of Last suffer.
Marine Drives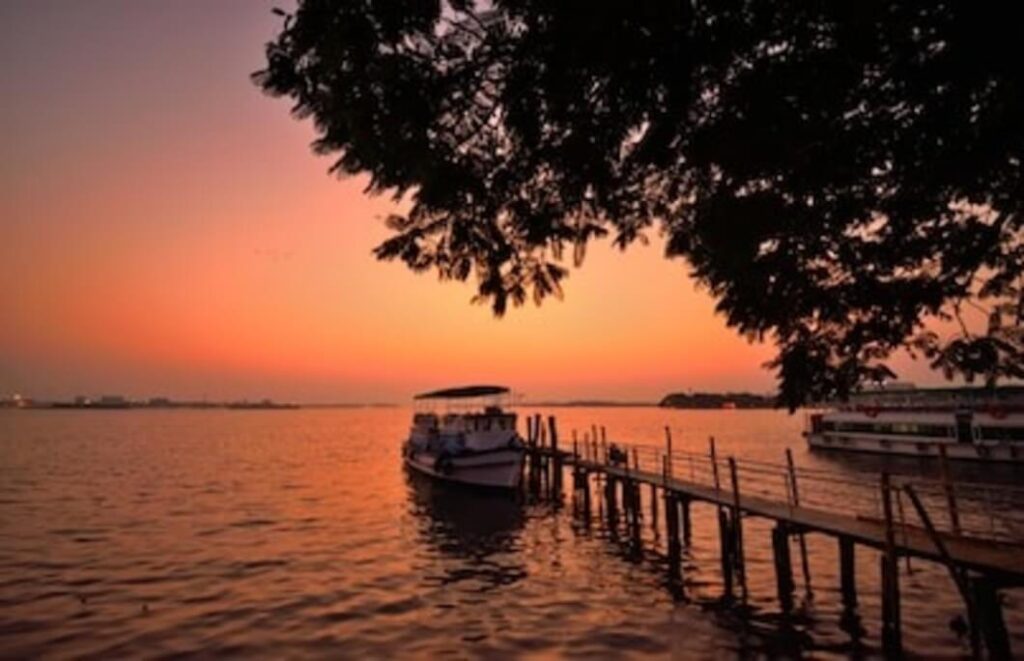 Marine Drive is one of the best tourist places in Kochi for couples. Not just for couples, it's a great place for all. If you are searching for a hangout Tourist place in Kochi, Marine Drive is for you. The nightlife in Kochi is incomplete without Marine Drive.
The place is picturesque promenade with sea facing. It's a walkway and place to hangout in Kochi in city. The amazing boat ride is lesuire for couples. The place is mostly fascinated by couples and groups of youngs. You can boat ride to other famous attractions of Kochi. Like Houseboat Bridge, The Rainbow Bridge, The China Net Bridge, Mattancherry Jewish Synagogue and GCDA Shopping Complex. The pristine water, sunset, orange colour of sky, the city lights makes this place one of the best places to visit in Kochi. Ideal place in Kochi for all who wants some quality time with their loved ones. The destination gives best sea experience with cold breezes. On top of it most famous boat ride which connects to different places makes the place amazing.
Famous attractions from Marine Drive Kochi- The China Net Bridge, GCDA Shopping Complex, The Rainbow Bridge, Mattancherry Jewish Synagogue.
Highlights of Marine Drive,Kochi
Give a blissful sight of sea with Boating harbour.
Connects to other several tourist spots of Kochi.
Children's park available.
Restaurants near are most famous in Kochi. Serves amazing cuisines. Zaika Restaurant, Punjab House, , Uruli Restaurant, Fort House Restaurant, Hotel Colombo and Hotel Colombo.
Shopping of Marine Drive is considered the best in Kochi. A shopaholic's paradise is the GCDA shopping complex. Bay Pride Mall and Seaside shop are best known to shop for casuals. For Fashionable clothes try Perfume 4 Ever, Aabha Creations, Beach Fashion, Havells Galaxy Store – Jose & Sons, and Rinosh Garments.
Cherai beach
Exotic Tourist beach in Kochi starts with Cherai. One of the most visited place in Kochi by tourists. Tourists come to Cherai for a relaxing day. The beach is clean and serene with clear water. Best to relax on a cold day.
Golden sand, pristine water, seashells, and fishing boats are pride of Cherai beach. Dive into the calming water of Cherai or you can sunbathe on the mat. The walkway of the beach is pretty alluring. That's the reason why one will suggest this place in Kochi. Totally ranked in top 5 tourist places in Kochi.
A perfect destination for Photography. Photographers have a heist here with golden sand and pristine water. Most visit here for Photoshoot whereas elderly also have a series of activities here. Many yoga and meditation programs are held here. In morning many joggers can be seen. You can sail in boat for like a short while. In evening, the calming sand and beautiful sunset view is awful. Cherai beach is one of the best destination in Kochi within 100 Kms.
Many people visit here in between 10 am- 1pm. At night the beach seems like a party hub. Many luxury hotels and restaurants are available near. For a blissful day with your partner or family you should try Cherai beach.
Willingdon Island, Kochi – best Tourist place in Kochi for relaxing
A beautiful man-made island known for its Beauty. The island is amazing connecting between Kochi port to international ports. Popular for its ferry rides. Surrounded by backwaters in Kochi. Best view with serene atmosphere. The place sides luxurious hotels and restaurants.
The buildings and the ferry rides starts from ports along. Kochi is connected to Wellington Island with its ports. The most famous destinations in Kochi are located near Willingdon island. You can have a blissful trip here with backwaters and yoga centers along. Explore the natural habitat of Kerala with Willingdon island.
Mattancherry Palace
Also known as Dutch Palace built by Portuguese in 1545. A Palace now a museum depicting old reign of rajas of Kochi. The Palace was once home to royal families. The place depicts the history of Kerala. Many books, artefacts, embellishments and stuff of rajas are kept here.
Divided in 4 wings built in Kerala style. Polished with black Marble, using burnt lime, egg, coconut shells, charcoal, egg, etc. This things give a lasting and shining finish. Inside are many intricate paintings of Kochi Rajas. It's one of the best places to visit in Kochi if you love to know about Kerala history. Tourists are attracted here because of its structure and history resting inside. It's truly a masterpiece and best tourist place in Kochi, Kerala.
Bolgatty Palace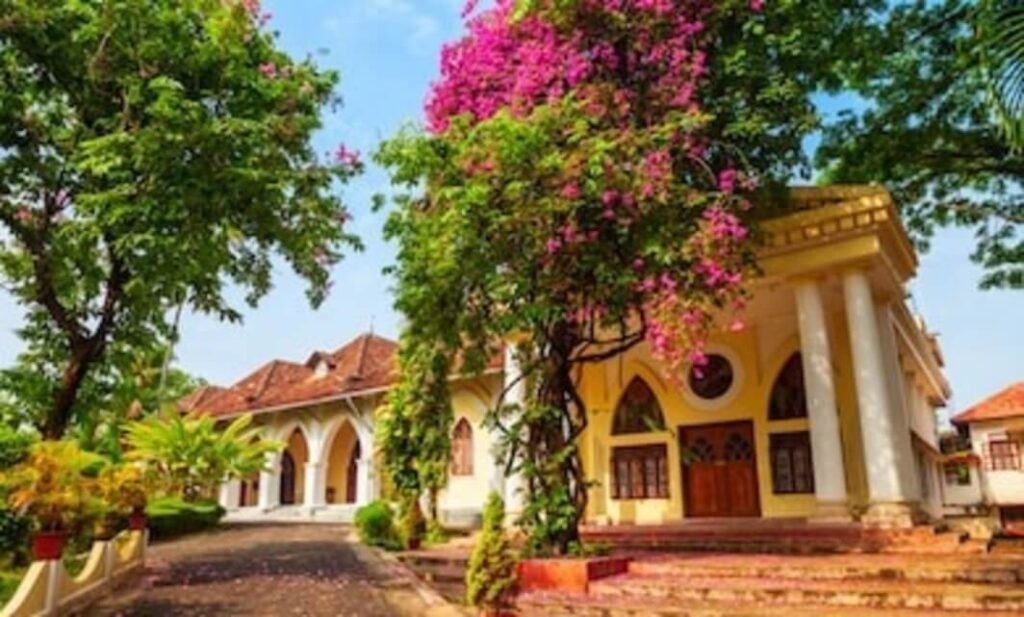 If you ask anyone about the best places in Kochi, anyone will recommend you Bolgatty Palace. Bolgatty Palace is no doubt one of the best tourist places in Kochi for couples Situated on the Island of Kochi. A beautiful island you won't regret visiting. The Bolgatty Palace is comes with an amazing package of island with resort. It's a Dutch Palace situated outside Holland.
A beautiful mansion and luxury stay with Kerala style architecture. Ultimate destination that is blessed with nature around. Pridely called as 'The Honeymoon Paradise'. The Island is full of destinations for couples. The extravagant paradise and view will keep you in awe.
Fort Kochi
On top of our top tourist places in Kochi, Fort Kochi comes on 1st. Fort Kochi is one of the oldest side of Kochi.