Best places to visit in Dharamshala, a hill station which one can proudly say that you will fall in love with. The place will feel your heart with amazing experience. Situated in plathoera of majestic rivers and forests. The hills station holds the most beautiful monasteries, rivers, and mountains. I have specifically listed places in Dharamshala for couples and friends. This Places are for chilling and outing with your family and friends in Dharamshala.
It's redefining beauty holds tourists in Dharamshala every day. The temperature goes down as the evening arrives. From Pathankot the fun activities for tourists start. The magical green lands will fill your heart with joy. Many tourists visit here and leave falling in love with this place. The destinations that hold great attention are the cricket stadium, Dal lake, snow capped peaks. These attractions make them one of best tourist places in Dharamshala.
Best places to visit in Dharmashala
Dharamshala Stadium- Most Famous Cricket stadium in Dharamshala
Beautiful stadium that is known for its beautiful view. Takes the top position in best Tourist places in Dharamshala. Located in Kangra Valley. Amidst the beauty of Himalayan mountains. Raise to height of 1500 meters. Open for tourists all day long.
Why this Stadium is one of the best places to visit in Dharamshala?
Well, as you know the craze of Indians for Cricket. The stadium will put you in awe for its beautiful mountain scenery. The picturesque stadium has no fence which is most fun part of it. No fence means you can see the match very closely. The view is exciting and jawdropping.
Just hault your eyes on this majestic wide spread, green field with beautiful mountains.
Well, if you are not so cricket fan. Perhaps, you won't be disappointed. The scenic beauty of the stadium will entertain you. One of the best places to visit in Dharamshala for all.
Things to do-
If you are not so much into sports and cricket. You will still get a lot at this stadium. View the majestic Himalayan range. Relax with the view of stadium. Calm place to spend some time. During matches the stadium is cherished with people.
You will get indoor activities like gym, events related to sports, art facilities, T.V. and clubhouses.
Entry fees is around 20 Rs.per head.
Triund Trek- Snow-capped Mountains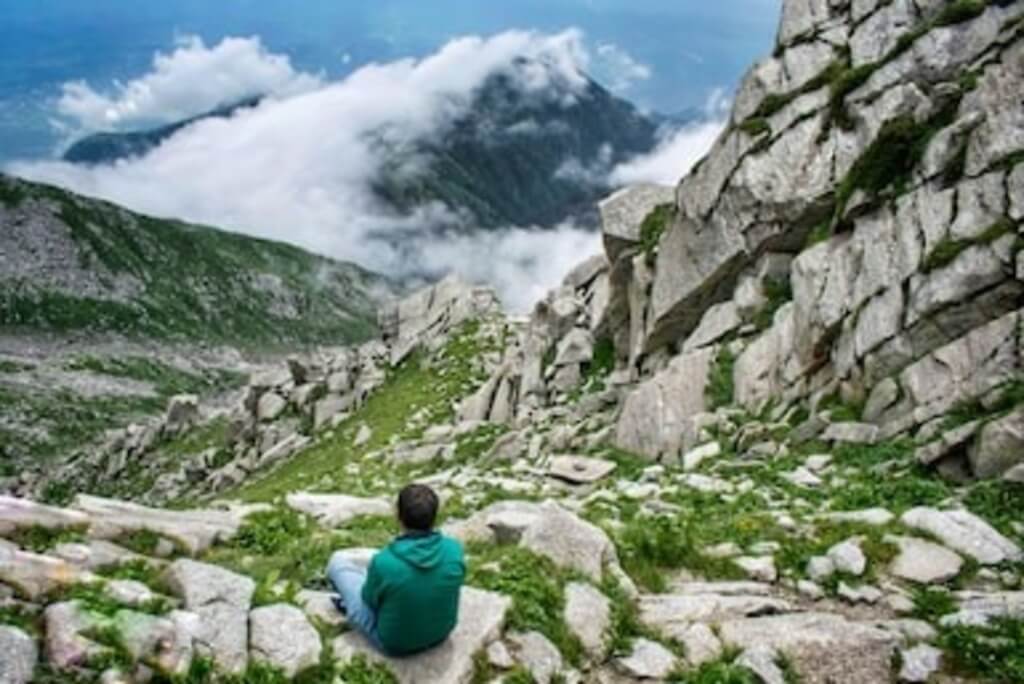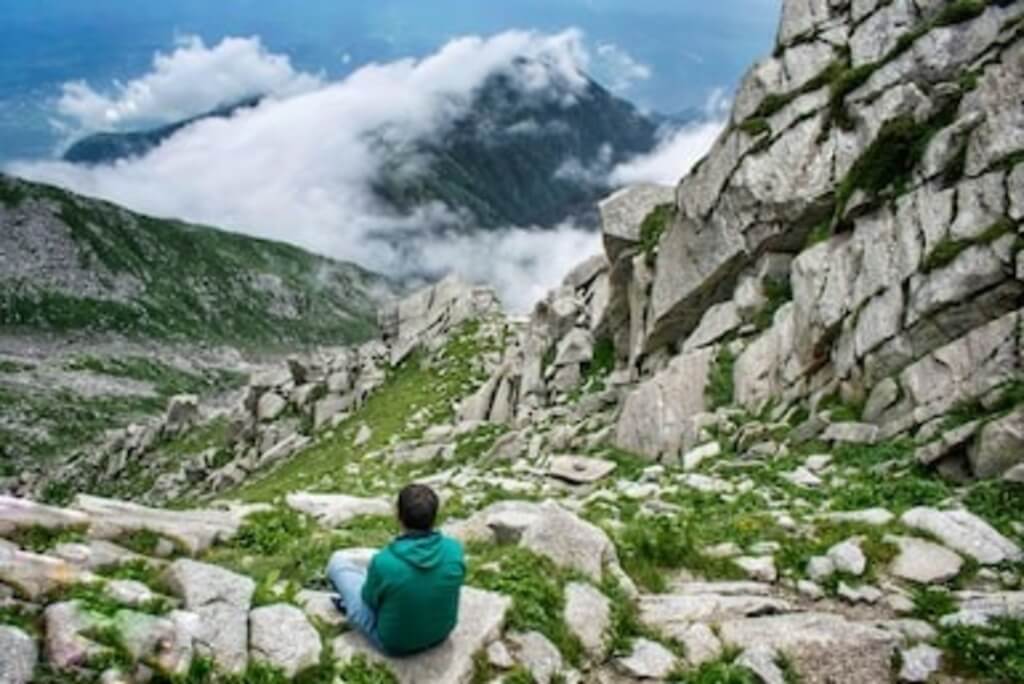 Well, this place in Dharamshala is not just a Trek. A perfect destination for couples in Dharamshala for a romantic date in lands of snow. Most beautiful place in Dharamshala is Triund. Start off with the mountains covered with snow in winters. As you roll your eyes around you will capture picturesque mountains.
Sided with Dhuladhar Himalayan range. Rolling valleys on other side. Trekking hub of Dharamshala. A picnic site with lot of blissful sight. The trekkers fall in love with this place cause of its no match beauty.
Why a popular tourist place in Dharamshala? One can confirm that it's beautiful snow experience is must try ulin . If you are on your honeymoon or a couple date in Dharamshala. Well, you definitely will love this place. Best for trekking in Dharamshala. It's truly one of the best places to visit in Dharamshala.
Things to do here- Trekking in snowy mountains, picturesque mountains view, picnic spot, paragliding, photography, relaxing amidst the sky.
St. John in the Wilderness Church- Must visit spot in Dharamshala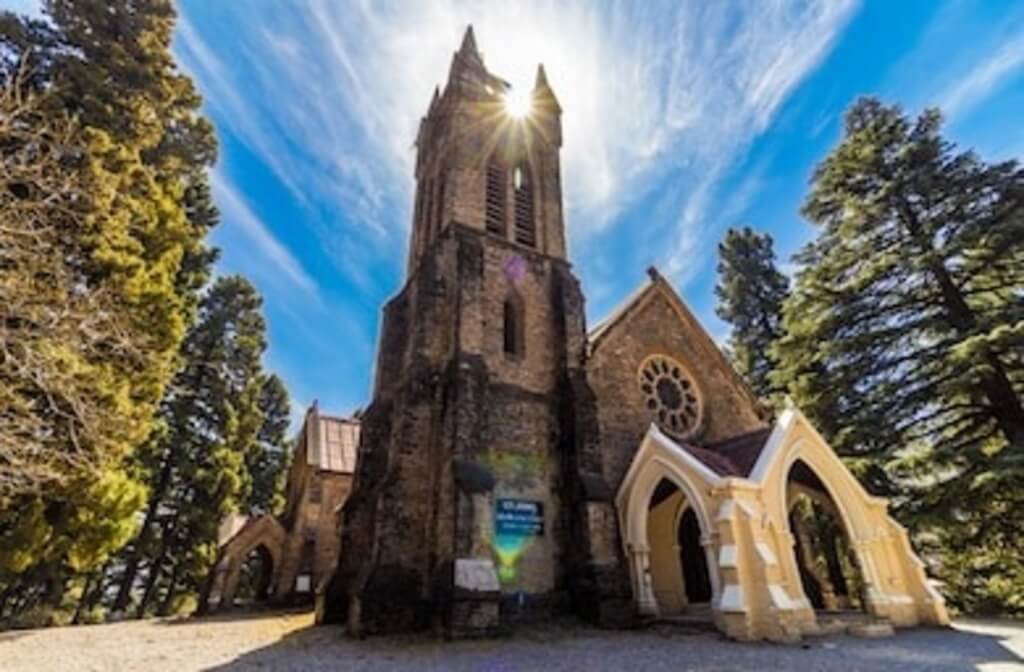 No doubt if considered one of the best places to visit in Dharamshala. Why? Well, place built for St. John. The beauty of the place can have no match. A church siding in the middle of lush green trails of deodar.
An edifice where you will feel peace. Carved in old gothic architecture. The fun fact is the windows. Styled with Belgium stain glassed Windows.
The place is well known for It's peaceful environment. Well, a place where Lord Ergin took last breath. He was the governor of Britishers. Dense woods, great old structure, green woodlands will make you feel peaceful.
McLeod Ganj
Popular for its beautiful views and viewpoints. A nature lover? You would totally understand how beautiful mountains can give a place a great look. Great place for artists and photographers. Touching height of 2,082 meters. The place with other famous attractions like Dalai Lama. A bliss of Tibetan culture. Want to know some of Tibetan culture? McLeod is the place for you.
Not just Dalai Lama. The place is home to amazing handicrafts markets. Great hills, cold climate, Viewpoints are ready for you in here.
Most frequently visited place by Tourists in Dharamshala. Cause of its Viewpoints the place is in limelight.
Famous attractions- Triund- Snow-capped mountain,
Things to do-
Gyuto Monastery
Monastery for Tantric meditation study. A beautiful Monastery holding the Tibetan culture. Well, the monastery is highlighted to focus on teaching of Black magic. Built by one of the disciple of Dalai Lama.
A beautiful construction worth to watch. Monastery is one of the most visited place in Dharamshala for some adventure with the Tibetan culture and history. Raised on hilltop and beautifully constructed. Has a big statue of Lord Buddha. The statue is gold plated.
A major hub for tourists and pilgrims in Dharamshala. One of the must visit place in Dharamshala. A big Monastery which is home to almost 500 monks. Meditation and Buddhism are major teaching of the place.
Library of the Tibetan Works and Archives- Must visit place in Dharamshala
The Library of the Tibetan Works and Archives is library of Tibetan work and culture. Tibetan literature and works are hold in the place. An old piece of 12th century made by the 14th Dalai Lama.
The manuscripts and literature will make you feel the rich Buddhism. The serenity to the air is beautiful with surrounding. One of the best rated tourist place in Dharmshala.
What's the speciality about this place? As the place holds Tibetan culture. It's also home to about 600 Buddhist artefacts. It's home to 80,000 manuscript.
Things to do-
Dal Lake
Want a peaceful place in Dharamshala? Take an outrage look at Dal lake. A place known for its scenery. Pristine water, sheer cold breezes, stunning Viewpoints of Dal lake. You might be wondering this- What's so special in a Lake? Well, this lake brings many fun opportunities for you.
The splendid Lake Dal is surrounded by hills and mountains. This hills are most popular as Himalayan range. Sides of the lake fringled by amazing Deodar trees. The lake gives you opportunity to Boat ride. The Cursed Lake- The lake is believed to be Cursed. As of the curse it's prohibited to fishing and eating those fishes. Perhaps, it's a beautiful lake enjoyed by people mostly at Sunrise and Sunset. The Shiv Temple is also one of the highlight of Dal lake. One can definitely recommend Dal Lake as it's one of the best places to visit in Dharmshala.
Most highlighting part of Dal lake is its Sunset Point and Shiva Temple.
Highlights- Lush green trees, cold breezes stunning Viewpoints. Panoramic view of hills will keep you in awe.
Things to do- Boating, Fishing, Walking along, trekking, Picnic, Photography, Fairs, Sunset Point, Shiva Temple, Gala event, Feed fishes.
Bhagsu Waterfalls in Mcleodganj
If you are looking for some a beautiful place in Dharamshala for couples. Bhagsu Waterfalls is perfect for you.
Waterfalls amidst the greenery, nature and serenity. A peaceful place to blow off your Dharamshala trip with excitement. A calming place with calming waters. Surrounded by nature's beauty. Beholds the glory of beautiful mountains around. At the bottom of Dhauladhar Valley starts the beautiful falls. Flowing along and finally falling in deep end.
The falls are associated with refreshing smell of nature. To spice the trip to Dharamshala. It has got the Bhagsunath Temple. Bhagsunath Temple is one of the top attraction in Dharamshala. An ideal destination for all in Dharamshala.
Along the bhagsu Waterfalls the place is also flooded with cafes and restaurants around. Around just a 30 km away from the destination. Bhagsu also have trekking options for you if you love trekking. One of the top places to visit in Dharamshala, Bhagsu also deserves to be.
Things to do- Trekking, bathing, swimming, picnic spot, Bhagsunath Temple, picturesque views, cafes, restaurants.
FAQ's about Places in Dharamshala
What are top attractions in Dharamshala?
Anyone can tell that Dharamshala is best for a weekend trip. Amidst the beautiful hills and mountains. Dharamshala has got amazing places to visit. Listed 5 best places to visit in Dharamshala for all-
Triund is best Destination in Dharamshala for trek. Snow capped mountains and beauty of white hills around.
McLeod Ganj- Known for its Beautiful viewpoints. Top destination in Dharamshala for Nature lovers.
Dal Lake – Lake with pure serene beauty. Ideal for boating and calming day to relax. Surrounded by panoramic view. Ideal destination for couples in Dharamshala.
Bhagsu waterfalls- Ideal for couples. Serene Beauty of falls. Starts and ends on the peak. Trekking, boating, picnic spot and relaxing is ideal here.
Dharamshala Stadium- Best cricket stadium. Known for its view of stadium.
Is it safe to trek in Dharamshala?
Yes. Trekking is largely promoted in Dharamshala. Ideal destination for Trekking are Triund and Bhagsu trek. There are many trekking paths in Dharamshala that are Tourists friendly.