No place on Earth is like Hawaii- A land to fulfil your Tropical dreams. 
Everything about Hawaii is amazing!!! Home to the most amazing beaches, glimmering oceans, emerald valleys, and golden sands.
A special mention to the world's most active volcanoes, which lets you explore another charismatic thing of Nature.
Big Island, the official name of Hawaii, is also the most popular destination in other Hawaiian lands.
With sprawling beaches, soft sand, adventure, and fun, we made a list of the most exciting things to do in Hawaii. Check out your favorite place Kauai. I have also listed the best things to do in Hawaii Kauai. Also, check important Tips for Visiting Hawaii for the First Time.
I will also share some insider tips that will let you cover most of Hawaii in one trip. Let's explore!!!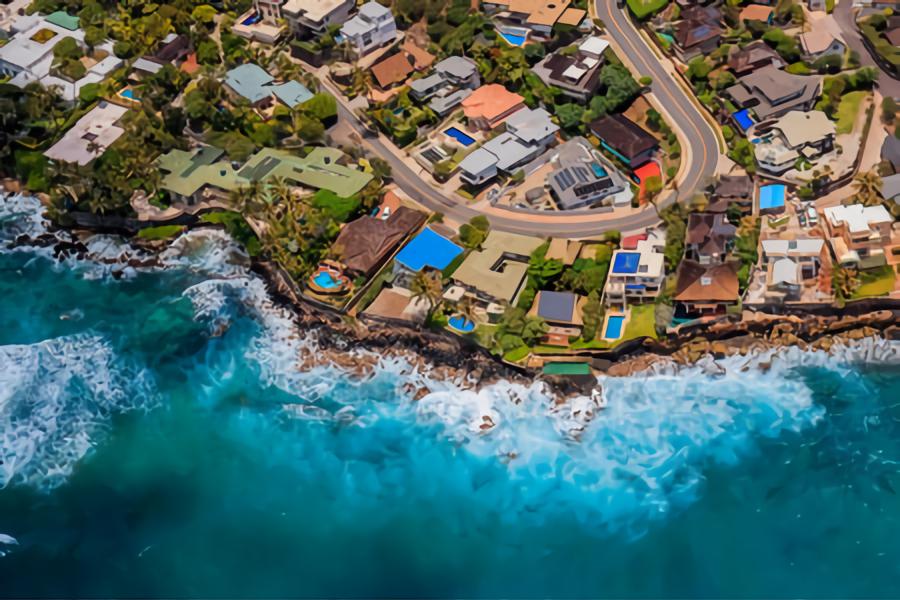 The best side of Hawaii for you- Oahu
Oahu is the most visited destination in Hawaii- Richness of Hawaiian culture, 3 active volcanoes, gorgeous waterfalls, black sand beaches, coffee farms, and more.
Oahu, but Hawaii has got loads of other lovely spots. With a tropical climate, topped with beautiful landscape, dramatic Na Pali coast, ancient rivers, Pearl Harbor, and a never-ending list.
Heading off to many exciting things to do in Hawaii for Kids is waiting for you.
Waikiki beach Surfing and Diamond Head State Monument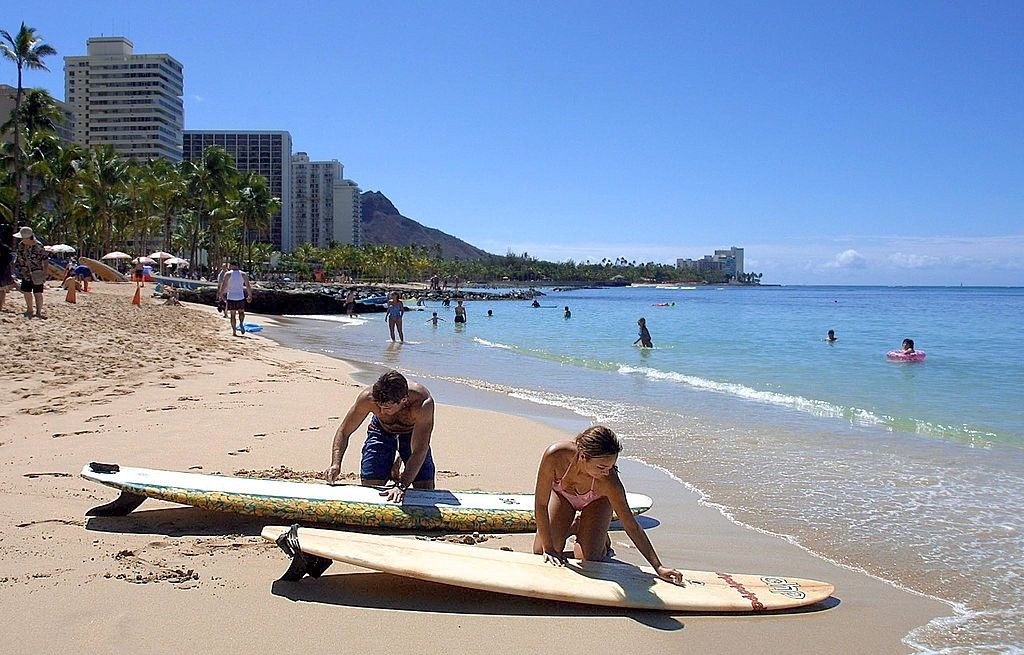 Surfing in Hawaii is the first thing you should try. That is also at Waikiki beach which is a hotspot for surfers.
Waikiki is ideal for beginners in Surfing and also for those who love braving intense waves. This is definitely among your No. 1 fun things to do in Hawaii Waikiki.
Waikiki is a beautifully stretched oceanfront that is known for its big resort, dining, entertainment, and shopping.
With a beautiful coast, it is a perfect starting point for budding surfers. No doubt it's one of the fun things to do in Hawaii Waikiki.
You will get many guides who will help you to follow all the surfing fundamentals. And here you go kick off this amazing surfing spot.
Waikiki is followed by a beautiful oceanfront, but the Diamond Head State Monument is not to be missed.
The end of the crescent ocean lets you explore the most panoramic view from the top.
On the west side of this, you will see this beautiful park King Kalakaua gave to the city. The features of this park are endless but you must visit Waikiki Zoo and Waikiki Aquarium.
For the one who loves shopping- Royal Hawaiian Shopping Center, International Marketplace, and Kalakaua Avenue are best for you.
Waikiki has many things for you to explore- One of them is the Diamond Head Crater which is an extinct volcano. The area is covered in greenery with hiking trails.
Last but not the least, Visiting Honolulu Zoo is one of the best things to do in Hawaii for Kids.
Things to do in Hawaii for Kids, Waikiki beach
Explore the dining experience with top panoramic views, surfing, shopping, restaurants, and boutiques, Visit popular resorts in Waikiki, Snorkeling, boogie-boarding, canoeing, and, of course, surfing, Visit Kalakaua Avenue for shopping, Drive on Atlantis Submarines.
Read more: Things to do in Hawaii for kids
Manta Rays- Night snorkel with manta rays
You can't beat this for adventures in Hawaii! One of the most incredible experiences you will ever enjoy.
If you are searching for the most amusing activity to do in Hawaii? Here is a perfect match for fun.
On the Kona coast, the most amazing things can be explored once the sunset.
As the sun sets, the ocean turns lit dark and boats leave the Kona coast for the offshore gathering spot of hundreds of rays. Snorkel or Dive here is the most fun thing to do in Hawaii.
Here, as the sun sets and the ocean becomes completely dark. The divers put spotlights and flashlights over distances in water. It seems like dazzling rays in the peer darkness.
After a while, you will see a giant animal with a rectangular-shaped face swimming directly under the snorkelers. Night snorkeling with manta rays is a must-have experience.
These huge animals are the ones you're waiting for. They swim, fly, summersault, and dance which is magical. This experience is worth a million for an adventurer. These animals sprawling in dazzling lights is one of the best things to do in Hawaii.
Manta rays have got a lot when it comes to water sports and adventure. Kailua-Kona is ideal for manta rays as you can book beautiful oceanfront penthouses here.
If you plan to stay here at Kailua Kona, also take tours to Honokohau Marina, close to Pine Trees Surfing Beach and Ocean Rider Seahorse Farm.
One of the ideal things to do is to love the charismatic dance of big water animals and relax at the coast.
Waterfall Experiences- Best waterfall in Hawaii
North Shore Beach Tour
North Shore's Haleiwa is a one-stop destination for getting the ultimate Hawaii experience tenfold.
This beach has stunning waters, a surfing experience, swimming, and boating. On the North beach, you can spend a whole day surfing and playing.
Soft golden sand, royalty surfing stories, and sparkling waters that are filtered through the beauties of nature.
Among the history of surfing, you will find pieces of royals surfing in Hawaii. Turning out to be the world's most famous surf spot in Hawaii.
With adventure all over the place, Banzai Pipeline and Waimea Bay give you a huge rock for cliff jumping. Explore this adventure yourself!!!
The place invites its guests for Ultimate fun, a cool destination, panoramic views, and an option for endless adventure. Swim, surf, snorkel, canoe, or scuba in North Shore.
What other than the beach? Well if you love to scoop over some fresh fruits in the tropical climate. Head over to Dole Plantation. Dole Plantation lets you enjoy the most fun times you can have in Hawaii. Fresh pineapple and its most famous pineapple ice cream is a favorite of Tourists. After enjoying yourself on the beach and scooping out your favorite ice-creams. You can now actually treat yourself to a lunch at Tsue's Farm. Freshly cooked, tasty delicious delicacies of Hawaii are waiting for you here.
What's more?
Shark Cage Adventure- As I told you, Hawaii is full of fun. Here's one more which is equally popular with kids and adults. With the biggest adrenaline rush, experience a close view of sharks from a small cage. Hawaii has a whole world beneath North Shore where sharks reside. You can choose to take a boat tour or see sharks from cages under the ocean. Safest and most famous adventure name among Tourists. Explore Hawaii itself!!!
Things to do in Hawaii for Kids, North Shore– Surfing, swimming, boating, cliff jumping, snorkeling, canoe, or scuba diving.
Most iconic view of Oahu- Scenic Helicopter ride of Oahu
This is a must, to treat your eyes with the panoramic beauty of Hawaii. A top glance lets you get a gorgeous view of Kauai which is inaccessible by foot. No doubt it's famous in Hawaii. Check out some of the best things to do in Oahu.
The helicopter flies over Hawaii's iconic attractions, magnificent views, and crystal clear waters. Ascend through blue skies along with beautiful sites never seen before.
Did you know?
Almost 70% of Kauai can't be assessed on your feet.
Tourists can see the panoramic view including the Na Pali Coast, Waimea Canyon, Mount Waialeale, and Jurassic Falls. Isn't it amazing?
Tourists with their kids enjoy this tour for over 90 minutes. Passengers over 10 years are allowed. To keep the tour safe you will be provided with all safety instructions.
The trip can be expensive sometimes depending on age or other factors.
What Does the trip feel like?
First, all the safety measures will be taken before you bump over the tour. The tour starts with the iconic Waikiki skyline and silky golden sand views.
Crashing the views of the National Natural Monument, Diamond Head, and round the volcanic cliffs, you will head to Windward Coast. The tour is more detailed and explores every part of Ohau.
The most exciting and panoramic sites are North Shore's Banzai Pipeline, the Chinaman's Hat, Makapu'u Lighthouse, the Sacred Falls, and Kaneohe Bay. This tour is worth a million dollars for a travel lover.
Heading back home, you will rush into the area of Dole Plantation, which is popular for the world's juiciest pineapples.
Visit Hawaii Volcanoes National Park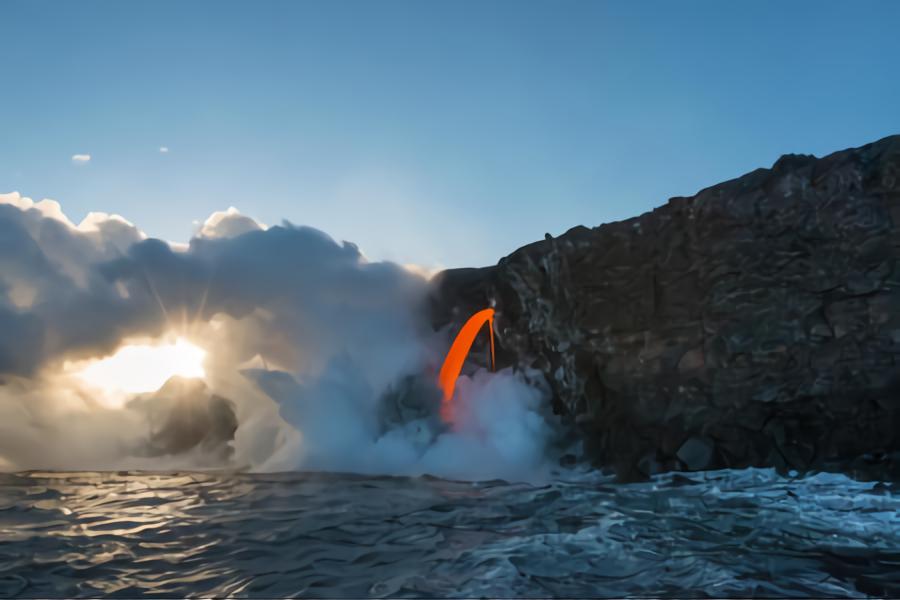 The volcano site is among the top things to do in Hawaii for Tourists. The one thing that every tourist has on their bucket list to do in Hawaii.
Not to mention, the active volcanoes of Hawaii are most fascinating to watch for all. A spectacular guided tour of these sites attracts huge crowds for these active volcanoes.
A guided hike starts with your near-to-fresh lave. Keeping your safety in mind you are allowed to go near a safe distance from fresh flowing lava.
No doubt it's one of the best things to do in Hawaii as the geology prints many tubes of active lava here.
The volcanic activity is spectacular to see as there are few places in the world to see such sites with your eyes.
You are provided with much-needed essentials like water, snacks, and rain ponchos. It's recommended to take proper essentials with you as the hike is long. The hike takes about 4-5 hours in each direction. The hike distance is usually dependent on where the volcanic activity is going. It's not recommended for young people as the hike can be a little tiring.
Ahead of National Park, you will also get some less popular sites in the rainforest.
Other than that, you can set up a camp in the landscapes of the park. But mostly the place is known for hiking and adventure.
The tour also includes a lot of information about volcanic activity and nature. You can take a long drive along the trails and hike your path here.
Living near the Park- You can rest near hotels with garden Waterfalls. The place is amazing for staying as you will get a hot tub and koi ponds here. The place has got a lot of facilities due to its popularity among tourists.
There's a lot about the hike. No doubt it's one of the best things to do in Hawaii.
Mountain Tubing and Wailua Falls-Fun things to do in Hawaii Kauai
What's the specialty of Hawaii? Well, Hawaii is not complete without sprawling waterfalls.
And here, in Kauai, you get the most beautiful waterfalls in Hawaii. Kauai is a backcountry that is known for adventure. With trails, hikes, waterfalls, and beautiful landscapes, Kauai is the most visited in Hawaii. Sprawl through the best things to do in Hawaii Kauai.
"Garden Isle", a beautiful and expansive rainforest is part of Kauai. Wailua Falls is the most impressive feature of Kauai. 200 feet above the ground which is so beautiful that it was featured in TV series also.
Another thing that attracts Tourists here, is Mountain Tubing through Canals and Tunnels. Great adventure and fun opportunity for you here!!! These were the best things to do in Hawaii Kauai.
First, you will be taken through the rainforest to the old Lihue Plantation. With a headlamp and tube, you can float through the plantations along with the flow. Fun and most exciting tour of Mountain Tubing. The adventure starts when you float through a pitch dark tunnel. The tunnel ride is a perfect combination of thrill and fun.
Of course, tunnel tours and Waterfalls are the most exciting Adventures of this place. But you must also follow exciting tours near the helicopter tours, Fern Grotto, and Lydgate Beach Park. 
No doubt Kauai is a must-visit cause I can beat you will find 50+ exciting things to do here. One of the best things to do in Hawaii Kauai is waiting for you.
Visit Mauna Kea- best known for hiking and stargazing
Love downhill bike rides? If so you got Mauna Kea which is beautifully designed with hiking trails and Beautiful skies.
Most beautiful in Hawaii, near Volcanoes National Park.
A trip to this land is one best things to do in Hawaii for kids that can't be missed. You can cover a long downhill track on a bike with your partner.
Hawaiian Culture and Connection to Mauna Kea is also a must-visit here as it is an important cultural site.
Amazing vistas, scenic views, and dark skies are just a short overview of Mauna Kea.
Go Stargazing at the top of Mauna Kea- The tallest sea mountain in the world makes its special place in tourists' eyes. Being tallest gives you an explicit and unprecedented view of the heavens above. With dazzling stars in the dark sky, it is the most visited place in Hawaii. Must visit as it is one of the best things to do in Hawaii.
What's exciting about Mauna Kea? Mauna Kea is also referred to as "A Portal to the Universe". For most reasons, this site is the most important astronomical research center, with the Institute of Astronomy and much more. This is why it's like A portal to a new universe for humans.
Rent a bike and explore the glancing views of Hawaii. If done with biking. Explore this new challenge in Mauna Kea.
With some active volcanoes, it's one of the most epic adventures in Hawaii. Known as the most formidable climbs in the world. Oceanfront at incredible Mauna Kea Beach at Hale Aloha is open for stays. No staying is available near the summit. The amazing location and beauty of nature hold for you in Mauna Kea.
Exciting Blue Whale Rafting in Maui(Other best things to do in Hawaii, Maui)
First thing First. When it comes to Maui, it's known for its Blue Whale Rafting and Snorkeling.
What's more on your adventure list? Maui has got many things to do. Especially adventure and water sports. As it's blessed with crystal waters of Molokini. Molokini I'd a volcanic crater and a seabird paradise.
Blue Whale Festival and snorkelling are not to be missed here. 
Valley Isle for its diverse piece of land decorated with beautiful valleys and peaks.
The place is perfect for Tourists as it has got awesome beaches, hikes, road trips, snorkeling expeditions, sailing adventures, and much more. And Yes, how can you forget its range of amazing delicacies? 
It's recommended for you to start in Maui with a road trip to Hana. A 6.5-mile road trip is leisurely full of seaside cliffs, scenic views, and Waterfalls. The place is a favourite of kids. Honokalani Beach is a must-visit in Hawaii. A beach with volcanic sand, splashy waves, and seriously tasty fish tacos. 
Its beauty is defined by its dazzling sky. Tour of the Stars is one of the best things to do in Hawaii for couples. Take an astronomical tour to find a land where you can take a shot of a vast, spread sky filled with stars. Other such beautiful places in Maui are Maui Ocean Center and Maui Grown Coffee. These two destinations are great for relaxing in Hawaii. With living reefs, see rare corals, and a turtle lagoon at the Maui Ocean Center you will be filled with joy. MauiGrown Coffee is also famous in Maui. 
Lastly, explore the abundance of flora and fauna in Haleakala Crater at Haleakala National Park.
This was all about some exciting things to do in Hawaii for kids? Don't forget to check some tips for Visiting Hawaii for the First Time.
In search of places to visit on your next trip. Maldives seems the best for you. Check out the best hotels in Maldives All Inclusive.
FAQ's
What are some top things to do in Hawaii for kids?
Things to do in Hawaii for Kids
Spend the entire day in Hawaii Volcanoes National Park.
In Hawaii Volcanoes National Park, take a trek.
Hike the Kilauea lki Trail on Kilauea.
Take a helicopter tour of the volcanoes to get a bird's eye view.
What are the best things to do in Hawaii Kauai?
Many tourists come to Kauai with great hopes of trekking the Kalalau Trail. It is highly popular since it is the only trail on the island that travels along the world-famous Napali Coast. There are no motorways, paved streets, or walking paths running along, in, or through this famous shoreline.
List of best things to do in Hawaii Kona?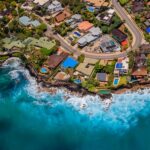 Kona holds the International Billfish Tournament in August, which is recognized for its deep-sea fishing. On land, don't miss the cooler upland slopes of villages like Holualoa, where you may sample the distinct flavors of 100% Kona coffee, which Kona is famous for!
What are the best things to do in Hawaii?
#1 Diamond Head State Monument and Waikiki Beach. The most popular tourist destination in Hawaii is Waikiki, with its gorgeous stretch of beachfront beach. Waikiki, a Honolulu suburb known for its large resorts, dining, entertainment, and shopping, is a popular tourist destination. More about Things to do in Hawaii
10 Tips for Visiting Hawaii for the First Time?
Tips for Visiting Hawaii for the First Time– Know more
#Stick to One Island
#When visiting Hawaii for the first time, try the local cuisine.
#On Your First Night, Avoid Going to a Luau.
#Use sunscreen that is reef safe.
#Before you go, do some research about the beaches.
#Always check the weather forecast before going on a hike.
#Make Your Own Oahu Circle Island Tour.
#Take a tour of the North Shore.
Where should I stay if visiting Hawaii for the first time?
Start with Maui if you're visiting Hawaii for the first time. Every island has its distinct characteristics, but Maui boasts a number of them that add to Hawaii's distinctiveness. The Valley Isle has beautiful beaches, spectacular resorts, and a volcano, which is just what you'd expect from Hawaii. More about things to do in Hawaii for first-timers.
Should I go to Maui or Oahu first?
If you just want an answer that the majority of people would agree on, Oahu is the best island in Hawaii for first-timers. Only six of Hawaii's eight gorgeous islands are major vacation destinations. The islands are Hawaii (the Big Island), Oahu, Maui, Kauai, Lanai, and Molokai.
What are the fun things to do in Hawaii Waikiki?
With its spectacular stretch of oceanfront shore, Waikiki is Hawaii's most popular tourist attraction. Waikiki is a Honolulu suburb known for its large resorts, dining, entertainment, and shopping.