Mussorrie, a hill station near to the nature and known as "Queen of Hills". As the name is depicts Mussorrie is blessed with eternal beautiful hills. The picturesque mountains cover the background. Lovely green mountains covered with snow and top hills are seeing worthy. Mussorrie serves Indians as well as Foreigners with its Beauty. A perfect destination for couples and families. Families and couples will love this list as it has best places to visit in Mussorrie for all.
Are you a adventure hunk or just a nature lover? Mussorrie has fun activities for all. As the place has amazing range of hills and mountains you will have never ending list of fun things to do. Check out every destination and fun things to do here.
Are you searching for best places for 2 day trip to Mussorrie? The place has got many amazing destinations best for even 2 or 5 days trip to Mussorrie. As laid very close to Himalayan range this place will give you sight of snow covered hills.
Dive into the dense forests, icey mountains, chilling waterfalls, rivers and lakes. Mostly people from Delhi, Dehradun and Chandigarh come here.
Top places to visit in Mussorrie
Kempty Falls
Lal Tibba
Lake Mist
Gun Hill
Company Garden
An adventurous trip to Mussoorie
Clouds End
Camel Back road
Kempty Falls
Kempty is the most visited place in Mussoorie. Your trip to Mussoorie is not complete without visiting this falls. Waterfalls are prominent and most beautiful here.
Kempty Falls from great mountains. The stream is divided into 5 streams. The tea party is very famous here. As the name was kept for 'camp and tea'. Best for picnics. The space down the falls where you can have fun in a pool. The pool formed down is fun. Have some fun time with your family and friends here. Take some good pictures. The water stream is elegant and beautiful. Kempty is a place where there are tourists all the time.
Tourists enjoy a bath in waters falling in the pond. There is a man-made pond here. There are 2 different falls in here.
The place has got many stalls serving hot tea and Maggi. After shivering cold water bath you will have the best feeling drinking hot tea and noodles.
Tourists explore terrain view of Kempty by ropeway. The ropeway ride is very famous as it gives view of elegant mountains. The ropeway ride travels through the Green mountains.
Do wear comfortable clothes here. People mostly avoid visiting here in monsoon as the waters flow at great speed. Carry an extra pair of clothes.
Lal Tibba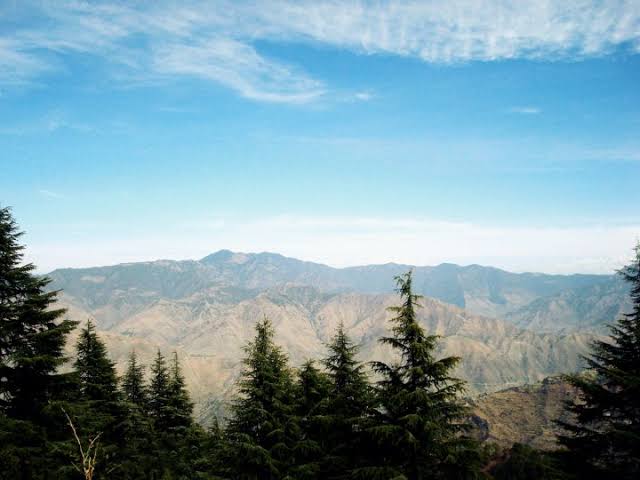 Lal Tibba is a viewpoint in Mussoorie. As many viewpoints here this is an amazing destination in here. The viewpoint is famous because it's the highest point in Mussoorie.
Locally the place is popular as Red hill which means Lal Tibba. The place has got many amusing things. The point is highlighted to have a view of famous Badrinath, Kedarnath and Banderpoonch. You will have a great view of sunrise and sunset point. The view will satisfy you as the clouds rise over the top of mountains as cotton.
The viewpoint is popular since the British era when it was a gateway. The point even has many remains of British era. The mesmerising landscape and panoramic view are perfect.
You can see Himalayan range through the telescope. The snow is covering the mountains and the wind here are breezy. You will have to carry some extra clothes to keep you warm. The top view and the cosy cold weather is the most favourite of all tourists visiting here.
Lake Mist
Lake Mist is always highlighted as a pristine lake. Lake Mist is located in the "Queen of hills". This pristine lake is one of the best places to visit in Mussoorie.
The lake is popular for emerald waters like a pool in green forest terrains. The place is like a resort with a very pretty waterfall. The whole scenario is the waterfall and scenic beauty of the lake. If you love to have a bath in waters in the forest then lake Mist is the perfect destination for you. Almost a favourite place of tourists in Mussoorie.
Lake Mist is perfect as you got to boat here. Boating facility is enjoyed by all here. Most families gang up here on weekends and the place is perfect for hangout.
After a blissful time on Kempty fall, you can come here. As both fall in same roads.
The lake has many amazing restaurants serving food and hot tea around so you won't be starting here. After a cold bath in a waterfall and lake, you need one cup of hot tea.
The place is perfect for all as it has majestic mountain view that is perfect for selfies and photos. Enjoy a beautiful day on lake Mist in laps of nature.
Gun Hill
Love with high viewpoints? If so, you will love this amazing point in Mussoorie. The second highest point in Mussoorie takes Gun Hill's name. At height of 2024 meters. As the height rises the place is perfect for an adventurous trip.
As Mussoorie is blessed with the view of the Himalayan range. Gun Hill has got a blissful view of mountains covered with snow. The cool climate and panoramic view of Himalaya are beyond words.
One of the must-visit places in Mussoorie takes Gun Hill's name in the top 3 list. The hill station is perfect as it has spellbound Beauty of Himalayan mountains.
Are you a photography lover? If so, you will fall for the landscape of the place. Nature lovers and photographers line to Gun Hill for a pleasure.
To entertain more. Gun Hill ropeway service is available for your fun. While sitting in the ropeway you will ride over the mountains will amazing view. The place is fun for children's as many activities are arranged for all. Shooting, balloon shooting, ring throw, and many more. You can enjoy on merry go rounds. The place has many stalls serving hot tea and Maggi.
Company Garden
Company Garden, a place perfect for children and families. Close as 3km from the Mall road in Mussoorie. The Park has various fun activities to enjoy with friends and family. The park has many adventurous activities like rides for children's.
The Company Garden is perfect to spend some quality time with your lover, friends, and families. The park is highlighted with colourful flowers, a waterfall, and rides.
The park has a great artificial waterfall which is favourite of everyone. Love boating! Company park has a boating service for you.
The park is designed with fountains, lush green lawns, flower bed. The garden is big and peaceful. If you don't want to get wet in water then you can stroll around the lush green lawns. The lake site is amazing in Company Garden. One of the best places to visit in Mussoorie for your time with family and friends.
An adventurous trip to Mussoorie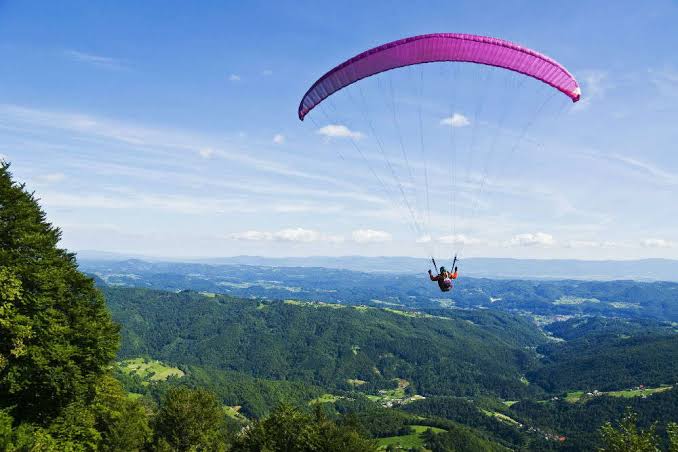 Adventure in Mussoorie starts with its great mountains trekking and camping. Trekking is the best option in Mussoorie as it has many hills and mountains. The place is blessed with a Himalayan range around. The viewpoints here are high and adventurous. The small roads, narrow paths are during the way up on viewpoints.
Trekking and Paragliding is a great option as the mountains are high and adventurous. Apart from trekking paragliding is the most favourite sports here. With all safety, you can have a great experience of paragliding.
Camping in jungles, nature walk tour, Haunted house walk tour is exciting and challenging activities here. The cloud end tour is one of the best places to visit in Mussoorie for adventure.
Clouds End
Searching for a place where you can enjoy the majestic mountains with an oak forest. Then Clouds End is the place. The Clouds End is named as the spot is the end of the Mussoorie hill station. The landscape will halt your eyes. The scene captures the oak forest covered with clouds and mist. The mistful place is amazing to watch. For adventure freaks, cloud end is best as you can come here by trekking.
Clouds End is highly considered as the place is close to the wildlife sanctuary and about 6 km from Library road.
As the place is on the top you will have a great time at sunrise and sunset. Most tourists come here for sunrise as the blissful site glooms like gold in the early morning. As the climate is cold here many choose to come here at sunset. The surreal paths here are best for walking along with your partner. Aglar Valley is the most popular view from the top of clouds End. Hill climbing, hill climbing, trekking, paragliding, and campfire at night are the best options for adventure in Mussoorie. The place is considered as a heaven for photoshoots and selfie lovers. Dive into the beauty of Clouds end. Truly it's one of the best places to visit in Mussoorie.
Camel's back road
The camel's road walk is a walk you will always remember. A 3 km path is naturally made which looks like Camel's hump. Round shaped long walkway path that is truly worth walking with your partner. It starts at Liberty point and walks to the end till Kulri bazaar. Along the way, you will get a view of the amazing Himalayan range. Popular destinations for couples. Most people come here for sunrise and sunset.
The walk is existing and beautiful. Along the path, many peoples spend some time with a picnic box. A morning walk or jog will be the most memorable experience for you. In the morning the sunlight is not harsh and a long walk is truly worth. You will get an amazing view of Doon valley from the top.
In between, you will get some stalls to serve you mouthwatering snacks. Camel back road is one of the best most visited places in the Mussoorie for couples.
What are the most trending things in Mussorrie?
A- As Mussorrie has lots of beautiful hills and mountains it has got many fun activities. From bungi jumping, horse riding, paragliding, trekking all activities will blow your mind. You will have fun activities starting at just 1000/- per person. Most trending activities in Mussorrie are- Lal Tibba trek, Benog trek, trek to udan top. Most places also got paragliding and camping facilities.
Which places in Mussorrie are great for nightout?
A- People who love nightouts mostly prefer Mussorrie cause the place has got many options for nightout lovers. Many hotels have camping facilities. Along with campfire and grilled BBQ you can spend a great night on mountains. Apart from camping you can enjoy late night shopping on Mall road. Lake Mist is also loved by nature lovers. Evening walk near lake Mist is just amazing. Other option is George Everest house in Mussorrie.
How to reach Mussorrie?
A- Jollygrant is nearest airport to Mussorrie. You can take flight from Dehradun and other cities. By road it's linked roads from Delhi, Dehradun, Chandigarh, etc. By rail it has 36 km from Dehradun.