Are you looking for some Relaxing spot or an adventure hub? You have got the place in Manali. The place is all no matter if you are a trekker, nature lover, or an adventure hunk. Manali is a hill station that is ready to entertain you with it's charming snow hills and valleys. The place is usually recommended highly for honeymoon and family trip. Doesn't matter what, you will have fun in Manali. Manali is destination where you will get many options for trip. But for your convenience I have listed one of the best places to visit in Manali.
The mesmerising aura of Manali will not let you down. Magnificent hills are main source of Manal's scenic beauty. You will get many affordable packages to head a trip to Manali. The place is considered as best for honeymoon couples and families.
Top places to visit in Manali
Solong Valley
Hadimba Temple
Rohtang Pass
Manali wildlife
Manali Shopping Mall road
Old Manali
Adventure in Manali
Solong Valley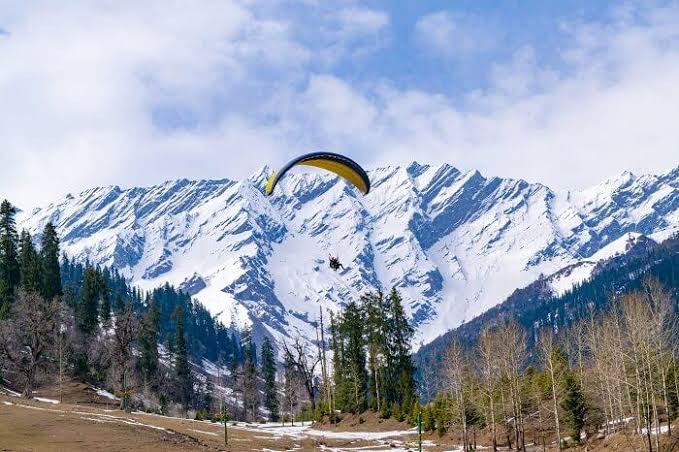 Solong Valley, about 14 kilometres from Manali is the hotspot for tourists in Manali. A most stunning destination in Manali. Lying in Himachal Pradesh the valley captures a most stunning view of snow-white mountains.
Everywhere the snow is covering the bushes and trees. The pristine snow, green bushes covered with white snow is truly magnificent. The view is mesmerising and seems like you are in foreign countries. The mountains are fully covered with snow like cotton. The place has a temperature at low, especially in winters.
As the area is away from city hustle and bustle. The place is calm and the sky has a royal blue and faded blue colour. Solong is truly one of the best places to visit in Manali.
Pride of Manali. Solong gathers tourists for skiing in the snow, snow fight, morning, and Paragliding. Camping in the open sky is always a great trip option here.
Are you going on a solo trip or with your gang? The place has fun options for all. Gang up to have a fun Squad Biking in the roads crashing the snow. The ropeway climbing is a treat for you if you are thrill-seekers. For more fun you can try parachuting here, horse riding through the hills like Prince and Princess.
The valley is along the high mountains so the road is capturing a great view of the snowy mountains. A jeep ride with an open-top is a golden opportunity to see the mesmerising landscape of Manali. These things make this place the best tourist attractions in Manali.
To hang up in Skiing you will get many trainers and instructors who will guide you to skii. If you are a pro in skiing or a beginner you will have fun here.
The melting snow brings another adventure option for you- Zorbing. Zorbing is one of the most favourite activity of tourists in Manali. In Zorbing you will ride with your partner in a transparent ball. The ball with roll and roll along the slopes. It's safe and sound amazing. It is much more fun than anything. Due to the never-ending options of sports, the place is one of the best places to visit in Manali.
Hadimba Temple
Don't underestimate the popularity of Hadimba Temple. One of the most visited places in Manali is temple Hadimba. Located in the laps of Himalayan snowy mountains. Away from the hustle and bustle of the city, the place is rated highly by tourists.
In the temple, you will feel calming and freshness in the environment. Most love to Meditate here. The temple is situated in a clean environment, surrounded by green woods. A pathway is lined with fences around the Temple.
A famous destination for Devotees of Hadimba Devi. Hadimba Devi is the beloved wife of Bheem of Pandavas. And the mother of Ghotothkach.
The temple falls in between cedar forest. The temple is glorious as made of rock. You will see a fantastic architecture of Temple which seems like 3 huts on each other in pagoda style. Cone-shaped roofs, wooden doors are the structure of Temple. The way to here will be fun as well. The way is calm and woods cover all over.
Rohtang Pass
Kullu Manali is blessed with a destination named Rohtang Pass. Rohtang is a picturesque destination known for its eternal beauty. Around 51 km away from Manali. The place is loaded with great fun activities to hold you here.
Rohtang passes through the roads filled with snow on sides. The place is fully opened and has picturesque scenery of great mountains filled with snow. You cannot travel here by car or jeep you have to travel here by road.
The speciality of the pass is that it's the highest pass in Manali. Many tourists head to Rohtang for a wonderful journey with friends. The splendid natural beauty will leave you speechless. At, first, you will see the path with snow on the sides and as you head forward you will reach the top where the scenery is majestic. Bollywood appreciates the beauty of this place. The scenic view is captured in Bollywood films like 'Jab we Met' and 'Yeh Jawani hey Dewani'.
If you love some winter sports. Then you are at right place. Sledge ride a winter sport that holds many tourists. Mountain biking is a sport loved by boys and teens.
The slopes are filled with white snow and you can have a wonderful experience of skiing here. Snow whilst is fun as you have a list of activities here to do.
The landscape will make you fall in love with Rohtang. For many reasons,s Rohtang is one of the best places to visit in Manali.
Manali wildlife
Manali trip is not complete without visiting this place. No doubt in that. Manalisanctuaryy is a total treat for nature lovers and wildlife lovers. This sanctuary is gone to thousands of spices of wildlife and fauna.
About a walking distance from Manali city. The place holds a rich habitat of flora and fauna. You love adventure then this is the place for you. Unlike other sanctuary are a lot more activities in here. Apart from sightseeing and tour with wildlife. The place is known for its amazing sports and entertainment activities.
Spot amazing wildlife animals, plants, bird and mammals. Some of the most spotting wildlife are barking deer, Kashmiri flying squirrel, Flying fox, snow pigeons, treecreepers, etc. The most famous are flying fox and flying squirrel. Other amazing attractions will amuse you.
This is a must-visit place in Manali for a joyful soul. You can camp in places made from camping here. The camp is worth at night with a campfire and sizzling chicken. Trekking is no doubt the favourite activity of tourists in Manali sanctuary. Trekk along the mountains and jungles to reach the exciting site of snowy mountains. The scenic view has a background of manalsu nulla hills covered with snow.
Adventurous sports and scenic beauty holds this sanctuary name in top 5listst. Most favourite destination in Manali for couples and children. The memories of the Manali santury are unforgettable. Truly one of the best places to visit in Manali for honeymoon couples and families.
Manali Shoppingg Mall road
No trip is complete without shopping some amazing stuff of that place. Mall road is a charm of markets in Manali. The visitors coming to Manali visit this place to take some memories back home.
Loaded with hundreds of shops delighting customers with handmade stuff, Willems, clothes, artificial jewellery of Manali. The intricate designs and taste of the Manali market is ultimately the Mall road market.
Mall road has got many bakeries, shops, cafes, bookshops, beautiful handmade woollens and much more. The place is loaded with shops serving hot sour soups, noodles, ramen and hot momos. The taste of the place will truly satisfy your tastebuds.
The place has many benches available to sit and glare the beauty of mountains and enjoying hot tea. Alon with the mall road destinations like Dragon shopping complex, Hong Kong market, Snow lion market. Don't forget to bargain a bit as the vendors put high prices here.
Old Manali
Old Manali, a place located about 3km from Manali. It is a great height of about 6589 feet above. The place is the great height with the scenery of apple orchards. Manalsu River decides old Manali and new Manali. A bridge takes through the old Manali.
Tourists coming here always consider it more than New Manali. Old Manali is comparatively cleaner and less crowded. The aura and the fresh environment here makes it one of the best places to visit in Manali.
As on the great heigh,t it's has a serenity of uniqueness. The small clean roads, eucalyptus smell spread all over, gushing waters are pure.
The locals here are sweet towards the tourists. The evergreen and flowing Kullu River is most awakening seen. The hills view is truly appreciated. Camping on the side of Kullu River is an amazing experience. You can visit here to sunrise and sunset point. The place has got many places for staying like hotels, lounges, and campsites. Take the amazing continental food here. You will have an amazing day here at low prices. The most famous Hidimba temple is located in old Manali.
Apart from the,t you can enjoy many activities like rappelling, nature walk, cherry hunting and much more.
The place is away from city noise and close to nature. The scenic view of mountains and snow is amazing here. You should visit the Old Manali.
Adventure in Manali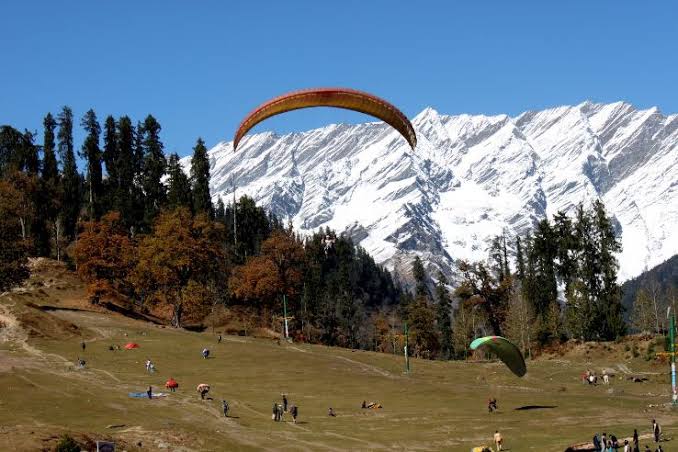 Manali is blessed with the snowy mountains and hills spotting it. The hill station is wonderful and one of the best places to visit in India. In the laps of Himachal Pradesh Manali is blessed with a scenic view and great landscape. Tall mountains and snow bring some existing adventure options for you. Rafting, Trekking, snow fight, paragliding, horse riding, and many more exciting things. Zorbing is one activity that takes the heart of everyone. Many resorts and amusement parks also have adventure options for you.
One great destination in Manali for adventure is Base town. Here in Base tow,n you get packages ranging from 600-1600 fora fly. The difficulty ranges from easy to medium. Manali is truly the best for adventure and sports. Many places are having bike ride race. Take a trip to Manali to enjoy some icey sports with your family and friends.
Which are top 3 places in Manali?
A- Manali has many amazing places to visit. But some places have great tourist attraction. Top places that are considered by Tourists are Rohtang Pass, Solong Valley, and Hidimba temple.
Which are best hotels near Manali?
A- In many places of Manali there are hotels that are rated highly. If you are near Solong Valley you should consider top hotels of Solong. Solong Valley resort, Solong ski resort, Snow Range hotel. Some luxury hotels like Urvashi's Retreat, The Manali Inn are best hotels in Manali.
What are some popular activities in Manali?
A- Manali has many activities for both adults and children. The place has got all from paragliding to horse riding. Some amazing activities are arranged in area of Beas river, waterfall of Jogini, Solong Valley.
How can I spend 2 Days in Manali?
A- Many prefer to take atleast 3-5 days trip to Manali. The places here are great for even 2 day trip. For the first day you should take a look at places like Hidimba temple, wildlife sanctuary, Many Temple, Jogini Waterfalls. For second day you should head to Solong Valley. Solong is best for you if it's your last day In Manali.