Mumbai, a place popularly known as City of Dreams. From luxurious Apartments to slashy slums this place has got a lot. Known for ravishing apartments and party hub for party jerks. City has got the nights with dazzling lights like stars. Blessed with amazing Arabian sea coast and nature's beauty. Mumbai is just beyond any words. Common food not so common here for your taste buds. With Pani puri, Vada pav and Sev Puri give your taste Buds and amazing treat. Listed one of the best places to visit in Mumbai.
All in all- A Cosmopolitan city, with jammed railway stations and also a place for multi millionaires. To spice up Mumbai has got Dazzling Bollywood and home to Bollywood stars. Places best for picnic in Mumbai with beaches, gardens and what not. If you are planning a trip to this Magical City I will help you list down some must visit places in Mumbai. Mumbai's extravagance city life and amazing places here will make you fall in love with Mumbai.
Top places to visit in Mumbai
Gate way of India
Marine Drives
Sanjay Gandhi national park
Haji Ali
Juhu Beach
Elephanta Caves
Hanging Gardens
Bandra Worli sea link
Gate way of India
Starting of the Mumbai's most famous monument Gateway of India. Built in 1924 by British. Mumbai's pride gateway that will make your eyes halt in amaze. Gateway of India, built years ago is now one of the most popular places to visit in Mumbai Get an amazing experience of boating and strawling along the pathways along the coast here.
Have a great time with your family in early morning here. Cold breeze in morning and blue blanket of sea is worth to watch. Splendid Taj palace hotel view will keep you in awe.
Hotspot for tourists and photographers drive a huge crowd here. A great place for a family trip.
Enjoy ferry rides and street food treat in Gateway of India. A great place to visit cause you can travel to other attractions from here.
Things to do here- Ferry rides, boating, strawling along the long pathway, photography, enjoy street foods.
Location: Apollo Bandar, Colaba, Mumbai
Timings: 24×7; every day
Entry Fee: Free entry.
Marine Drives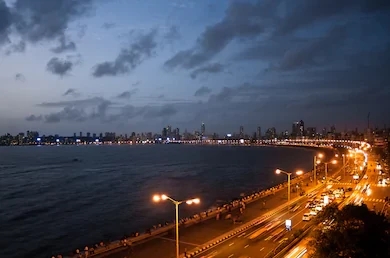 Marine Drives also referred to as "Queens Necklace". Marines always take place in top 3 must visit places in Mumbai. A belt of 4 km long promenade. The road streaches along the beach coast. As the name resembles the nights lights shine like Queens necklace.
Popular for nightlife and nightouts. Perfect place for couples and families. Magnificent sea looks marvelous with lights shining like stars. Totally a bliss of night lights and luxurious apartments in Marines. People group here to relax along the sea and couples to have a sweet moment here.
Walking on the promenade along the sea coast is undeniably an beautiful experience.
Mostly friends and couples spend whole night along the coast. Have a nightout here with sea breezes and tasty chat here. Great place for teens and couples in Mumbai. Get a treat with amazing restaurants and beverages here.
Huge crowd gather here to see the sunset at evening. The most fun part is at night when the sea is cold and lights are shining resembling Queens necklace.
Things to do- Walk along the promenade, enjoy street food, beach, nightout with friends,
Distance from Mumbai Airport: 22 km
Entrance fee: The entry is free of cost.
Location: Mumbai, Maharashtra, 400004, India
Timing: Always Opens
Sanjay Gandhi national park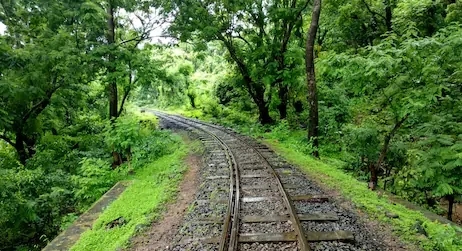 Spread over an area of 104 sq. Km. In Borivali, Mumbai. One of the most visited places in Mumbai. Most appreciated parks in Asia. Sanjay Gandhi national park, takes at top in must visit places in Mumbai. Not a zoo with but this park has many many attractions.
You can have a bus ride and see big cats through cage. Park has got a lake where you can boat all day. Drives a huge tourists all season but u can easily get a lonely time in this huge place. Hiking is another tourist attraction here especially for hikers. Among kids Van Rani is very famous. A train that will give you ride of the Park. This train goes through jungles and most favourite of all children's. Hiking towards the Gandhi Tekdi is a must to experience here. Along with trekking you can have fun by exploring very famous Kaneri Caves.
Hiking, boating, strolling in the jungle, Exploring Kaneri Caves and seeing the wildlife is lot to do in a day. You will definitely crave to visit this place again. Mostly visited in springs as the climate here is cold and the place is blessed with nature's beauty. Kaneri Caves are among the must visit places in Mumbai.
Location: Borivali East, Mumbai
Timings: 07:30 am to 06:30 pm; closed on Mondays
Entry Fee: N/A
Adults – ₹53
Children ( 5 years) – free
Haji Ali
Mumbai's trip might not be complete without this place on the list. One of the finest religious places in Mumbai. Yes we are talking about Mumbai's most famous Dargha, Haji Ali. Grand Tomb of Sayed Peer Haji Ali Shah Bukhari. A grant Tomb resembling Islamic culture.
Completely made of white marbles with Indo Islamic structures and patterns encraved. Give your Mumbai darshan list a religious touch. A grant Tomb resembling Islamic culture.
You can take a long walk through the causeway that connects the Lala Rajput Rai Marg. One of the popular destination for Muslims and must visit place in Mumbai.
The causeway coupled with the amazing scenic view of blue sea. Dargah is decorated not just inside but also the streets with stalls.
Location: Dargah Road, Mumbai
Timings: 05:30 am to 10:00 pm; every day
Entry Fee: No
Juhu Beach
Juhu Beach popularly known as Juhu Chowpatty. One of the must visit places in Mumbai. You will totally fall for this place. Juhu is not a place where you will not crave to go twice.
Beach is popular and hotspot for children's, families and couples. Mumbaikars enjoy Juhu Beach on mostly weekends. You just can't stop yourself diving into the salty sea water.
The salty beach and lip-smacking street foods are a total treat. Pav Bhaji, Vada Pav, Pani Puri, Sev Puri and hot corn are dishes you must try.
On the beach you will see sky filled with parachute of childrens flying like kites. Salty breezes and salty water are the things you cannot deny to. After diving into the water the cold breezes will shiver you up. To warm yourself, you have a treat of hot corn. The hot corn is a must on juhu Beach. Get your picnic box packed for a fun weekend Juhu beach.
Not just beach and food this beach has got a lot more for you. You will find many offers to get a photos with the amazing beach by photographers. At a cheap rate you will get a great shoot.
Apart from that, Get fun Horse rides, and donkey rides, ferry rides and many more. You can also get to see monkey dancing show on the beach. Get your list with Juhu on top 5 must visit places in Mumbai.
Distance from Mumbai: Juhu Beach is around 5.9 km from Mumbai Airport.
Entrance Fee: No Entry Fee
Location: Juhu Tara Road, Juhu, Mumbai, Maharashtra, 400049, India
Timings: Always Open
Elephanta Caves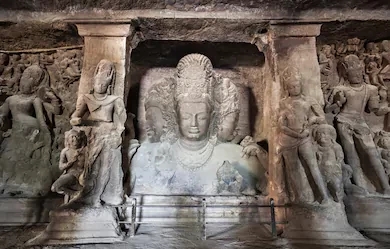 Elephanta Caves covering around 6000 square feet with chambers, laterals and courtyards. Very old temple cave belt with natural rock crafted with sculptures of idols. Long passages are along the chambers and courtyards. Basically there are three passages. Cave made of solid natural rocks.
Has Seven Caves that replicate the ancient Indian art architecture and culture. In Elephanta Caves many tourists are attracted to explore the Ajanta Elephanta Caves. Caves replicate Hinduism. You will also see prints of Buddhist culture in caves.
Most popular place in Mumbai many tourists are attracted here to see ancient Indian history. A little history of Elephanta Caves takes you back to Silhara Kings era. It is also believed that the caves are encrypted without using hands.
At the end of the caves you will find Idol of Lord Shiva popularly known as Trimurti. You will find some magnificent sculptures of Indian idols depicting Hinduism. Canon trekking is must in Elephanta Caves. Also, take a trip to museum near Elephanta Caves.
Location- Gharapuri, Mumbai
Fee- Rs 10/- per person
Timing- 9 am- 6pm
Hanging Gardens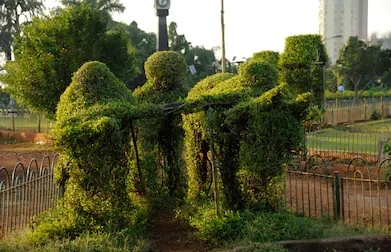 Want a peaceful trip in garden away from city's hustle? Here we got option for you.
Hanging Gardens in Mumbai are a great half day trip option. Perfect for spending some quality time with your friends or partner. Western side of Mumbai in Malabar hills these gardens are located.
Beautiful gardens with trees, shrubs, and colourful flowers lining the lane.
Worth to spend some quality time with your family and friends. Explore the 138 years old Hanging garden built on multi-level stone terraces. One of the favourite spots of tourists and locals. Locals enjoy morning walks, jogging and exercise in this amazing beautiful garden.
Not just that, Hanging garden is close to other famous destinations of Mumbai. Spending half day in Hanging garden and moving to sunset points like Marines is always a great option.
Close to other attractions like Marines, Haji Ali Dargah, and Kamla Nehru park.
Timings: 05:00 am to 09:00 pm
Price: Free of cost.
Bandra Worli sea link
Bandra Worli sea link is another promnade on the coast of Arabian Sea. After Marine Drives this is most popular place for hangout in Mumbai. In monsoon people gather here to enjoy high tides and weather.
Famous destination for mumbaikars for hangout. If you are seeking a place to hang out along the sea coast this place is perfect for you. Remarkably drives a tons of tourists in monsoon to see the high tide. Mostly famous for Hangout with friends and to have a couple of moments with your partner.
It is a long Bridge that joins Bandra and Worli. Magnificent buildings and structures glorifies this place. Structures of the Bridge will keep in awe. Around 6 to 7 p.m. the place is highlighted with shining lights like stars and cold breezes. Along the Promenade you will find many stalls of chats to treat you. People enjoy hot beverages along the coast with cold weather.
People head here in morning for a morning walk or jog.
Distance from Mumbai: Worli Seaface is located at a distance of 13.4 km from Mumbai Airport.
Entrance Fee: No Entry Fee
Timings: Always open.
Also check – Tour all over India! Top 10 best places to visit in India with your family.
FAQ's
What's Famous in Mumbai?
A– Gate way of India and Marines are most famous places in Mumbai for hangout. In foods Mumbaikars enjoy street foods like Vada Pav and many chaat dishes. For a day trip you can spend a peaceful time in Sanjay Gandhi national parks in Borivali. If you want to see the urban side of Mumbai and hangout Marines and bandstand are best places for couples.
How much do I need to have a trip to Mumbai?
A- As the city is cosmopolitan but it has varying cost. If you want to stay here for 2 days you will be charged for only your hotel rooms. Most of the places here are free or with minimal cost. It totally depends on how much you want to spend. The traveling cost differs.
What can I buy in Mumbai?
A- Mumbai has many amazing wholesale Markets. Spices, garments, fashion clothes, Satie's and everything are available here. You should go to Famous shopping places like CST, Colaba Causeway, Linking road for shopping in Mumbai.