Kodaikanal, sitauated in the laps of Tamil Nadu. Popularly known as ' The Princess of hills'. The place is bounded as the most beautiful hill town with its own wonders. In Tamil Kodaikanal is referred to as 'Gift of forest'. The place is blessed by Mother Nature and it's uniqueness depicts it. The Kodaikanal has lush mountains, waterfalls flowing in grace, top hills illuminated by Greenery. Truly you will enjoy the side of Tamil Nadu Dive into the list of the best places to visit in Kodaikanal.
Are you planning to have a trip to Kodaikanal for honeymoon or planning a family trip? The place Kodaikanal is best for couples and even for family trip. Mostly the couples enjoy the cold romantic breezes here. The exotic scenic view is mesmerising and seems like a nature's gift. Boating along the lake of Kodaikanal is best for couples. The scenic view of star shaped lake is most famous.
For children and families the place has got many fun activities. Dive into the blissful place with your family and friends. For your convenience I have listed 8 best places to visit in the Kodaikanal. These places are highly rated by tourists.
Content
Green Valley View
Kodaikanal Lake
Bear shola falls
Pillar Rocks
Thailayar falls
Coakers walk
Berijam Lake
Dolphins nose
Green Valley View, Kodaikanal
Green valley view is the most breathtaking view of the Kodaikanal. Valley is one of the best places in Kodaikanal. The spectacular view holds the eye on the scenic scenery. Green Valley is always at the top when it comes to best places to visit in Kodaikanal.
Be ready to stay stunned by the view of the green valley. You will get a view of mesmerising greenery, valleys and hills. The Dam is splendid and beautiful. The experience will be unforgettable. The mist holds over the hills and mountains.
Green Valley is also known as "Suicide point". Wondering why it's called "Suicide point"?
The valley has a very tricky and dangerous path. As the valley is at the great height it makes it dangerous to even stand on top. However, many adventure-loving tourists head there in huge number.
The place has a mesmerising landscape and scenic view. Green Valley has many shops while going to the top. They sell homemade chocolates, ornaments and other things. The place is rated highly for view and thrill.
Location: 5.5km from Kodaikanal Lake.
Timing: 07.00AM to 06.00PM
Entry Fee: Free
Kodaikanal Lake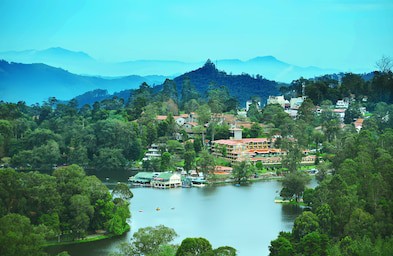 Soul of the city is Kodaikanal Lake. One of the best artificial lake made for your pleasure.
The view of Kodai lake seems like a star shape from above. The water is pristinely clear and the dark shade of the lake makes the place looks deep and soulful.
Wondering why Kodai lake is on our top 2 places? This place is highly rated by the peace-loving audience who come here to relax. The most highlighting feature of Kodai lake is that it is surrounded by rich green Palani Hills Range.
Enjoy boating in this splendid lake. You can sit and stroll around the lake. Experience peace and relaxing. The place is mostly preferred by couples. The blue water and the freshness in every breath will make you feel happy. For a little more fun you can do fishing here. In summer season the place is highlighted to have flower shows and boat pageants.
Huge tourists attract here to sail on boat and horse riding. Ride over the ponies in the hills like a dream. Cycling is also a great option. Peddling boat is also very famous activity in Kodaikanal.
In a minimal charge of 40 Rs, you will get many boating options here. The scenic view and amazing aura of this place make Kodai one of the best places to visit in Kodaikanal.
Bear Shola Falls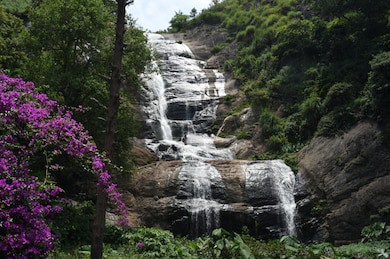 Bear Shola deserves to be on top of the list. Near to Lake Kodai, it's the most popular tourist destination in Kodaikanal.
Bear Falls get a great attention in moonson. In moonsoon, the water flows flawlessly. The green lush spreads all over and you will breath freshness of heaven.
Glimpse the eternal beauty of hills and water flowing through the hills.
Looking for a place with eternal beauty and privacy? Bear Falls is best place in Kodaikanal for this. Your attention will be grabbed by the cold rocks and fauna. The place is blessed with flora and fauna. The atmosphere here is quite and cool. The cold breezes and the birds chirping are really mesmerising.
Take a trip to this amazing place in Kodaikanal jungle Wear something comfortable as the rocks are slippery. A perfect hangout destination in the arms of nature.
Tip- There are lots of monkeys in place so keep an eye on your belongings.
Wear comfortable clothes and shoes as the rocks are slippery.
Pillar Rocks, Kodaikanal
As the name suggests, the magestic big rocks are in shape of pillars. Located on "Princess of Hill stations". This place is considered as mystery. Pillar Rocks are started at the edge of Guna caves. A perfect picnic spot in Kodaikanal.
The mystery and the love story of this pillars are truly heart touching. The pillars touch 400 feets in height. It has a beautiful mini garden which holds many lovely flowers in it.
Best destination in Kodaikanal for couples. The aura here is lovely and the magistic view is mesmerising. You will definitely fall in love with this place. Pack your picnic box with sandwiches and head to Pillar Rocks. You will get many stalls serving tea and snacks. The rocks are covered by mist and blooming clouds. On a Monsoon day you will see showers of rain and greenery spread all over.
You need to listen to the story of this place from locals. The mini garden is also a great attraction here.
Thalaiyar Falls
Thalaiyar Falls or Rat Tail falls, are narrow waterfalls in Palani Hills. The name is Ray tail cause of the narrow slope of waterfall.
The slope is cut down into narrow path to give a significant structure. The water flows at high speed which looks amusing. The waterfall is highest in Tamil Nadu. To see this tallest waterfall tourist gather here in great numbers. Making Thalaiyar one of the best places to visit in Kodaikanal.
Tallest water fall view will delight you. Around 297m high this fall takes 267th place in highest place in world. Sightseeing of this place will delight you and the dam here most famous attraction in Kodaikanal.
For more fun there is a Dum Dum Rock where you will see a site view tower. This tower is for viewing the Thalaiyar falls. The view is magestic and beautiful. From the view tower you will also see Manjalar Dam.
You will love to see many wild animals in the Thailayar. Wear comfortable clothes and comfortable shoes. Take enough drinking water at the place.
Coakers walk, Kodaikanal
Want to see the beauty of earth from top? Coakers walk is a walk made to see the epitome beauty of mother nature. One of the highlight tourist place in Kodaikanal.
One kilometre extended walk way that is build like a road on the edge of the mountain. Have you ever experienced driving along the mountains. It's walking way here for you. Mostly couples choose this place to walk along holding hands.
The lovely path is coupled with lush green mountains and hills. When there is not so harsh sun the walk is even amazing. Glare the Paradise of Earth from Coakers walk.
Take a stroll along the path, biking, jogging, skating are things people enjoy here. Evening walk is even more splendid to see the sun going down and cooling day around.
You will feel like you are walking in the clouds with green gardens along. Coakers walk is must visit in Kodaikanal. The best thing is you can visit other amazing tourist destination of Kodaikanal from here. Dolphins nose, River Pambar, and City of Madurai.
Best place for photography and other activities in Kodaikanal. You will encounter many fun stalls selling items at the starting of the path. Kurinji mini market is famous here. Kodai lake is near here and you can boat there. Horse riding is also a fun activity in Kodaikanal.
If you are chaat lover, taste masala mango strips and bhel. Also, take some extra clothes and jackets to keep you warm.
Berijam Lake, Kodaikanal
Place for nature lover! The lake falls on the side of the dam and the scenic view here will bless your eyes. Amazing birds site here in the woods and trees. The lake looks magnificent with sparkling blue water. Away from hustle and bustle of the city this place is ranked best for no disturbance.
Rich in flora and fauna. The lake sheds many animals as the source of water. Best places to chill along the side of lake or while boating. Palm trees are standing on side of lake. The lake is blessed with many photography spots for you.
The lake is spread over 59 acres. Truly one of the best places to visit in Kodaikanal. If you are interested in wild animals you may see one. Animals like bison, Nilgiri Langur, Indian elephant, deers come to the site.
For a normal day you can sit on the side of lake fishing. The fishes will entertain you as well. The lake is splendid and lies in the jungle. You should way here in the morning as the place is even more beautiful then.
Dolphin's nose, Kodaikanal
Guess why- Dolphins nose? Yes! The place is a Viewpoint from a rock shaped like the Dolphin's nose.
Kodaikanal is flooded with Hillstations. One of the popular destination in Kodaikanal is Dolphins nose.
Just a short of its view. You will find plunging valleys, clear skies and lush green mountains. The viewpoint is on the flat surface like dolphins nose.
Mystical fog, steep slopes of hills, surrounded valleys with greenery will make a mile here worth. The place is perfect for a view of sunrise and sunset.
However,the route to get here is a bit tricky. Many find the route dangerous. As you need to treek up on the steep.
Are you a Daredevil? Don't miss-out this place then. Most adventurer people trekk to the end of the viewpoint. At the end you will encounter echo point and thrilling mountains. The glimpse is spectacular above all. One of the best places in Kodaikanal for sightseeing.
The heavenly spot is about a 3km away. On the way you will fall for the waterfall and old village of Kodaikanal. A photography enthusiastic person will love this place.
Love places in India. India is filled with amazing destination for couples and families. Check out Exotic locations of Kodaikanal. Best places to visit in Nainital for a great weekend.
FAQ'S
Can I trip to Kodaikanal in 1 day?
A- Kodaikanal is best known for its nature beauty. It has got many beautiful places. Many destinations are near to each other and is easy to travel. You can visit viewpoints for 1 day trip here. But if you are planning to visit berijam Lake then you might need 2 days. As the place is vast to explore.
How to reach Kodaikanal?
A- Kodaikanal is a hill station in Tamil Nadu. You can reach here by many means. By air you can reach here by Madhurai station. Kodaikanal road is connected to many cites like Bangalore, Chennai, Madhurai, etc. By train it is 95 km from Madhurai.

Is Kodaikanal safe for children and couples?
A- Kodaikanal is inviting couples and unmarried couples since a long back. You will easily get accommodation in hotels and staying areas around. You can even book online before you visit. Many facilities are available for couples. This place is fairly safe for everyone.
What essential items should I carry to Kodaikanal?
A- As it is a great hill station the temperature here is cozy and cold. You needto Carrry enough leather, woollens, and warm clothes with you. Also carry I'd proofs in Kodaikanal. You would need first aid and a camera is must.