Looking for a trip for seeing the royal side of India? Udaipur is a place where spectacular architecture will blow your mind. Popularly named as 'Venice of the East'. Udaipur holds a special place in peoples heart for its enchanting beauty. Amazing bazaars, royal palaces, and unique places. Take a trip to India's spectacular city with your friends and family. Udaipur have a bunch of existing places but I have listed one of the must visit places in Udaipur.
Lake Pichola
Lake Pichola, situated in the heart of Udaipur. This lake is considered as 'iconic symbol of Udaipur'. The lake is accompanied which Royal quarters, Royal palaces, Ghats and temples. Along the lake the royal places palaces shine like gold. These structures are along the Lake. Palaces, mandirs, royal courts make this lake must visit place in Udaipur. Reviewed at top by tourist.
This lake is one of the oldest and largest lakes in the City. The perfect treat for nature lovers and peace seekers. Famous for boating in the dawn. In the dawn, this place shines like Gold. Reflection of pristine water seems like the palaces and the temples around shine like gold in the evening. The glory of the palace and magnificent hills are covered with lush greenery.
Spectacular view will keep you in amaze. Must visit places in Udaipur to enjoy the India's culture and royal side. You can have packages and tours to Udaipur along with Lake Pichola.
Weather : 26° C
Timings : 9:00 AM – 6:00 PM
Time Required : 1-2 hours
Entry Fee : No entry fee
City Palace of Udaipur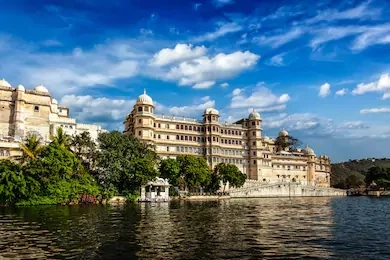 One of the royal palace in Rajasthan built magnificently in year 1559. Maharana Uday Singh build this magnificent palace. This was the main headquarters for Maharana Uday Singh administration. All his administration was held in this magnificent Palace.
Made of courtyards, corridors, rooms, and grand assembly hall. Many magnificent Hanging Gardens are built in the palace.
The palace is pride of Maharanas and holds the beauty in it. You can have a taste of Indian culture and royal palaces in Udaipur.
Along with the palaces you will have fun strolling in the Museum built to present the heritage of the king. The Museum has got a lot of information about the king and other Rajasthani palaces.
The surrounding is glorified with green gardens domes, arches and towers. The city palace is the heart of Udaipur and is the must-visit places in Udaipur.
With this magnificent Palace you will get a glimpse of other tourist attractions of Udaipur. Moti Mahal, Manual Mahal, Bhim Villas and Amar Villas are other famous tourist attractions in Udaipur near City palace.
Weather : 26° C
Timings : 9:30 AM – 5:30 PM
Time Required : 3 hours
Entry Fee : Adult (Above 18 years) INR 300, Child INR 100, Student INR 100
Fateh Sagar Lake
Fateh Sagar Lake, a magnificent lake known for its scenic beauty. The lake is surrounded with Aravali hills. Lakes Water is crystal clear which seems like a reflecting mirror.
At sunset the reflection of the hills and surrounding lights can be seen in pristine water like a mirror.
The atmosphere will bound you with it's eternal beauty.
Take a stroll around the Moti Magri Road enjoying during the afternoon with the fantastic view of the entire lake.
This lake is always on the list of all tourist in Udaipur. One of the must visit places in Udaipur cannot be complete without Fateh Sagar Lake.
Not just a lake but it's an island in islands. It's basically 3 islands.
The island named Nehru Park is one of the biggest island among them. Park is highlighted to have a zoo and boat shaped restaurant. The zoo and restaurant will not let you down.
Love fountains? One of the islands here have a waterjet fountain along with park. Magnificent constructions and nature's beauty beholds in Udaipur.
The 3rd island has got Famous solar observing sites. Boating in magnificent waters will make your heart blow in its beauty. Strolling around the lake and click some amazing moments with this magical lake. Get a charming weekend in the best place to visit in Udaipur with this lake.
Weather : 26° C
Timings : 10:00 AM – 5:00 PM
Time Required : 1-2 hrs
Entry Fee : Free
Sajjangarh Palace
Sajjangarh Palace, a royal palace of Mewar dynasty. Mewar dynasty ruled here for many centuries. Palace is on top of Arvalli hilltop. Palace was firstly build to identify the monsoon clouds. Also popularly known as Monsoon peak.
Monsoon palace stands with white magnificent floors and high towers. The palace looks royal and like a big house with architectural design. You can enjoy a high view from top of the palace. As the palace is top you will get a view of Udaipur from top.
Palace is glorified with big balconies, roofs and pillars. Once was a hunting lodge for royals. A perfect picture of Rajput architecture.
Saheliyon Ki Bari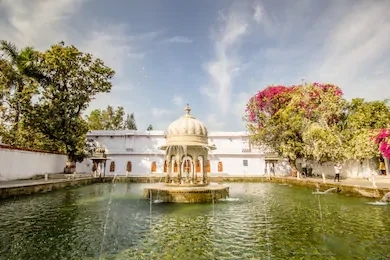 Another finest place to visit in Udaipur. Garden of the Maidens or Saheliyon ki Bari is a garden made for the maids who came with the Princess to serve her.
The mesmerising landscape of this garden holds a unique beauty in it. Situated on banks of famous Fateh Sagar Lake.
The garden holds beauty of lush green lawns, lanes and marvelous fountains.
Tourists rate this place as one of the best places to visit in Udaipur.
Rejuvenating vibe of this place will make your day worth with your family and friends.
The architecture of this place replicates the tradition of royal era. The garden is craved with beauty of tall trees, colourful flower bed and beautiful fountains.
A stroll along the beautiful lanes and relax in beauty of Udaipur is must.
To take this place on top for beauty it has got a lotus pool and marble elephant statues.
Saheliyon ki Bari takes top position for one of the popular places to visit in Udaipur.
Eklingji Temple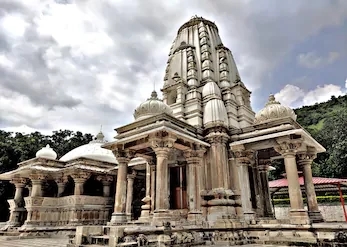 Eklingji Temple, is one of the oldest temple of Rajasthan. Your trip to Udaipur will get a blessing of religious touch with this temple.
Temple covering 22 km dedicated to Hindu lord Shiva.
Temple depicts the Hindu religion and architecture. Looks magnificent with a view of pyramid style construction.
The tower is uniquely carved with structure and huge pillars. You will enjoy the scenic beauty of waters that take along the backside of temple. The water looks splendid and beautiful. Calm environment and religious bliss with make you feel peaceful.
The construction is old and unique. The temple have many structures of elegant designs. The surrounding is view of green fields and mountains. On entering you will get Nandi. Inside you will see many idols and beautiful four-faced idol of Eklingji.
Usually, preferred by people to see some religious side of Udaipur. Mostly ranked on top places to visit in Udaipur. The main attraction of this temple is the idol of Eklingji.
Timings : Morning: 4:30 AM – 7:00 AM, 10:30 AM – 1:30 PM,
Evening: 5:00 PM – 7:30 PM
Time Required : 2 hours
Entry Fee : No entry fee
Jagdish Temple
Grand majestic temple of the preserver of the universe, Lord Vishnu. Jagdish Temple is one of the most visited places in Udaipur by tourists. The breathtaking view of this magnificent temple will make you feel happy.
Temple is most famous in Udaipur and draws a lots of people. The temple is usually filled with ladies wearing colourful sarees and worshipping lord. Get a taste of Rajasthani culture and tradition with trip to this place.
The temple has a magnificent look as it stands tall. View the Bara Pol at its gateway. Beautiful structures, carvings, and great statutes will keep you in awe.
Enjoy a blissful day at this religious place in Udaipur.
Timings: 05:00 am – 02:30 pm and 04:00 pm to 10:00 pm (Everyday)
Entry Fee: None
Bangore ki haveli
Bangorre ki haveli, siding near the beautiful Lake Picholi. Bangorre ki Haveli is among the popular tourist places in Udaipur.
This Majestic Palace build-in 18 century was holds pride of Royal families and ancient rulers. You will get a complete display of white corridors, windows and rooms in Royal Palace.
Inside the Haveli there are famous paintings. The Queen's chamber is filled with costumes, pieces of Art, and precision glasses. The palace shines with corridors, big windows, big rooms. The enhancing attractiveness of the palace and see an amazing blend of palace and royal side of Udaipur.
You will also find some preserved stuffs of Royal families like jewellery boxes, royal furnitures reserved till date. Rajput architectural styles are engraved and displayed through this Grand Palace.
You can stroll in any area of the palace as you please.
Distance from the city: 4.5 kms
Location: Gangaur Ghat Marg, Udaipur, Rajasthan
Gulab Bagh
Flora and fauna lover? A great for you in Udaipur is Gulab Bagh.
Gulab Bagh is ideal destination for you if you love the nature and it's amazing taste. Bagh or zoo is known profoundly for its rose garden. The zoo is a great option for a on day trip here. You can strall around the garden in peace. The blanket of flowers and roses will make your heart go bounce. Zoo has a lot range of birds, animals, lions and
Enjoy a fun day here with wild Beauty and rose bed. Got some children entertainment also. Here children will have fun with your train ride.
Location: Bapu Bazar Road, In Sajjan Niwas Bagh, Gulab bagh, Khanjipeer, Udaipur
Timings: 8 AM- 6 PM
Also check – 10 Best places to visit in Kerala for a weekend In "Gods Own Country".