India a land of great culture and heritage. The land is filled with diverse cultures and traditions. Usually, people find it impossible to select few best places to visit in India. Whereas the truth is India holds great architecture and stories in every part. I have listed some of the top rated tourist places in India best for a perfect trip.
Travel to India is not just sightseeing. India has amazing taste, culture, historical places and great stories hiding inside. You will be delighted to taste local street food of India. The beaches, structures and people of India will not let you down.
Agra
Agra, located in Uttar Pradesh, is one of most popular tourist attractions in India. It's also a home to Taj Mahal- Wonders Of World. Agra stands on 24th position for population. Rich history, legacy of Mughal empire, Rich in heritage, Architecture buffs are part of Agra. Agra is a perfect combo of culture, history to Romance. These things make this place a must visit place in India. Agra is rated as one of the best places to visit in India.
Great place for a foodie- Agra has got a lot of interesting stuff for a foodie. Especially it's most famous- Petha( royal sweet of pumpkin, saffron and rose water).
Magnificent Taj Mahal, Agra fort and Fatehpur Sikri are part of Agra's architectural history.
Mostly One-day trips are preferred and totally worth it in Agra. Astonishing beauty of Agra will inspire and thrill you.
Places to visit in Agra, India
Taj Mahal- One of the 7 wonders of the world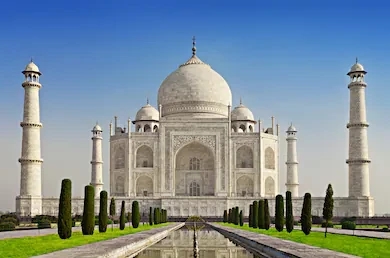 Located on the banks of Yamuna river. It's a memorial built by Mughal Emperor Shah Jahan for his wife. Most spectacular monuments of the world are made of white marble. It's a must visit place in India. These things make it one of the best places to visit in India.
Weather ranges from 24-30°C. Great place for 1 day visit. Opens 30 minutes before sunrise and closes 30 minutes after sunset. Prices range from 50-200 Rs and it's mostly free for children's. Free water bottle and shoe cover is provided with a ticket. Visitors can enjoy free Wi-fi in the compound.
Best time to visit: April to October
How to reach-
By air- 13 kms from Kheria airport from New Delhi.
By rail- Agra Cantt Station which is the main station, Raja ki Mandi Idgah Railway Station. Also can travel through trains from cities like Delhi, Lucknow and Kanpur, Jaipur.
By road- Idgah Bus Stand and ISBT are available from Delhi, Jaipur, Lucknow and Kanpur.
Closed on: Closed on Fridays. Only allowed to Muslims on Fridays to practice prayers in the afternoon.
Agra Fort, India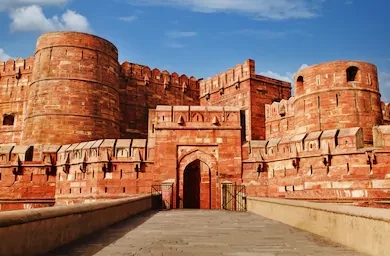 Another astonishing architectural heritage in Agra. A centuries old, Agra fort is made up of red sandstone. Other famous names are Lal –Qila and Qila-i-Akbari.Most Popular structures- Pearl Mosque, Diwan-i I Khas,Jahangiri Mahal, Diwan-i I Aam, and Moti Masjid. Can also see the pleasing site of Taj Mahal and Yamuna river. Best option for time spending in the afternoon and evening.
Best time to visit- April and October
Things to remember- Food items, tobacco, drinks, alcohol, electronic devices, knives and any wires are not allowed. However, you can carry a camera. Carry identity cards along with you. Also Switch off mobile phoneOnly approved guides and photographers are allowed.
Fatehpur Sikri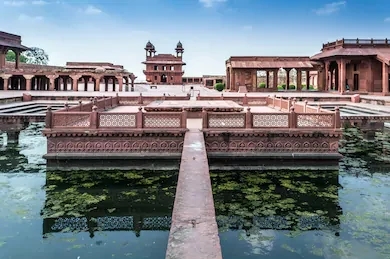 Very Famous town in Agra. An hour's drive from Taj Mahal. Fatehpur Sikri is a magnificent town made of red sandstone. Founded by Mughal Emperor Akbar in 1571. A unique blend of architecture, religious and cultural heritage. 3 places which are worth watching made by the Emperor. An Indo- Islamic masterpiece built for his 3 wives.
Things to see-
Amazing architecture around the city where everything is made of red sandstone.
Jama Masjid or mosque built in the town.
3 magnificent places built for 3 wives.
Hiran Minar, circular tower top covered with stone elephant tusks.
Archaeological museum that has four galleries with treasures from Mughal era.
Itimad-ud-daulah's Tomb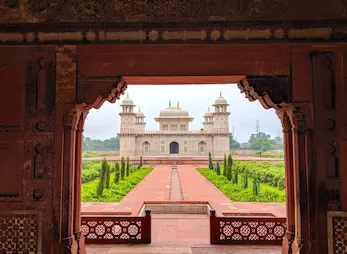 Located on the banks of Yamuna. Also referred to as "Baby Taj Mahal". Made by Nur Jahan for her parents. It's a copy of Taj Mahal. Completely made out of Marble. This tomb is very beautiful and perfect for family and friends. Worth to watch this magnificent tomb. Middle of Persian garden.
Made of precious stones with floral designs. Beautiful flowers cover the bottom of the tomb. Most important thing is that it is comparatively less crowded.
Mehtab Bagh, India
Mehtab Bagh is a garden just north of Taj Mahal. On the banks of Yamuna river. Have 4 sandstone towers standing in the garden. Shah Jahan built this garden to enjoy the infinite beauty of Taj Mahal.
You can have a sight of Taj Mahal as they are perfectly aligned. Gardens of Mehtab Bagh have a fountain. This fountain at the entrance is a worthy view. Popular sunset spot in Agra. Perfect view for a photogenic and nature lover. The enthusiastic environment of this garden is perfect in moonlight. At night you can enjoy breathtaking reflection of Taj Mahal in the waters of the park. Great aroma, floral plants and great trees add to the beauty of this garden.
Mumbai
Mumbai is a cosmopolitan city of India. is a home to both rich and poor. This city is blessed with an amazing coastal line. Mumbai is a home to rich entrepreneurs and Bollywood celebs. Mumbai is also referred to as "City of Dreams". This city has many amazing destinations and spots. Unlimited spots, clubs, malls and hotels are around Mumbai. Totally a treat for foodies from Mumbai's Vada Pav, to various street foods. Dive into the magic of this city with its amazing destinations.
From amazing coast sites to luxurious apartments adds to this luxe city. Places like Marine Drives and many sea facing sites beloved here.
With local trains and railway stations you will get a good view of Mumbai's life. Plan your trip to here with some amazing destinations listed below.
Gate way of India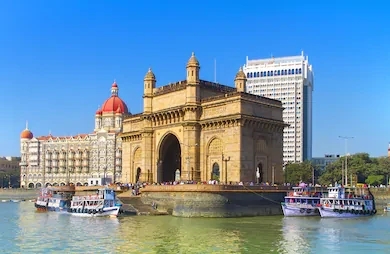 Most Popular and visited place in Mumbai. Located on the banks of Arabian sea it's a 26 meter archway. Built by British in 1911. Popular monument built as a triumphal arch with Roman, Muslim and Hindu designs.
A great view of Arabian sea with a road running parallel to Marine Drives. Must visit at night. Yachts and ferries are available for your joy. Famous bhelpuri and snacks are a must to try. Totally a Mumbai's taste at the sea facing gate of India.
Also, enjoy Colaba Causeway Market at 10 mins distance from here. Enjoy cheap prices at this market selling everything you can imagine.
Marine Drives- Sunset view at Marines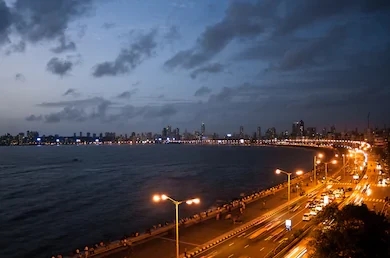 Marine Drives or Queens necklace is the most popular tourist attraction in Mumbai. A Mumbai trip is not complete without seeing this place. It's a 36km long C-shaped long walkway at the coast. Breathtaking sightseeing and sunset is a must to watch.
Mostly visited at Sunset by couples and families. Art Deco buildings increase the beauty of this place. Many luxurious apartments and great sea highlights this place. You will have the company of Mumbai's famous street food. Also, have some fun time on the sands of Girgaon chowpatty.
Bandra Worli sea link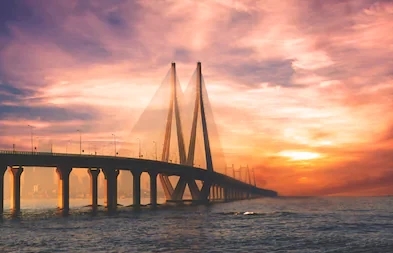 Bandra Worli sea link is a cable bridge that connects Bandra and Worli. Amazing construction and engineering works replicate this sea link.
Best for a long drive with an admiring skyline along the magnificent sea.
Can get there by bus from Bandra bus stop or can drive through taxi.
Spectacular view at night as the light lit up the whole place. Best to capture lovely moments with your loved ones.
Enjoy a long drive on a rainy day and all year. Also famous as Mumbai's New York's Brooklyn Bridge. Crashing the sea on both sides and a great view at night is totally worth it.
Sanjay Gandhi National Park
A destination with endless things to do. A day trip here might not be enough to explore this amazing National park. Park in Borivali also known as Borivali National park. Covered with green cover and a concrete jungle. Mesmerising landscape with nature's beauty beholds in this Park.
This place has a lot more things to do. You will have a great time strolling in this jungle. Many animals and plants are in this jungle. Explore Kanheri caves in Sanjay Gandhi national park. Around 109 cave entrances and large stupas will keep you stunned.
Apart from Caves you can enjoy Waterfall here.
Things to do – Kanheri caves, Camping, Cycling, Lakes sightseeing, Van Rani- A ride through the Park, Safari ride, Waterfalls, Boating
In this place there are a lot more places to explore. Things you need to consider is wild life here.
Know more about the best places to visit in Mumbai- A detailed guide to Mumbai trip.
Goa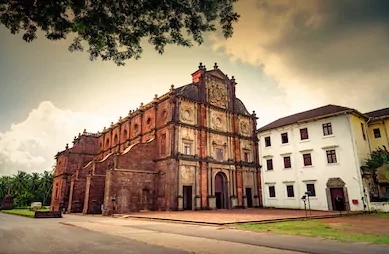 Incredible beaches and beach loughing is a specialty of Goa. Deserved to be called as India party state. Goa has a magical vibe of beaches, bazaars and legendary nightlife. Perfect for a person who carves for night outs.
Beaches are laid at Arabian sea with golden sand. Breezy atmosphere, seafood blast, resorts and pubs make this place heaven.
Most attracted by tourists. Not just beaches but a lot of things to see in Goa. Many famous churches like Basilica and Se Cathedral have great views in Goa. A shopping person should consider big bazzars like Arpora Saturday Night Bazaar and Anjuna Flea Market.
Waterfall in Goa with 310 meters height. Can drive to the place. Trekking is also a great option here. Enjoy the topography with palm trees lined beaches.
Most famous churches in Goa. It's an UNESCO world heritage. Popular for its Architecture, statutes, spectacular doors and columns.
A beach with comparatively less crowd. Less crowded but pleasant beach to spend an afternoon.
Check out – 10 best places to visit in Goa for a weekend with exotic locations.
Delhi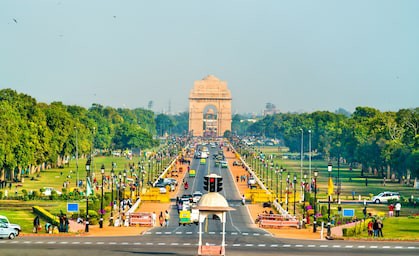 One of the must visit places in India is Delhi. Capital of India is a city of heritage, monuments, bazaars and mouth watering foods. This cosmopolitan city will remind you of the rich Mughal era. Crowded city but colourful and enthusiastic.
This city is both a combination of the Modern and Mughal era. Huge malls, sprawling boulevards, luxury hotels, and restaurants take over the city. Places like Red Fort, Jama Masjid, India Gate, Qutub Minar are most famous.
Apart from Places the city has got a total treat for foodies with never ending places to taste. Strolls in Chandni Chowk market serve a great taste of Delhi's street food. Lip-smacking chaats are worth trying.
Apart from this some places like Lotus Temple, Humayun's Tomb also get a lot of attention. Markets like Chandni Chowk and Sarojini Nagar are also very famous. Let's dive deep into places worth visiting in India, Delhi. Also, check out things to do at these hot places.
Red Fort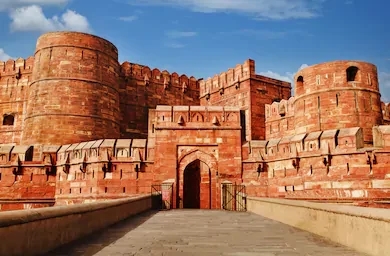 Red Fort is a great example of Beauty and Mughal empire. Stunning structure made of red sandstone. It has a magnificent main entrance gate named Lahore gate. This Gate face towards Lahore in Pakistan. Also known as Delhi gate. Many tourists enjoy a day trip at this place. Many amazing spots here will keep you stunned. Also don't forget to see Naubat Khana which have many musical instruments.
Chhatta Chowk bazaar is famous for jewelry, gems, silks and much more. This things makes this place one of the best places in India. Take a nine-hour trip to other destinations with Red Fort.
Qutub Minar
Another UNESCO world heritage site in Delhi. Tallest minaret is Qutub Minar. Attracts many international visitors every year making it best place to visit in India.
A long tower dived into 5 parts( 5 stories). Features the history of Koran.
Popular destination for tourists and locals. Also, take a trip to other tombs in Lodi Garden.
India Gate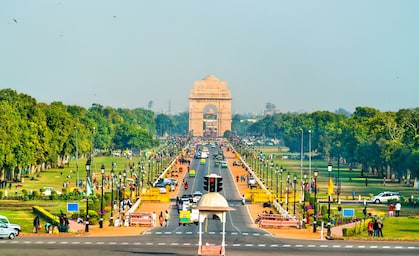 Little replication of famous Arc de Triomphe in Paris. India Gate made of stone as a memorial for soilders. Amazing view at night. Eternal lamp is burned here which looks magnificent at night. Best place to visit in Delhi. Enjoy the parland at India Gate.
Want to visit Delhi? Get a list of best places in Delhi for weekend trip with family and friends.
Varanasi
India tour is not complete without this spiritual site. Experience the spirituality of Varanasi in Uttar Pradesh. Huge crowd and tourists gather for a spiritual aura.
Varanasi is one of the holiest places in India for Hindus. Ganga River is most popular tourist attraction in India.
People gather here to get 'Moksha'( wash away their sins). Praying Lord Shiva at 'Kashi Vishwanath Temple', is an amazing experience. Most famous 'Ganga Aarti' is practiced every evening at 'Dasaswamedha Ghat'.
You will come across world's Famous 'Benaras ki Chaat' and 'Benarasi Silk Sarees'. Dive into the colourful streets and see the life pass through.
Munnar, Kerala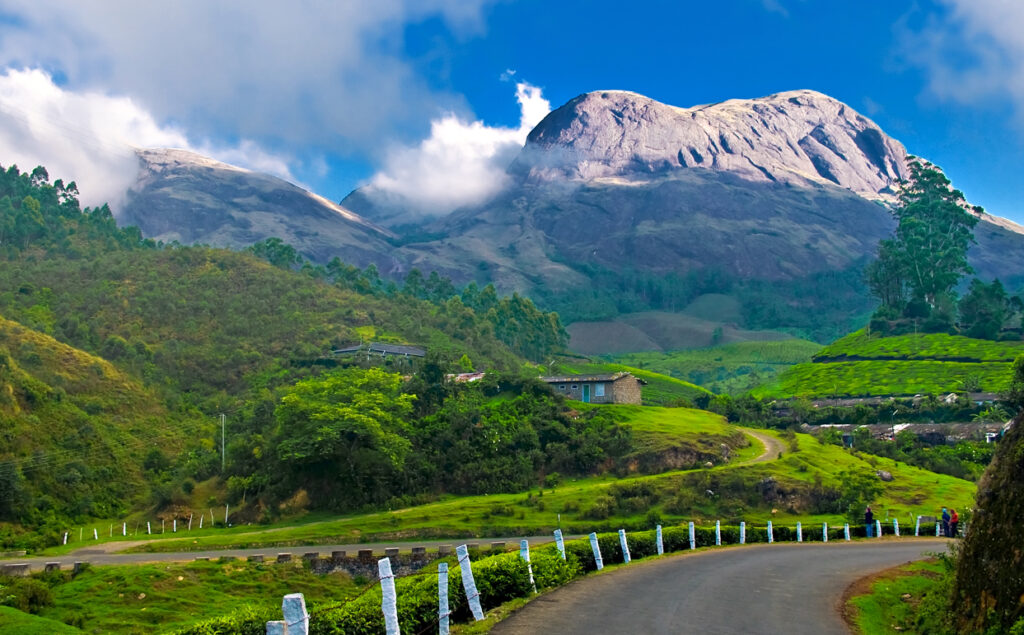 Popularly known as "God's own Country". One of the must visit in India is Munnar. Surrounded by the beauty of Western Ghats in Kerala. The view of green enchanting mountains will refresh your mind and soul. The morning view of mist and clouds rising above the hills is spectacular. Munnar is truly blessed by Mother Nature. Jaw dropping scenery, beautiful backwaters, waterfalls, beaches and much more are treat for you in Munnar. Munnar has a long list of things to do in Munnar.
Misty rain and you taking a walk in Munnar's heaven.
1. Mattupetty Dam
Beauty in Munnar is considered it's Mattupetty Dam. Great for a day out at this Dam with your loved ones. Scenic view and great mountains are a treat for you here. Many farms and boating sites here. Don't miss out boating in Munnar.
2. Attukal
Attukal, a majestic waterfall that makes it the must visit place in Munnar. Recommended to visit in Monsoon. Monsoon is the time when the waters here flow at great flow. Fun day with Waterfalls is worth to try. Calming waterfall sound will relax you and smell of soil with keep you refreshed. Great place to click some amazing shots with your partner.
3. Rajamala
Want some adventure in Kerala? Have your list filled with Rajamala on top. Your adventure trip is not complete without Rajamala in Kerala.
Rajamala, biggest hill in Kerala. Adventurous and thrilling trip in Rajamala is must. Trekking in hills of Rajamala will boast your journey with fun. Many amazing trails for trekking in here. Huge crowd and tourists make sure to rush ticket corner early morning. Start off early morning to reach the top of the hill.
Leh- Ladakh
Leh-Ladakh a beautiful place which cannot be described by words. Adventurous, thrill, nature all are less words to describe Ladakh. Have some fun and adventurous time in Ladakh. Trekking in Ladakh is on the list of every traveller.
Undoubtedly, one of the best places to visit in India. Listed some amazing things to do in Ladakh. You will have a thrilling trip to Ladakh's enchanting mountains.
Things to do in one of the Best places to visit in India.
1. Visit Pangong Tso Lake featured in hot movie 3 idiots. Most popular place to visit in Ladakh. A picnic basket and some amazing camp trip is good to go here. Enjoy peaceful camp with your family and loved ones here.
Bestt time to visit- May to October
2. Structure of Santi Stupa-
Santi Stupa, a white structure dome is most famous in Ladakh. Built by Portuguese to promote Buddhism and world peace.
Magnificent dome with white floors shines brightly in day light. At night the dome looks beautiful with soft light. Enjoy meditation and mindfulness inside the dome. Pretty sunrise and sunset are worth to watch here.
3. Visit museum of near Leh Palace in Ladakh. View top scenic views at top of the palace. Its one of the Best places to visit in India.
Sikkim
Sikkim is a great place for you if you are a winter person. Sikkim's glory is defined by its lush green mountains. Sight seeing and taking amazing pictures in Sikkim is worth.Walking in the jungle of Sikkim over the icy roads and snowy mountains would be a great experience. You can have a great trip here with around 10,000 bucks. Many hills and mountains add to its Beauty. Mount Kanchenjunga is a great mountain with Beautiful scenery. Things to do here- Deltin Denzong CasinoParaglidingCity toursTour to NathulaHigh Rope Adventures
What are the special Places to visit in India?
A- Every place in India is filled with happiness and prosperity. But there are some special places that are most famous. Some of them are- The Taj Mahal, Varanasi, Red, Fort, Gate way of India and many others.
What is speciality of India?
A- India has a diverse culture. The profound principles of India are based on unity. There are 100s of festival Celebrated in India. The place is known for large population and uniqueness. The nation of spices India. India is famous for its tasty food. Always ranked on tasty food in the world.
What are the most visited places in India?
A- Goa is the most visited places in India. Apart from that India has places like Srinagar, Kashmir, Leh Ladakh, Kerala and much more.