Hello guys today we are going to talk about the most searched topic in our niche which is about The best Indian foods in India which are best among all of us, so let's begin today's blogs
INDEX
Pani Puri. which is going to be called as National Food of India
Why Pani Puri is one of the Popular India street food
Best Indian Food & Most Popular in Mumbai ( Vada Pav)
How Pav Bhaji get Invented, The History of Pav Bhaji & Why it is Famous Indian Street Food
Where Did Dosa Come From? Dosa and It's 2000-Year-Old-History
Pani Puri. which is going to be called as National Food of India !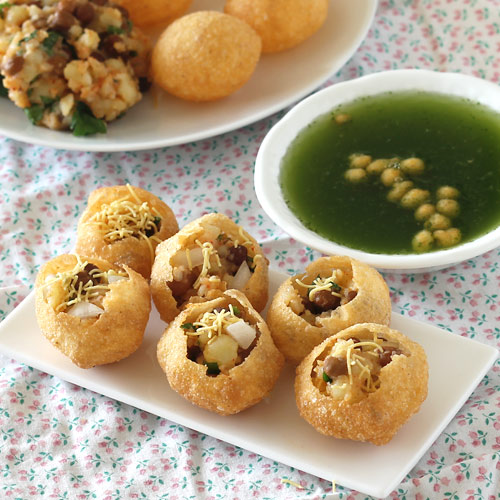 Why Pani puri is one of the popular Indian street food?
The crispy fried dough balls (puri) are stuffed with Salty potatoes, sprouts, spicy tangy water, and sweet chutney.
Pani puri is a favorite chaat snack of most of the North Indians. With so many different tastes and flavors in your mouth when you have Pani Puri, you just can't have one only. The Pani is basically spicy & tangy water and here the Puris are fried puffed crisp dough balls that are hollow & crispy in Nature. Generally, the water is sour, tangy as well as a spicy taste of pani depends upon the region India's every region has its different taste. This spicy pani is the balance between tamarind tangy & sweet chutney.

This sweet & tangy chutney is called Meetha or Khatayi (which means sweet) Pani. The spicy water is called Teekha pani or water (which means spicy) Pani. both are added in the puri along with the main filling which consists of boiled potatoes, cooked chickpeas, moong sprouts, or a thick dry curry made from white peas which are called Ragda.

I don't know who invented Pani puri or how it came into existence. It's one of the popular and best Indian street foods. Whereas in Mumbai, we call it pani puri. In the northern states, it's called Golgappa and Bengal, it's called puchka. In Bihar and Jharkhand, it's known as gupchup.in UP its called Batase,
Best Indian Food & Most Popular in Mumbai ( Vada Pav)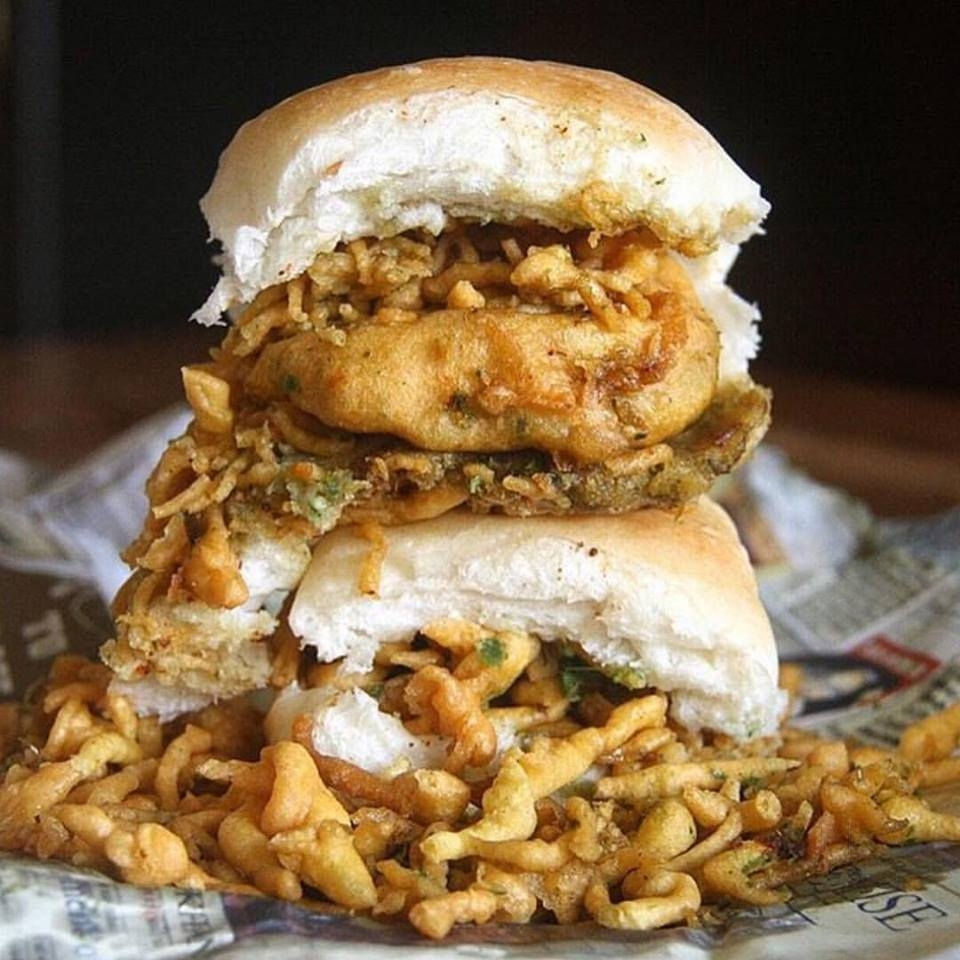 How Vada Pav Becomes Mumbaikar's Favorite Food
How does it taste?
As you sink your teeth into the cushion soft Pav, its bland taste complements perfectly with the crispy Batata Vada. Initially, it hits the taste palate with spices fiercely spreading to your tongue. But after several bites, this tanginess becomes natural. Is not it mind-bashing, how two simple ingredients can make something so delicious?
Who invented it?
This pocket-friendly snack is available at every gully- nukkad in Mumbai. As reported by several food bloggers and media websites that cater to food and hospitality, Vada Pav is said to be originated in 1966 by a street vendor. Ashok Vaidya inserted the first Vada Pav stall opposite the mayhem of Dadar railway station. The commuters used to satisfy their hunger with this quick and cheap snack on their way to work. Vaidya's brilliant idea made him an icon. This iconic street food was elevated to Mumbai's khaugalis like a forest fire. Moreover, a journalist created a documentary on him, Vada Pav Inc.
How Pav Bhaji get Invented , The History of Pav Bhaji & Why it is Famous Indian Street Food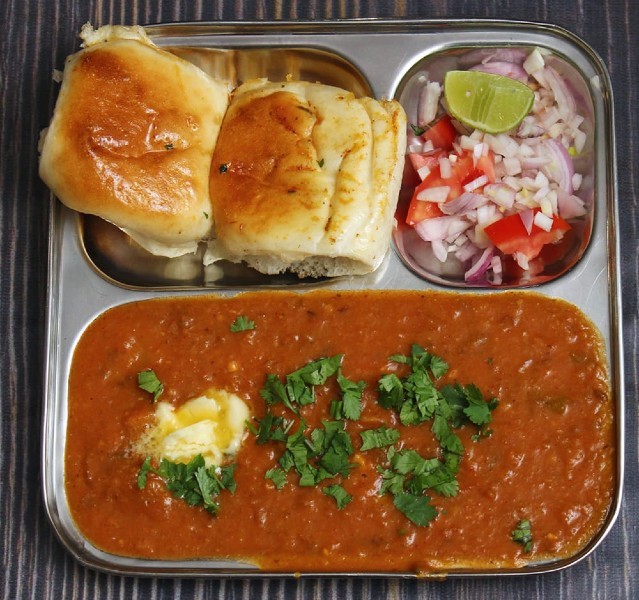 Pav Bhaji is a spicy mixture of boiled vegetables, consumed with pav (bread) which is gently or crispy fried in butter.
It is originated in the 1850s, as a quick fix meal for Mumbai's textile mill workers, but it's now one of the favorite fast foods.
This is Discovered by Sardar G as Midnight street food, made with the leftover vegetables from the day, mashed up together, with loads of spices, and butter.
It wouldn't come as a surprise that Pav Bhaji was in the very streets of Mumbai, which was known as Bombay earlier.
The story goes back to colonial times, the 1860s when the mill workers in Mumbai were exploited. They used to have irregular working hours and often used to return at midnight.
Many of them used to work alone in the city, without their families, so they used to struggle for a midnight meal. The families of the others found it difficult to cook food at midnight, for they worked too. The nearby food joints didn't really have much food left at midnight, they just had some leftover vegetables with them. So, to help these workers get a cheap meal, they devised a plan.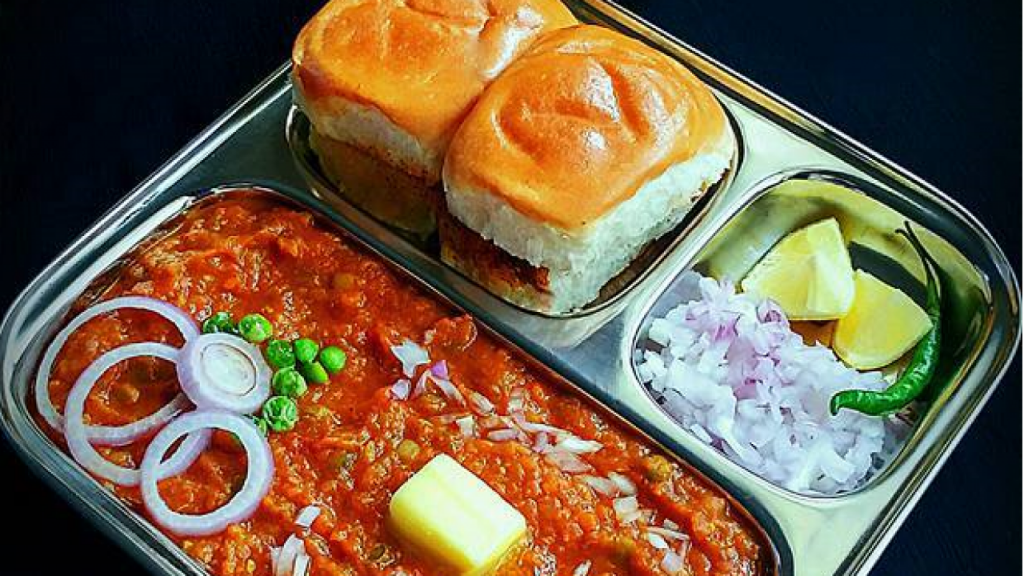 The owner of the food joints decided to combine all the leftover vegetables from the whole day and mash them together which then come to know as Bhaji. They used to serve this with the leftover buns from the Jesuit churches, which were called 'pav'. Hence pav bhaji was invented.
which tasted extra tasty and spicy when combined with the soft roasted pav with butter. This dish was also very nutritious. It combined the goodness of many vegetables- peas, carrot, capsicum, potato, onions, and sometimes even cauliflower. So, this dish was nutritious, filling, and easy to make.
The nearby food joints didn't really have much food left at midnight, they just had some leftover vegetables with them. So, to help these workers get a cheap meal, they devised a plan.
Who invented it?
The owners of the food joints decided to combine all the leftover vegetables from the day and mash them together. They used to serve this with the leftover buns from the Jesuit churches, which were called 'part. Hence pav bhaji was invented.
The Famous South Indian Food, Which then become India's Favorite Breakfast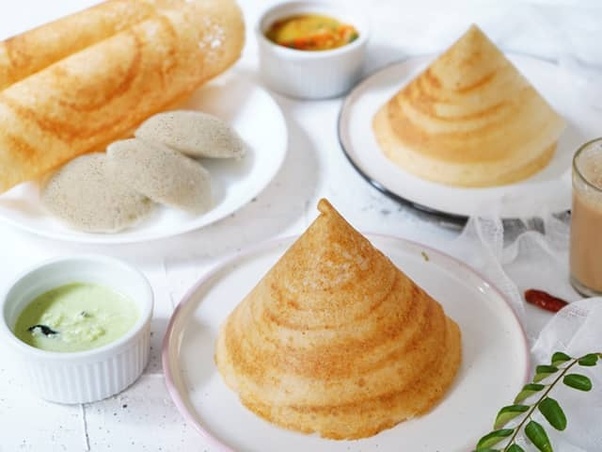 Where Did Dosa Come From? Dosa and Its 2000-Year-Old-History
Dosa is a simple, easy to make and pocket-friendly staple dish. People across our country enjoy a good dosa served with some warm sambar and cold chutney.
The origin of Dosa is still unclear to historians. According to P. Thankappan Nair, a known historian, the Dosa originated in the Udipi town of Karnataka. But on the other hand, food historian K. T. Achaya says that the Dosa was already in use in the ancient Tamil country around 1000AD as it has been mentioned in Sangam Literature. While the Tamil Dosa was thicker and softer, the thinner and crispier version was first made in Karnataka.
A recipe for Dosa can be found in the 12th century Sanskrit encyclopedia Manasollasa which was compiled by Someshvara III, who once ruled Karnataka.
In today's time, the Dosa is linked to Karnataka because it was popularised by Udipi restaurants across the country. The dosa is a really simple dish that needs very few ingredients and time. It is high in carbohydrates and is also a good source of protein. Since it mainly consists of Rice and Black Gram, it has no sugar or saturated fats.
To prepare a Dosa, Rice and Black gram is soaked overnight and is ground into a batter and is fermented overnight. The batter is then spread evenly on a flat Tava that is greased with oil, ghee, or butter. After it turns slightly brown on the underside, it is ready to be eaten.
Ideally, a Dosa is served along with Sambar and Chutney. But today's Dosas are truly customizable. Masala Dosa and Mysore Masala dosa are the commonly found options at stalls.
When Prem Ganapathy came to Mumbai as a 15-year-old boy, he had a dream to sell Dosas in America one day. He started as a dishwasher and worked in a few kitchens across the city before opening a Dosa Stall. His business eventually took off after he started experimenting with Dosas. He started making a Chinese Dosa that was stuffed with noodles, vegetables, and spicy schezwan sauce. Eventually, he came up with the brand Dosa Plaza and opened a restaurant in a mall.
People loved the varieties that Dosa Plaza had to offer. Dosa Plaza served over 100 varieties of Dosa! Soon he started franchising his business and currently, Dosa Plaza has over 45 outlets in India and also has outlets in New Zealand, Oman, UAE, and Singapore! Eventually, stall owners across the country copied his recipes and started making their own variations.
What are the best Indian street foods?
The best Indian food is as follows-
Butter Chicken
Chicken Tikka Masala
Gajar Ka Halwa
Saag Paneer
Rogan Josh
Masala Chai
Indian street foods recipes?
These are the best Indian food-
Masala dosa
Chaat
Dal makhani
Vada pav
Stuffed paratha
Dhokla
What is the Famous Indian Street Food?
Aloo Aur Shakarkand ki Chaa
Masala Chai Or Masala Tea
Punjabi Samosa, Famous South Indian Food
Ragda Pattice
Vegetable Cheese Grilled Sandwich