Kerala, God's own Country is a place where the day starts with beautiful mist and magic. The place is known for the eternal beauty of backwaters. It has alluring destinations, silence and tropical beauty. Kerala is truly blessed by Mother Nature. Spice Capital of India where Nature's Beauty will keep you in awe. Kerala has got amazing beaches, backwaters, wildlife and culture. A destination for all. Perfect place for a vacation with loved ones. It's beaches and backwaters. Check out some Best places to visit in Kerala.
Step a foot into this magical paradise with the Best places to visit in Kerala. Great beaches and mountains drive tourists to Kerala. Don't miss some amazing tourist attractions in Kerala. Dive into the list of some amazing tourist spots in Kerala.
Kerala backwaters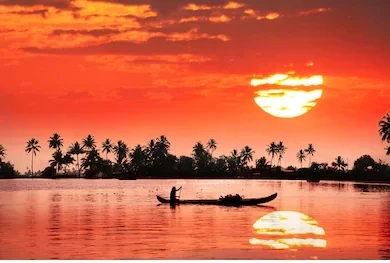 Kerala backwaters are the most relaxing treat for you. Take a relaxing trip in a house boat along the canals in Kerala. If you need a beautiful experience of chilling over water this ride is perfect for you. You will definitely fall for the Indian cuisine. For a better experience try this trip at night over the middle of the lake.
Enjoyable experience with your loved ones over the backwaters. Can stay at chilling resorts near the backwaters. Dive into this trip for a perfect date in a boat in open sky. Tip- Enjoy the breathtaking sunset from Kakkathuruthu Island near Vembanad Lake.
Alleppey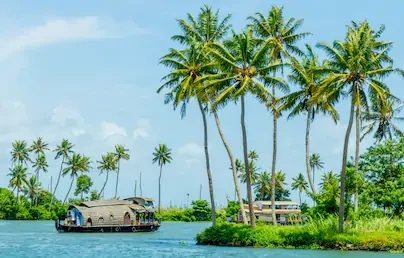 Heavenly tourist experience in Kerala. Popular for its backwaters. Best place to experience the backwaters in Kerala. You will feel like you are in Venice. Alleppey is the most famous attraction in Kerala for most reasons. From houseboats to fishing this place has got a lot. Vacation in Alleppey waters with fishing and lakes is totally worth it. Enjoy freshly cooked seafood. You will have a taste of eating food on Banana leaves.
Places to stay– Tharavadu Heritage, Treebo Tryst Palmyra Grand Suite, Ramada By Wyndham Alleppey. Many other heritages and hotels are available here.
Things to do – Apart from Backwaters Alleppey has also got some shopping destinations. Although Nightwalk is another fun thing to do in Alleppey. Try camping and campfire here. Also got some Temples and beaches. Enjoy the fun Sunset at Alleppey.
Ideal stay time- 2-3 days
Popular attractions- Kumarakom Bird Sanctuary,Alappuzha Beach. Marari Beach, Punnamada Lake, Sri Krishna Temple in Ambalappuzha. Alleppey beach, St. Mary Rorane Church. Railway station near by- Alleppey Railway station.
Tip– Don't miss the Snake boat Race in Alleppey. Most tourists are attracted to this race. Best time to visit- Between September to May
Kavvayi Backwaters (Best places to visit in Kerala)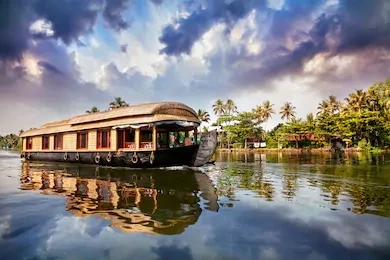 Most unique and enchanting appeal of backwaters. Lush greenery experience ideal for couples or honeymoon.These backwaters makes it the Best places to visit in Kerala. Kavvayi Backwaters are considered as the 3rd largest backwater in state. This backwaters have 3 tributaries.
Popular attractions- Holy Snake forest in Edayilakadu Island.
Nearest railway station- Payyannur Junction By air- Calicut International Airport
Things to do- House boating, Sightseeing, Best for photoshoot as this place got some scenic views.Duration to visit- 2-4 hours
Munnar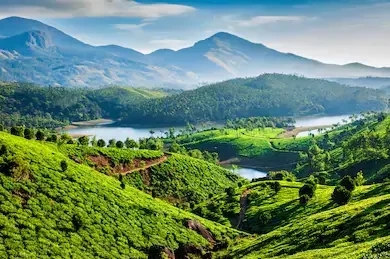 Munnar is a popular tourist destination in Kerala. This hill station is the best place to visit in Kerala. 1,600 meters in altitude in Western Ghats. Famous for shades of green, tea estates, mist peaks. Popularly known as 'Kashmir of Kerala'. Sides on the banks of 3 rivers. Surrounded by tea plantation fields. Munnar has a lot of guest houses for your convenience. Apart from tea plantation gardens it has got a lot of other tourist attractions. Salim Ali Bird Sanctuary and The Eravikulam National Park are major tourist spots. Have a great time in Munnar by lake side. Lakes are also a great view here. Got a natural view of green fields.
Love Munnar! Get a detailed list of best places to visit in Munnar for a weekend trip.
Places to stay- The Panoramic Getaway, Devonshire Greens. Chandy's Windy Woods, Pallivasal, Forest Glade.
Things to do- Camping And Trekking, Eravikulam National Park, Tea Estate Tours, Echo Point.
Ideal stay time- 2-3 Days
Popular attractions- Lite of Pi Church, TATA Tea Museum, Blossom Park, Attukal Waterfalls. Cheeyappara Waterfalls, Kundala Lake. Mattupetty Dam, Anamudi, Pothamedu ViewPointIl, Indo Swiss Dairy Farm. Eravikulam National Park is also an attraction.
Nearest railway- Ernakulam Junction
Best time to visit- Between October to March
Wayanad Tourism
Want a trip with nature's beauty and comfortable stay then this place is perfect for you. Mighty waterfalls, resorts and historical caves take over this place. Waterfalls and historical caves are famous tourist spots here. Walkthrough the spice farm here. Historic caves and resort holidays at one place.
Exotic waterfalls, trekking and walkthrough are perfect in Wayanad Tourism. Refreshing forests are a good view here.Wayanad is known for its wildlife reserves- Flora and fauna in one place. Wildlife here has a collection of various animals and plants. Perfect weekend trip to explore the beauty of Kerala.
Tip- Taking a road trip from Bangalore. Enjoy the drive-through in 3 national parks from Bangalore. Nagarhole, Mudumalai,Bandipur are famous places in Kerala.
Near by railway station- Nilambur Railway Station
Places to stay- Arayal, Banasura Hill. Visit Wayanad Wild. Visit CGH Earth and Mount Xanadu in Wayanad.
Things to do- Bamboo rafting and Pookode lake in Kuruva Island. Enjoy Boating and camping. Cycling is a great adventure here.
Stay duration- 1-2 days
Popular attractions- Wayanad tourist places is a great attraction here. Besides enjoy Thusharagiri Waterfalls, Papanashini River, and Padinjarathara Dam. Thirunelli Temple is worth to visit. Banasura Hill, Lakkidi View Point are among those..
Kochi ( God's own Country)
Kochi is located on the South West coast of India. Financial capital of Kerala. A cosmopolitan city with ferries, upmarket stores. You will also come across many art galleries and heritage accommodation here. This place is perfect blend of culture and modernity.
Vintage style pubs and restaurants are very exotic. Visit Famous Fort Kochi and Jew town in Kochi. Kochi have a number of palaces, temples and beaches. Don't miss the Biennale Festival of Kochi.
Tip- Enjoy Kathakali and Kalaripayattu performances in Kochi festival.
Best time- July to April
Top Tourist attractions- Chinese Fishing Nets, Fort Kochi, Vypeen beach, Vypeen Island, Cherai beach. Marine Drives, Basilica of Santa Cruz, Sari Singh guru sabha Gurudwara, Lulu mall( Largest mall in India). Kodannad Elephant Training Centre, Princess Street, Vasco Da Gama Square, Kanjiramattam Masjid, Chinese fishing net.
By air- Kochi Airport
Kochi railway station
Varkala Tourism
A place that is flaunting its beauty and grace by the seashore. One of the best places to visit in Varkala. It is a coastal town of Kerala. It's on 'Northern Cliff'. Get on the party floor with snacks, hippie culture and fresh seafood.
Serving great seafood with playful music along the coast. Most scenic seashore in Kerala. Get playful on coast of Varkala.
Exotic beaches, lakes, forts, amazing lighthouses are things to do in Varkala Tourism. Enjoy springs and fishing in Varkala. These fun things make Varkala a little paradise in Kerala. Varkala is one of the Best places to visit in Kerala.
Not just beaches and pubs but Varkala also has a spiritual side. Varkala is also known for Jardana Swami Temple.
Apart from exotic locations and Pubs it has got a handful of shops. Yoga mats, silver jewelry, pants of cotton and much more are available here. These things make this place a must visit.
Places to stay- The Lost Hostel, Short Giraffe Hostels, Zostel Varkala, Quality Inn, Varkala Cliff Villa.
Things to do- Thrilling Water sports in Varkala. Varkala culture centre has got amazing Yoga experiences. Exotic cuisines to treat your tastebuds.
Popular attractions- Varkala beach, Varkala Tunnel, Janardhan Temple and Sivagiri Muth. Anjengo Fort, Kaduvayil Thangal Dargah. Visit Kappil Lake and Papanasam Beach, Kappil Beach, Paragliding, Thiruvambadi Beach, Varkala Lighthouse.
By air– International Airport 36km
Railway- VarkalaSivagiri Railway
Best time to visit- August to may
Tip- Get amazing experience with Ayurvedic spas in Varkala.
Thekkady Tourism
Don't miss a trip to Thekkady in God's own Country. One of the best and popular location in Kerala. Best for a Jungle vacation. Thekkady is known for its largest Tiger reserves. Periyar National Park is a great attraction in Thekkady.
Known for Bamboo rafting near Mullaiperiyar Dam. Hiking is another great adventure here. Many spice gardens and adventures spots here for your fun. Early morning sightseeing and boating are worth it.
Boating can be fun if you spot some animals like elephants, bisons, wild boars. Spot various kinds of magnificent birds here. Anakarra nearby is great for nature lovers. Famous for spice plantations and coffee.
Also have a sight of Waterfalls cascades in Chellar Kovil. These Places are totally picturesque.Visit Mangala Devi temple for a festival which is approximately 15 km from Thekkady.
Places to stay- The Elephant Court, The Mountain Courtyard, Forest Canopy, Poetree Sarovar Portico, Paradisa Plantation Retreat, Poetree Sarovar Portico.
Things to do- Thekkady Boating Tours, Jungle Night Patrol, Bamboo Rafting & Hiking in Thekkady, Border Hiking.
Ideal stay time- 1 dayPopular attractions- Most visited place in Kerala is Thekkady. Apart from tourist places it has got many other destinations. Periyar Lake, Kadathanadan Kalari, Elephant Junction, Ayurvedic Garden, Periyar Tiger Trail, Mudra Cultural Centre. Murikkady and Vandanmedu are also good option.
Best time to visit- November to MayAirport- Kochi International Airport, Madurai AirportRailway- Kottayam Railway Station
Kannurr, Kerala
Want some offbeat track? Kannur is the place for you. Place is also famous as " The crown of Kerala". Kannurr district is the best place for beaches. Encounter the mysterious theyyam rituals. Culture of masked possession ritual and hand loom weaving. Enjoy the Drive in beach at Kannur. Drive through the long vast sand lane. Many beach houses and inexpensive accommodations available here.
This place is for all from Nature lovers to thrill-seekers or a causal backpacker. Also, the best thing here is it's an only drive-in beach in India.
Don't forget to visit Muzhappilangad Drive-in Beach. You will be touched by the beauty and grace of this place. Kannur is ranked as one of the best places to visit in Kerala.
Placess to stay- Sea Breeze Beach Inn, Royal Omars, Hotel Blue Nile, Broad Bean, Central Avenue.
Things to do- Paithalmala Trekking, Bike Trip, Wave Runner, Boating, Paithalmala Trekking.
Ideal time to stay- 1 DayPopular attractions-Muzhappilangad Drive-in Beach,Fort St. Angelos, Ezhimala Beach, Tellicherry Fort and Rajarajeshwara Temple.
Best time to visit- October to March
Trivandrum
Trivandrum is also known as the " Evergreen city of India". It the most famous destination for Hindus. Padmanabhaswamy temple of Lord Vishnu is very famous here. The temple has a lot of wealth hidden in the temple. That's the reason it's called the richest temple of the world. The city has got a lot of tourists every year.
Unfortunately, only Hindus are allowed in the temple. Trivanhdrum has got a lot of museums, interesting galleries and heritage buildings. Watch out for famous art galleries near Padmanabhaswamy temple.
Places to stay-
Best time to visit-
Attraction- Ponmudi, Shanghumugham Beach, Neyyar Dam, Sanctuary, Peppara Dam & Wildlife Sanctuary. Agasthyakoodam. Watch Koyikkal Palace, Kanakakunnu Palace. Zoological Gardens and Napier Museum are also a worth location. Visit Famous Temples- AnanthaPadmanabha Temple, AttukalBhagavathi Temple.
Things to do- Aaranmula Boat Race, Mankkayam Falls, Golden Valley, Meenmutty Falls, Shendurney Wildlife Sanctuary, Sri Krishna, na Swami Temple.
Reach there by
Nearest Trivandrum International Airport or Railway Station.
Idukki Tourism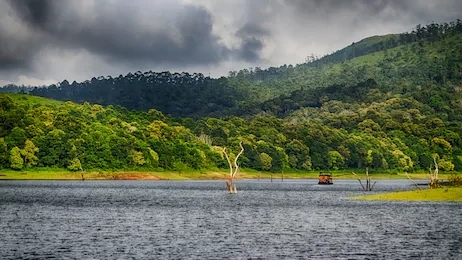 Idukki is the most nature rich area in Kerala. Most of Idukki is covered with forest. This place is blessed with forest and nature's beauty. Rugged hill resort is another beautiful place here. It has got beautiful bungalows, tea plantations and wildlife sanctuaries. Highest peak Anamudi is also located here.
Places to stay- John's Villa Homestay, Best Mist Home Stay, Green Spot Homestay, Meadows Pride Homestay, Olivia Homestay.
Things to do- Paragliding, Trekking, Camping, Misty Mountain Resort.
Thrissur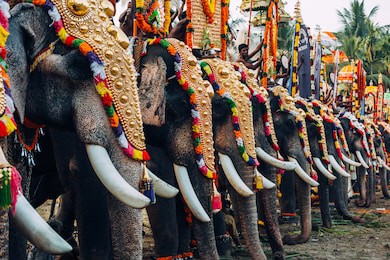 If you are lot more into culture and rich tradition then Thissur is right place for you. South India's rich culture and tradition is wealth of Thrissur. Popularly known as "Cultural capital of Kerala".Number of sacred temples are most visited places in Kerala. One of the Famous Places to visit in Kerala by Hindus. Thrissur was once the capital of Kochi. But now it's the cultural capital of Kerala.
Thrissur has got a lot of cultural and spiritual significance. Must visit places in Thrissur are temples and churches. In festive season churches and temples are hub fun.It's famous for Thrissur Pooram and Onam celebrations.
Famous spots- Chavakkad Beach, Athirapally Waterfalls, Nattika Beach, Peechi Dam, Chimmony Wildlife Sanctuary, Archaeological Museum, Marth Mariam Church, Thrisuur Zoo, Chimmony Dam, Sri Maheswara Temple, Dolours Basilica.
Nearest railwayThrissur Railway StationKochi International Airport
Things to do-
Also check- Best places to visit in Goa for a fun weekend.
What is best in Kerala?
A- Kerala is popularly known as God's own Country. Kerala is blessed by Mother Nature. The landscapes here are incredibly beautiful. Many places are famous for their natural beauty. Alleppey, Munnar, Wayanad, Thekkady are places known for their beauty.
Which is best place in Kerala for 1 day trip?
A- Kerala is blessed by the coastline of Arabian sea. Take a dive into the blissful side of Kerala. Places like Munnar, Wayanad, Varkala are best for one day trip. The backwaters of Kerala are amazing.
Most beautiful district in Kerala?
A- Idukki is considered as the most beautiful district in Kerala. The area of Idukki is blessed with the elegant mountains and hills.