Visiting the United States is like winning a million dollar lottery. But here, you definitely get happiness worth a million dollars.
With spectacular attractions, dazzling cities, and towns you must feel to dance once you get your tickets to the U.S.
Not a surprise, but your mind will boggle to strike where exactly to visit in the United States. No need to worry, as I have listed one of the best places to visit in the United States that you will get anywhere.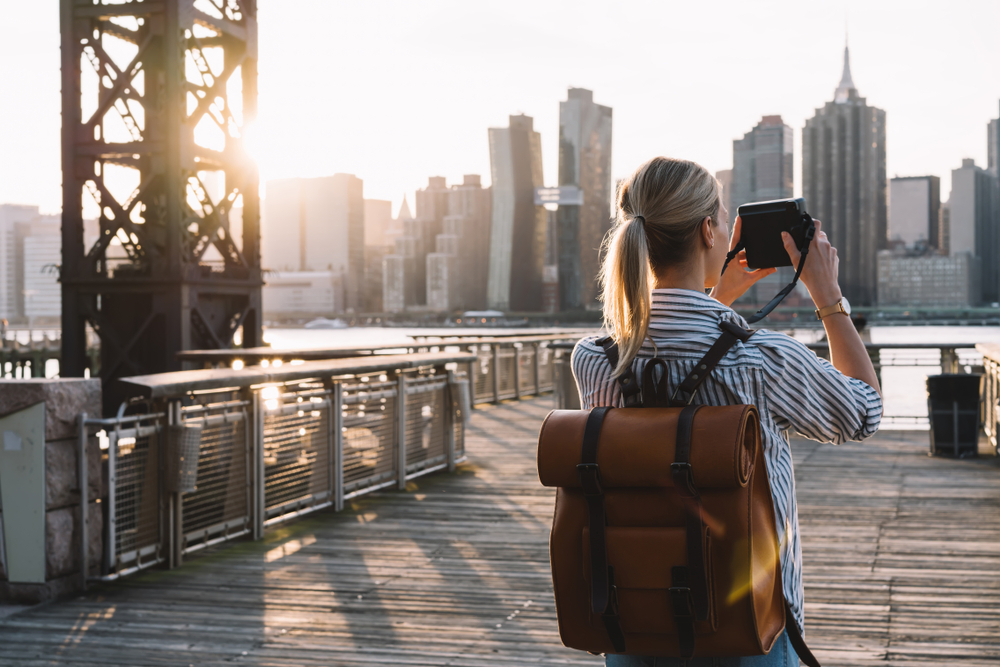 Vast as it is, no doubt. But, you can choose to travel according to your interest. For dazzling citylife roll over in New York or Washington. Similarly, on the West coast San Francisco and Los Angeles have taken top positions in Tourists' minds.
How can one forget the glory spread of the South West by the Grand Canyon and Las Vegas.
Looking for a tropical treat? Here's no option other than Hawaii. Hawaii is a complete Tropical treat for visitors in the United States.
Have you ever been on a roller coaster? –The excitement, thrill at the top point, the heart hammering experience is what you can get in the United States.
Tie up your seat belts and join on a roller coaster ride to every popular destination in the United States.
1 New York- Jewel in the crown of USA
The city of New York is always in the form. A gem of the United States which can make your city life dreams come true.
New York has amazing surprises for you on each corner.
An overview of New York City will include top buildings, iconic places and you being having so much fun in the city.
How many of you remember flashing pictures of New York in mind from your favorite TV series? Well, here's the exciting part. Now you can walk in the city of New York and feel like walking in a TV series set. Cool isn't it? And of course, you can visit places featured in the "Friends" series.
First thing First, New York city's most visited places like the Statue of Liberty, Times Square, Empire State Building, and Central Park, must be on your list.
Walking in New York is like walking in a movie set with celebrities featuring the Chrysler Building, Rockefeller Plaza, Statue of Liberty, and 5th Avenue, Broadway. Well, these places are no less than celebrities of New York.
The night is mingling in New York, you can feel the cool breezes turning your nose and cheeks red. As you walk along the roads, Broadway shows in the evening, or shop at Famous stores. New York at night is most amazing with endless things to do on your plate.
While you are in New York, stretch a cheesy pizza into your mouth in a famous restaurant in the United States, New York. Or munch on New York's tasty appetizers.
Being in New York, share your experience with Us!!!
San Francisco- City dressed with picturesque places
One can imagine San Francisco as a beautifully dressed city with landmarks which are amusing to eyes. In San Francisco you will have lots of Insta worthy beautiful pics which will make you go crazy.
Dive here into San Francisco's gems- Golden Gate Bridge and The famous Suspension Bridge.
Don't miss out- The scenic Cruise Tour in San Francisco. Featuring destinations like Alcatraz, drive over the Golden Gate Bridge, wander around Fisherman's Wharf, and others. This will be so much fun for you (and I really mean it).
Capture view from feets above in Cable cars, or steep into the neighborhood of Chinatown. Chinatown is most prominent as it's considered the best Chinatown outside China. With Chinese restaurants, shops and streets you will have the best time of your life in Chinatown.
What's more in San Francisco?
San Francisco has it's lip smacking dishes for you to fall in love with. Experimenting always with bread, this country has top dishes like Dutch Crunch bread, Apple Fritters, Coffee Crunch Cake, and Cheesecake. These are some must try foods in San Francisco.
After filling your heart with a San Francisco treat. Head over to Alcatraz Island, a beautiful place which is the most favourite of tourists in San Francisco. And one of the best places to visit in the United States.
Here are some special mentions when it comes to best places to visit in San Francisco- Palace of Fine Arts, Golden Gate Park, Legion of Honor, Alcatraz Island
So, share your experience, and tell us your favourite place in San Francisco that blew up your mind.
3 Grand Canyon- Ideal destination for adventure seekers
The Grand Canyon drives a million visitors every year. Fascinating views and awe-inspiring natural landscapes that are ideal for a vacation. This place is overwhelming for the one who loves adventure and trekking.
Road Tripping, biking, hiking, are some main reasons for people to come here. Located in northern Arizona, it is the longest canyon in the world but an overwhelming size and colorful landscape.
Some parts are known for wildlife viewing, historic sites.
Don't miss the hiking opportunity in the Grand Canyon among the mountains and valleys. Ride over the train which is about 60 miles south of Grand Canyon's South Rim.
The most awful drive near the Grand Canyon is one of the best things to do in the United States. Or capture a glimpse of a beautiful sky filled with stars on Camp. Camping facilities are available at many places in the Grand Canyon.
The Grand Canyon is famous for its richness hidden in nature's beauty. Vast open sky, rocky lands, isolated trails, village lifestyle make it fun for all. Grand Canyon Village, North Rim, Rim Trail, close to the heart of many.
The Skywalk and The North Rim, are must-visit places in the United States, Grand Canyon.
From Williams, AZ is a train trip that delights its visitors with great sceneries.
If you are someone much into water sports. The Grand Canyon's Rafting trip is a must for you. Float over the Colorado River through a raft. All in all, the Grand Canyon is one of the best places to visit in the United States for adventure and fun.
4 Los Angeles- One of the best places to visit in the United States
Incredible city Southern California which is equally intricating with a thriving culinary scene, incredible shopping, outstanding museums, and fun family attractions.
One can definitely say that Los Angeles has the best beaches in all of the United States. Sprawling beaches, that come up with endless fun for Tourists. A sunny day at the beach in Los Angeles is the best trip one can imagine.
With Universal Studios Park, you will see the best theme park in the US. mind-blowing rides, TV TV-themed rides, and sets like Jurassic World – The Ride, The Wizarding World of Harry Potter, Despicable Me Minion Mayhem, The Simpsons, Transformers, and much more. It's like heaven for kids. No doubt it's one of the best places to visit in the United States for kids.
With crazy fun at a Theme park, you can't miss Disneyland. Disneyland needs no introduction!!! Take a trip to Disneyland, for awesome rides, games, adventure, shopping, and entertainment of all kinds.
Los Angeles has a whole treasure of delightful sites for you. No doubt it's one of the best places to visit in the United States.
Hollywood, is a destination in itself in Los Angeles. Hollywood sign, Hollywood Boulevard, and the Chinese Theatre are undeniable sites in Los Angeles. Walk of Fame lets you meet your favorite Hollywood celebrities. Must visit the United States.
Although beaches, Hollywood, Disneyland, are the soul of Los Angeles. But, don't miss sites like Griffith Park and Griffith Observatory, Santa Monica, and Natural History Museum of Los Angeles County.
5 Yellowstone- World's First National Park
Be ready to get stunned by the natural beauty of Yellowstone National Park. Every Year millions of people come here to visit the most beautiful destinations in the United States.
Popular as World's First National Park, it is bound with hot springs and many geysers.
With must-visit springs like Grand Prismatic Spring, The Old Faithful Geyser, Morning Glory Pool, and Upper Geyser Basin. Grand Prismatic Spring is the 3rd largest spring in the world. The Old Faithful Geyser erupts after every 90 minutes with grace. Yellowstone is an amazing place as you will see springs with different colors. Which are both amusing and delightful to see. These different colors of springs come from different bacterias. Capture the most beautiful and colorful springs of Yellowstone.
Best place for photography with a backdrop of beautiful hills and mountains. If you are planning to visit the United States in winter, Yellowstone is a must-visit then. No other place is beautiful in winters like Yellowstone. Yellowstone offers the best skiing experience for all.
The Grand Canyon is also a part of Yellowstone. You can take a trip to Artistic Point and Lower Falls here.
Fill your memories with a scenic drive at Hayden Valley. Hayden Valley is one of the best places to visit in the United States to see wildlife.
What's more in Yellowstone? Be ready to be amazed by geothermal activity. The place experiences a rise with Molten mantel rock which is light and hot. Yellowstone is home to approximately 10,000 geysers.
Yellowstone features great wildlife with Black bears, grizzly bears, deer, elk, bison, and wolves can be found.
Spend a whole day in Yellowstone visiting the amusing sites or drive along to capture the beauty of Yellowstone.
Hawaii- The Land for Tropical Dreams
6 Florida, Orlando- Land of World famous Theme Parks
Been to Florida before? The place is like a big Theme Park. Home to Disney World and Universal Studios, no doubt it's a favorite of Kids.
But wait, Florida has got much more than Theme parks. I have discussed a bucket list of amazing things to do in the United States, Florida.
Fulfill your life's best moments in Finland with famous beaches, historical cities, and world-famous theme parks.
Open your book of fantasy with Spring of Devil's Den, 120 feet in diameter. Or splash into the water with amazing rides at Ginnie Spring.
You can spend a day enjoying the fullest in Theme Parks, thrilling over roller coaster rides, watching dolphin and whales show. Botanical gardens in Finland let you Florida's beautiful flora and fauna. You will find many orchids to alligators in botanical parks.
After a fun day in Finland, you can relax along the lakes and streams.
A guide to having the most fun in Theme Parks- Finland has been a paradise for all fun-seekers. While in Finland, don't miss- The Wizarding land of Harry Potter, Wynwood Walls,
Beaches in Florida let you get the most out of your trip. With sparkling water, soft sand, and amazing water sports you will never get bored in Finland. Especially beaches like South Beach, Fort Lauderdale Beach, Clearwater Beach, Playalinda Beach, and Henderson Beach State Park.
How was Finland to you? Share your experiences with us.
7 Las Vegas- A city with iconic neon lights and famous sites
Can you imagine a city in the middle of a desert? But here you have the beautiful and colorful city of Las Vegas.
Famous for its casinos, with popular names like- The Venetian Casino and Grand Canal, The Mirage Casino and Volcano, MGM Grand Casino, New York-New York, and the Big Apple Roller Coaster, and much more on the list.
Las Vegas features gambling, showgirls, and lavish performances. The city has got many things to impress all age groups.
The Strip, the Main Street in Las Vegas which is decorated with impressive fountain shows, a replica of the Eiffel Tower, and of an Egyptian pyramid, among other landmarks.
Not a surprise but, Las Vegas is one of the best places to visit in the United States without any doubt.
Taste the life of Italy in Las Vegas itself. Italy's famous Venice is replicated so beautifully in LA that you will feel you are in Italy itself.
As you know, the Strip is a street that is most fabulous with its fountains. Strip has many games, slot machines, and table games. But you won't regret laying your money on the line.
Las Vegas is definitely for fun. And the most exciting part is it is like a treat for all golfers out there. With 55 golf courses in the city.
Drive outside the city of Las Vegas, to explore some exciting activities outdoors. With landscapes that will fill your heart, you can dive into hiking, mountain climbing, or camping in Las Vegas.
No doubt it's one of the best places to visit in the United States for casinos and relaxing.
8 New Orleans- An unique city with great culture, cuisine, and architecture
New Orleans has something new for its visitors every time. A perfect combination of architecture, culture, and cuisines. Here you will find cuisines that will force you to overeat.
Plentiful live-music clubs where you can experience the best nightlife in the United States. Live music if Orleans is world-famous. Performers come on streets, bars, restaurants, parks to perform live.
Authentic areas of Bourbon Street and the French Quarter are home to dozens of art galleries, museums, restaurants, bars, and street performers.
To explore New Orleans in a day, get the swamp and airboat tours. The ride takes you to explore boars, waterfowl, and of course, alligators.
Searching for a refreshing place to chill? New Orleans has got one. Visit the Garden District to refresh yourself in beautiful green gardens. Tourists spend the whole day indulging in relaxing in Garden District. And the place also offers a lot for shopping lovers. Shopping, food, and drinks are on your way in the cool city of New Orleans.
Are you a sports lover? Then New Orleans is perfect for you as it organizes many sports events. Basketball, baseball, football, or another type of sports are moving sports lovers to New Orleans every year. No doubt it's one of the best places to visit in the United States for music, relaxing, shopping, and sports.
9 Washington DC- Capital of United States | Charming and attractive
As the Capital of the United States, it is dipped with famous museums, monuments, art venues, cool nightlife, and trendy shops.
The main feature of the place is that the 2 most important buildings are easily accessible from here. The White House and Capitol Building are in Washington. These are the 2 most visited buildings in the United States.
Washington has got over a hundred museums. But there are some famous names that you must definitely visit on the go. The United States Capitol and Capitol Hill are appreciated as a symbol of the United States. Beautiful dome structure designed with a marble terrace. The building offers beautiful views over the mall and the city.
The Lincoln Memorial and National Mall and Veterans Memorials are some of the notable memorials in the United States. One more name that is popular worldwide is "The white house". The official residence of the President is a beautiful house that is equally iconic. Other special must-visit places in the United States are- The Washington Monument, National Air and Space Museum, National Gallery of Art, Jefferson Memorial and Tidal Basin, and others.
Other than museums and art galleries Washington is known for its nightlife and charming cities. The restaurants can fill your heart with appetizing dining experiences.
10 Portland Oregon
11 Chicago
12 Texas
13 Miami
14 Houston