Echo Point, Munnar
Do you know want to listen to your voice hitting back as soon as you say? Sounds great right. One of the best places to visit in Munnar starts with this place on top.
Echo Point,15 Kms from Munnar at height of around 600 feet is phenomenal place for you. Get your voice float back to you at Munnar's Echo Point.
Situated in the laps of beautiful Kundala Lake. The Echo Point is not just a place with a mountain.
Echo Point is blessed with foggy mountains, greenish hills and greenery spread all over. The place is picturesque with scenic beauty and no disturbance.
Have fun on this spot screaming name or some funny stuff and getting it back again and again.
Basically, Echo point consists of e very famous South Indian mountains. This mountains are another famous destinations in Munnar. But that's a different story.
These 3 mountains are Mudrapuzha, Nallathanni and the Kundala ranges. These beautiful mountains stand in around the Kundala lake. Take great pictures with Lake and misty background supporting you. Tourist prefer this place over others for having great time alone.
You will have a lot of other fun activities along with echo here. You will spot many native birds flying around here. Totally a treat for bird watchers. On the top you will find many stalls selling local items.
The flowers blooming here is a blissful view. If you are lucky you will find some rare flowers like Neelakurinji flowers.
Place for adventure junkies and nature lovers. Boating is also an option as you can have a paddle boating experience here.
Best Time to Visit:
Throughout the year (try to avoid monsoons).
Instructions for Tourists
Carry trekking/walking sticks while ascending through the steep slopes.
Entry Fees
INR 10/adult, INR 5/minor
Entry Timings
07:00AM – 06:00PM
Kundala Lake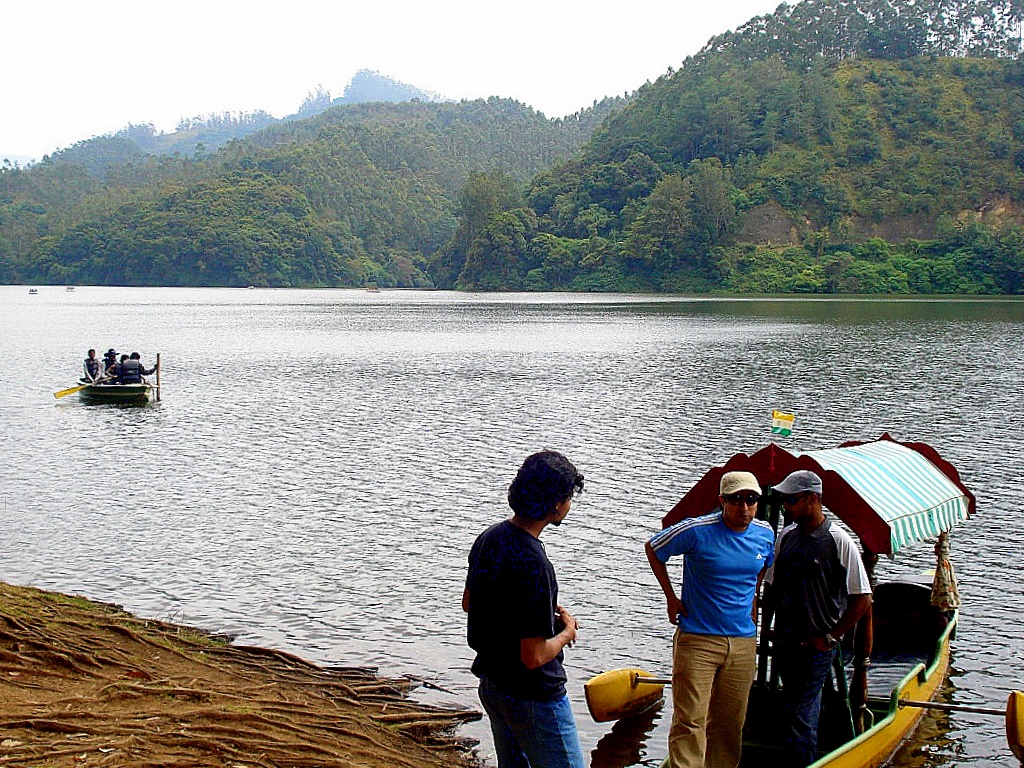 Kundala Lake is worth to have a blissful trip as the rolling mountains will roll your eyes. Artificial lake Kundala, is one of the lakes in Munnar with leisure activities.
Rising above with 1700 meters with tea plantations on the slopes of mountains. Stop by the site of tea plantation on your way to Kundala.
The mountains are kissing the blue sky as rising above making it totally a worth place to visit in Munnar.
Lake looks magnificent tranquil waters and eternal greenery. The sky is clean blue like ocean and clouds seems like pillows. The sky is reflecting itself in Lake like mirror. Most famous place for couples and honeymooners.
Kundala have one Arch Dam which is also a tourist spot of Munnar. The lake has got many fun activities like boating. It serves as a hotspot for nature lovers.
Eternal greenary in this place is blessed with world rarest flowers. If you are lucky then you can get to see some rare Nilgiri flowers.
Maybe you need some activities like golf in a beautiful place like this. And you got it! You can enjoy golf course here.
Best Time to Visit:
Throughout the year.
Instructions for Tourists
There is no entry fees. However, video camera charges are applicable. Also, bathing in the lakes is strictly not allowed.
Entry Fees
Pedal Boat (INR 100/3 persons), Row Boat (INR 150/4 persons), Shikara (INR 200/2 persons), Video Camera (INR 200/camera)
Entry Timings
09:00AM – 05:00PM
Top Station
Lying in the laps of Western Ghats, Top Station is one of the highest point in Munnar. Called Top station cause of the highest station in Munnar.
Series of greenish mountains range is scenic beauty. The clouds seems to be kissing mountains top. The temperature here is cool and can make you shiver a bit.
Glare a panoramic view of highlighting blue sky and lush green mountains. Truly a bliss in Gods own country, Kerala.
Lying in Kundala valley this place is historically chosen as transportation route of tea between Munnar and Tamil Nadu. Best place to visit in Munnar in all seasons. In moonsoon the greenery spreads all over and the view is like heaven.
You can be lucky to see the blooming rare Neelarkunji. Blooms after 12 years and is very famous.
Top Station's a blessing for nature lovers. Take a camp to this exotic place blessed by Nature. Best place for trekking, photography and mountain biking.
Best Time to Visit:
Throughout the year.
Instructions for Tourists
Top Station can be visited throughout the year. However, try to avoid monsoon (June to September) as the trails may get slippery during this season.
Entry Fees
Not applicable.
Entry Timings
06:00AM – 07:00PM
Pothamedu View Point
Pothamedhu View Point, a place best for trekking in Munnar. Pothamedu is rated highly by tourist for trekking. As you rise high up to the top you will see scenic view of mountains and hills.
Flawlessly mist with clouds the mountains are drenched with lush green bed. Panoramic view of series of mountains sloping to the side of every mountain. The view is blessing to eyes in moonsoon.
Plantations of amazing coffee, tea, cardamom, and spices will blow you off. There are several fields of plantations seems like rows.
You can go here by trekking and enjoying the trekking path up here. Camping in between is also a great option. Just as you get up here you will glance scenic view of Munnar. If the weather is clear and there is no mist. You can get an amazing view of Muthirapuzha River and Idukki Arch Dam. The view is the thing that makes this place one of the major tourist attraction in Munnar.
Best Time to Visit:
May to August
Instructions for Tourists
Take warm clothes and select your footwear accordingly.
Entry Fees
Not applicable
Entry Timings
24 hours
Eravikulam National Park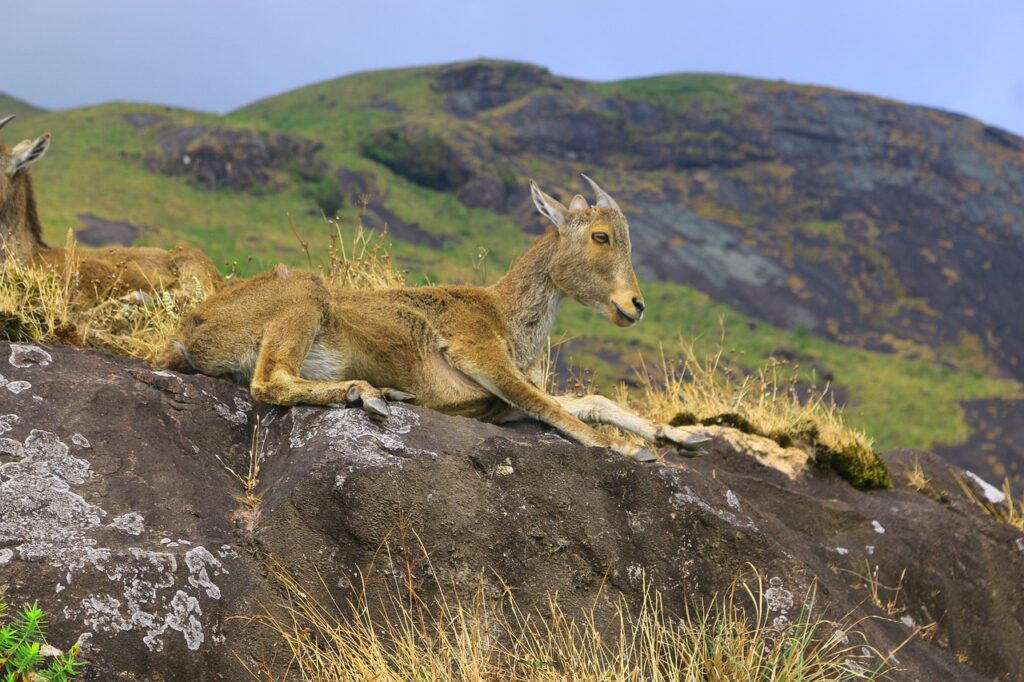 One of the UNESCO World Heritage reserve in Munnar is Eravikulum park. Park has got a diverse flora and fauna. Place to one of the rarest NilgiriTahrs.
The park has got a diverse range of wildlife and plants.
If you are looking for a trip with wildlife and nature this place is for you. Spot some endangered species here.
Spreads over an area of 97 sq.km. in Munnar. One of the must visit places in Munnar with great flora and fauna. You can see many reindeers and other animals grazing in the field. You can travel here with jeep or by road. Tourists enjoy open jeep ride sightseeing wildlife.
A perfect place for nature lovers and wildlife lovers. Some wildlife easily spotted here are Indian Muntijac, Tiger, Nilgiri Langur, Golden Jackal, and several others.
Best Time to Visit:
September to May
Instructions for Tourists
Private vehicles are strictly not allowed within the park; visitors can take mini-bus rides conducted by the forest authority. Also, the park remains closed to public during the months of February to March as it is the mating season of Nilgiri Tahrs.
Entry Fees
INR 65/Indian Visitor, INR 245/Foreign Visitor
Entry Timings
08:00AM – 04:30PM
Tata Tea Museum
Munnar is not just about nature or has got a Museum for a show of variety of antiquities. Located on a beautiful hill station of Munnar.
Get a beautiful glimpse of tea culture and how the plantation works. You should definitely plan a trip to this place for a beautiful day. The surrounding is glorified with view of greenery and mountains.
You can participate into plucking tea leaves to processing. The museum showcases a short documentary of plantation. You will also get to know how tea is processed in the factory. After strolling over you can also head to other places near by.
Best Time to Visit:
Throughout the year (November to February is more preferable)
Instructions for Tourists
Touching any museum items, carrying plastic bags, and eatables are strictly prohibited within the museum premises.
Entry Fees
INR 75/Adult, INR 35/Minor
Entry Timings
09:00AM – 05:00PM (Closed on Mondays)
Atukkad Waterfalls
Atukkad, situated between Munnar and Pallivasal. One of the best rated waterfalls in Munnar is Atukkad Waterfalls.
Waterfalls in the lush green mountains and hills. The water here is pristine clear and the water falls alluring the beauty if the place.
Attukkad is known for its enchanting beauty in Kerala. If you love to trek the place is best for leisure seekers. People prefer to trekking here. Atukkad is the best waterfall in Munnar.
Best Time to Visit:
June to September (Monsoon)
Instructions for Tourists
One has to walk thruogh a narrow wooden bridge in order to reach the cascade. Visitors should be careful while walking down the bridge.
Entry Fees
Free Entry
Entry Timings
10:00AM – 06:00PM
Wonder Valley Amusement Park
Wonders Valley, is one of the eco friendly park in Munnar. The park is located in the heart core of nature. The natural landscape is amazing and guest are pulled into the world of amusement. The place is adventurous and perfect for adventure seekers.
Best place for children and family in Munnar. You can have fun in Dashing cars, Zip Line,12D Rider, Charlie Chaplin Walk, and Natural Waterfall. Exotic rain dancing and wave pool activities are favourite of most.
For adults, the park has got Bungee jumping, rock climbing, and tree houses. This place is the best for all in Munnar. Pack your trip to this amazing destination in Munnar.
Love Kerala! Check out amazing destinations in Kerala for weekend in God's own Country
Which places in Munnar I can visit in 1 day?
A- Eravikulam National Park is best for 1 day trip in Munnar. It has never ending list of things to do. So you will have fun in National Park with wildlife and nature. Another option is Mutthepy Lake in Munnar is best.
Where should I go after Munnar?
A- Idduki is a great option after Munnar. The gate way of Thekkady, Periyar are some great option for you.
Is Munnar good place? Should I visit Munnar?
A- Yes Munnar is a great place to visit. It depicts the culture of Kerala. There are many amazing places in Munnar that you won't deny. From museum to hill station the place is best for all.