Jodhpur, an unique city coloured all in blue. Popular as the "Blue City of India". Second largest in Rajasthan the city has its own colour and history. I have brought best places for you to know the uniqueness of Jodhpur.
What's so special about Jodhpur? Well, the answer is everything. From its buildings, structures, lakes, ponds, deserts to literally it's food. Jodhpur has a lot for you. As a city in India, the morals of the city is its culture and tradition.
The Thar Desert can't have a beautifully picture without Jodhpur in it. If you want to feel some royal vibe come to Jodhpur.
Some top destinations in Jodhpur like Mehrangarh Fort, and Umaid Bhavan are known to entertain people with its charming royalty. Apart from these there are many best places to visit in Jodhpur for all.
Dive into Jodhpur which is divided into old city and new city. I have listed some of the best places to visit in Jodhpur in both sides of Jodhpur. I will help you to spend trip in Jodhpur like your dream.
Mehrangarh Fort- Most popular fort of Jodhpur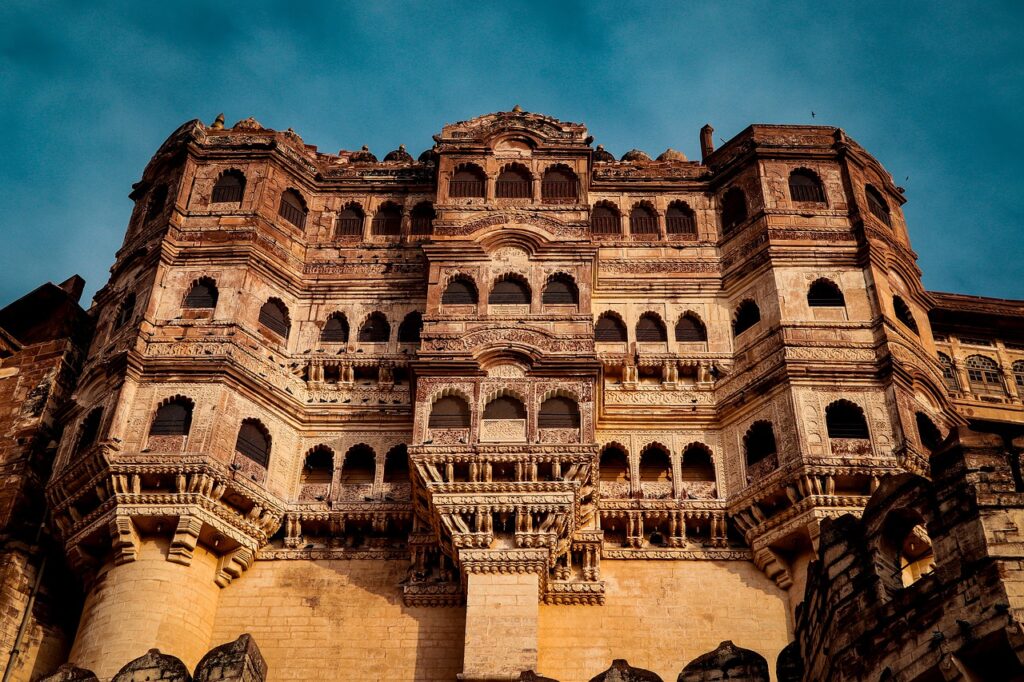 No other place in Jodhpur has got popularity like Mehrangarh Fort. The first priority of Tourists coming to Jodhpur is Mehrangarh Fort.
To no avail, the fort is one of the best places to visit in Jodhpur. Has got a perfect give of Jodhpur for you. I can better tell that you are gonna love this fort.
This royal palace was once home to Jodhpuri royals and now is a royal museum. A heritage that will take you on trip to royal abode. It has one of the largest courtyards and corridors. A great piece of architecture and design. No wonder why it's one of the most visited places to visit in Jodhpur and you will love it.
The entricacies of the fort has already many tourists you can see. Enjoy the great royalness in the fort. The rich culture of the place will make you feel the vibe of the place.
Umaid Bhavan Palace- Delighting Palace of Jodhpur
Last construction in India. Yes, it's one of the last construction in India. A popular destination that will make your trip to Jodhpur even more royal.
Popular for its architecture and design. A splendid architecture inside the city premises and easy to reach out.
The fact to amaze you is that the Palace is still home to royal families of Jodhpur. One the must visit Destination of Jodhpur.
One part of the Palace is home to royal families. Also, one phase of the Palace is a royal luxurious hotel. Also, the Palace is open for visitors. The royal Palace of Jodhpur is best known for its hotel and it's luxurious feeling. I will definitely suggest you to visit the hotel for luxurious feeling.
The detailing of the Palace is another thing to amaze you. One of the best places to visit in Jodhpur for all Tourists.
Ghanta Ghar- Most famous landmark of Jodhpur
Ghanta Ghar meaning "Clock Tower" is most renowned Destination in Jodhpur. One can glare this amazing piece from a long distance. Ghanta Ghar is most popular destination of Jodhpur.
You will just love the place with this huge clock. Creation of Maharana Pratap Singh in around 1880s and 1911. Make a good start of your trip in Jodhpur with this amazing place in Jodhpur on your list.
Not just a clock to entertain you. You can literally get a hell lots of things to do near Ghanta Ghar. The shopping in the area is most famous in Jodhpur. Dazzling till late night the shopping centers will not disappoint you. A total hub for women and men's wear. Also feel the local lifestyle of Jodhpurs people's. The night at clocktower is most amazing as it's lit during night.
The clock seems like in some Foreign country. Lit with blooming lights is the next thing you will fall for. Ghanta Ghar is one of the best places to visit in Jodhpur for nightlife.
The nightlife of Jodhpur can be enjoyed in Ghanta Ghar. One of the must visit place in Jodhpur for couples.
Flying fox- Adventure in Jodhpur
Kick off some adventure in Jodhpur. Are you in love with some adventurous activities. I can bet that this is the most fun place in Jodhpur for adventure lovers.
As myself a lover of such places. I can tell how amazing this destination fells. As can be seen in the photos the place is full of enthusiasm and passion for adventure.
An adventure park in Jodhpur to have some adventurous activities in Jodhpur. Not just rope ride, the place is full of thrilling activities. If you are a adventure jerk just an ideal destination for you in Jodhpur. Most fun activities I have listed for you are rock climbing, zip lining, rope rides. Got fear of height, well if so not a place for you then. Most amazing Destination in Jodhpur for youngsters and teens.
If you are not so into adventure you can just have the panoramic views of the place. Also a treat for photoshoot lovers. All in all one of the best places to visit in Jodhpur for adventure lovers.
Jaswant Thada- Most stunning place in Jodhpur
Stunning and spectacular are the words for this magistic Palace. Palace of Marble, made in 1899 by Maharaja Jaswant Singh. So named as Jaswant Thada. Most spectacular architecture in whole Jodhpur.
If you are visiting Mehrangarh Fort come visit here as well. The cravings will stunn you. A mighty Palace in the tranquility of Jodhpur. Jaswant Thada is one of the best places to visit in Jodhpur.
To get a lot of the trip to Jodhpur consider Jaswant Thada as the must visit place in Jodhpur. You will see many structures of marble but this is most unique and different. To increase the beauty of the place the grounds are spread in designing gardens. Gardens, portraits, gazebos, and walls will stun you. Most admirable during sunset time as the golden colours spread on white marble making it look more stunning.
This picturesque scenery of the palace will not disappoint you. In this blue city, you will have Jaswant Thada to entertain you. One of the best places to visit in Jodhpur.
Kailana Lake- Beautiful lake admist Jodhpur
Artificial lake is one of the best places to visit in Jodhpur. Kailana Lake was made by Maharana Pratap Singh.
The lake is having one of the best places to visit in Jodhpur. In whole city it's one of the most famous attraction. It's 84 sq. Kilometres in area. The tranquility of the Lake is a paradise for birds watcher. Most famous attraction in Jodhpur for birds watching. Surrounding is lush greenery that you will love to spend time in.
The lake made by Maharana Pratap is one of the best places to visit in Jodhpur. A pristine lake that has got many fun activities for you. One of this is boating. Boating is enjoyed by many tourists in Kailana Lake. Many birds give a visit to this lake. A perfect picnic spot in Jodhpur for all. Relax in the serenity of Kailana Lake in one of the best places to visit in Jodhpur.
Apart from boating and bird watching. You can also visit other attractions of Jodhpur like Machia Biological Park, and Machiya Fort. After enjoying time in laps of pristine lake you can stroll to parks and forts. Kailana Lake is one of the best places to visit in Jodhpur for all types of Tourists.
Mandore Gardens- Architecture splendor and beautiful gardens
Famous for historic and architecture heritage. One of the best places to visit in Jodhpur if you have a thing for historic values. Attracts a bunch of Tourists in Jodhpur. Mandore was once capital of Marwar. This beautiful Gardens are here since 6th century.
In Mandore Gardens you will find an amazing Government museum. The Museum attracts a fancy number of tourists every day. "Hall of hero's" is the name of the museum. Get a perfect blend of history, culture and spirituality in Mandore. No doubt it's one of the best places to visit in Jodhpur.
Apart from the Halls of heros. Mandore Gardens are known for temple. The temple is dedicated to 33 crore Gods. Isn't it amazing. The reason it's must visit place in Jodhpur is the temple that has numerous artifacts and statues. The place is both religious and calming. A perfect architectural piece you will love to visit. One of the best places to visit in Jodhpur rated by Tourists.