Talking about Bangkok, what's the thing that comes to your mind? Thai massages, spas and parlours? It's in Bangkok's every corner. If you are looking for some best places to visit in Bangkok. I have listed some top destinations in Bangkok.
The extravagant city is known for lovers. Ideal destination for couples. To turn over the vibe of relaxing to adventure and fun Bangkok have many places. Place flooded with wanderlust Tourists.
The vibe of Thai culture and extravagant city life. Alluring destinations in Bangkok are proof of the popularity among the honeymoon couples. The rage of Thai cuisine is amazing. Most popular among Tourists. Bangkok offers a blissful experience to its visitors.
Are you a solo traveler or a taking a bunch of junkies with you? Bangkok is a place for all. Be it a solo traveller or couples on trip.
You will have most amazing experience in Bangkok. Listed best places to visit in Bangkok for couples, friends and families. Want to get the whole beauty of Bangkok? Sightseeings in Bangkok best rated by Tourists.
Starting off with top places in Bangkok for couples.
Grand Palace- Ideal for couples
Always on top for best places to visit in Bangkok for couples. What's so special in the Grand Palace? Oldest and most awakening romantic place in Bangkok for couples.
An authentic Palace glorifying the heritage in Bangkok. Elegant and spectacular Palace which is heart of the Thai kingdom. Once was home to king of Thai. Made in 1782 around 150 years back. If you are searching for an ideal place to hangout and spend time it's the place for you.
Mostly couples have a beautiful date at the place and have a treat of cuisines of Bangkok. The place is flooded with fun things to do.
While taking the visit at Grand Palace you get a bunch of other attractions also. First in the list is Temple of the Emerald Buddha (Wat Phra Kaew). And many other attractions in line. You can go on shopping in Tha Tien Market of Bangkok.
Don't miss a chance to get the romantic date at royal palace. No doubt one of the best places to visit in Bangkok for couples.
Top attractions of Bangkok near Grand Palace Bangkok
Temple of the Emerald Buddha (Wat Phra Kaew), Wat Phra Chetuphon, Phra Si Ratana Chedi, The Upper Terrace and Nok Thai Tour.
Wat Arun Towers, Bangkok
Gloriously known as "Temple of Dawn". Towers with immense beauty.
Gloriously standing 260 ft above. No doubt one of the best places to visit in the Bangkok for couples.
Setting sun and shinning War Arun is the next thing you will fall for in Bangkok. Gathers a huge crowd of couples and tourists. Closely situated near Beautiful Chao Phraya River. Tower is both known for its architecture and beauty. Climb the temple to get a spectacular view from top. Mostly tourists enjoy the sunset view from top when the city seems shrine of gold.
One of the best rated place in Bangkok for couples and friends. Close to Palace of Bangkok. An holiest shrine and temple worth visiting. Worth visiting? Cause it's one of the best places to visit in Bangkok without this location your trip to Bangkok is incomplete.
The Temple of Dawn is not the only place around. Around the Wat Arun you will get bunch of other attractions. Some of them listed below for you.
Top attractions of Bangkok near Wat Arun-
Grand Palace, Wat Phra Chetuphon, The Market Experience, One Pho Massage, and The Chakri Group (Phra Thinang Chakri Maha Prasat).
Chao Phraya Dinner Cruise, romantic place in Bangkok.
Lastly, one of the best places for couples in Bangkok- Chao Phraya Dinner Cruise.
No wonder if someone says it the pride of rivers in Bangkok. One of the most romantic place in Bangkok for couples. A river with eternal beauty. No matter day or night the river is all time a beauty. Experiencing exotic cruise dinner in Bangkok is must. A romantic evening followed by International cuisines. One can enjoy the beauty of Bangkok's skyline with romantic music and dinner.
One of the largest and luxurious Princess river cruise in Bangkok. The cruise in front side of river and many cafes and restaurants along the side of River. Enjoy the sightseeing of the river with your loved ones.
Mostly the place is known for a candle light dinner with Exotic music. The cruise is for 2 hours and you can go at other beautiful attractions of Bangkok after the cruise ride.
Top attractions near Chao Phraya River- The Grand Palace and Wat Phra Keaw, Wat Arun, Wat Pho, Thonburi canals, and Sky Bar at Lebua State Tower.
Wat Pho- Ideal destination for family and friends
Starting off with amazing list of travel places in Bangkok for family and friends. With your family to Bangkok? Well, the places in Bangkok are flooded with spiritual Places. Wat Pho an ideal temple of Buddha.
Teachings of Buddha is engraved in the temple. "Temple of reclining Buddha" as popularly known. Buddhism and tradition holds in the place. The temple is focused on the teachings and culture of Buddha.
Many tourists attract here making it one of the most visited place in Bangkok. A large temple spread over 8 acres. Adorned with precision stones and marbles. Pure beauty standing it's 108 signs of true faith.
Close to the royal Palace of Bangkok. One of the best places to visit in Bangkok you shouldn't miss.
Sea Life Bangkok Ocean World
Sea Life Bangkok Ocean World- Aquarium of Bangkok and largest in Asia. Most famous place in Bangkok. Aquarium of immense beauty. Spread over 110,000 sq ft is heart of Bangkok. Facilitates underground the Aquarium is hole to 400 species of fish.
Sharks, fishes, penguin, Coral reef, and many other fishes are siding here. An amazing experience in Bangkok for aquatic life lovers. The Aquarium is located in the Siam Paragon mall. The mall is place where you can see the most amazing collection of sea horses, octopuses and sharks.
The Aquarium is one of the best places to visit in the Bangkok with Family. Things to do in Sea life Ocean-
Chatuchak Market, King of Markets in Bangkok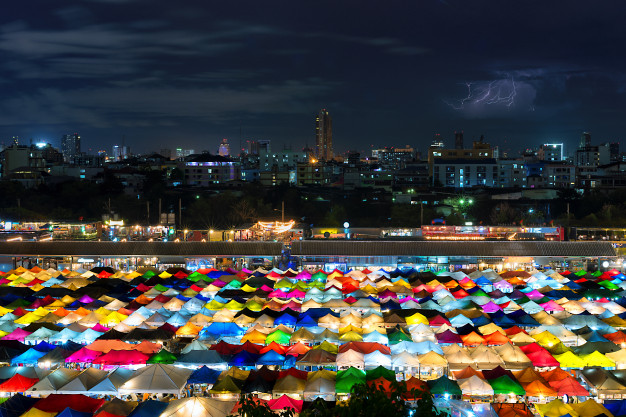 Chatuchak Market, Popular as 'King of Markets' in Bangkok. If traveling with family or friends to Bangkok this is the ideal destination for shopping in Bangkok. If you are going with a shopping lover.
Well they will buy stuffs till you can't carry more bags. Market spread over 35 acres is selling everything. From furnitures, food, books, clothes, antiques, to art all in your way.
Well, for a bargainer it's a sheer opportunity to show your skills. You can get a fancy discount if you bargain well. Diverse collection of all things are available in Chatuchak.
Tourist head here in around 200,000 visitors to find best deals. One of the best places to visit in Bangkok with family and friends. The glimpse of the market when seen from top is unique and colorful.
The food delicacies of Bangkok will get on your nerves. Serving tasty food items of Bangkok in the market. After a weekend trip when it's time to head home this place will help you to get Bangkok's vibe along. One of the must visit place in Bangkok for shopping. Love cute little pets, Chatuchak is also a hub for buying pets. Clothing lines in Bangkok are its pride. From Fashionable clothes to Bangkok's traditional wear all stuff available here. Art in Paradise, Bangkok
Why is Bangkok famous for?
Most famous for its revered nightlife scene and carefree atmosphere, this is where 99% of all youngsters will find themselves at least once when in Bangkok. It is also an accommodation hotspot for many as a great variety of cheap accommodation types can be found within the vicinity of Khao San Road
Is Bangkok cheap or expensive?
Daily Budget For Budget Travellers In Bangkok

Despite its size and relatively high level of development compared to other cities in Southeast Asia, Bangkok can be an incredibly affordable place to travel if you're willing to live and eat like a local. It's possible to get by on 1,000 to 1,500 baht per day in Bangkok.
Is Bangkok safe for female tourists?
Bangkok is generally safe for travelers of all genders and races, even compared to other megacities across the world. As a solo female traveler, you can wear almost anything you want, roam the city on a whim and even go clubbing on your own (though you should do all of these with caution—see our safety tips below
What is Bangkok famous for shopping?
Bangkok shopping malls.
Chatuchak Weekend Market.
Night markets.
Floating markets.
Asiatique: The Riverfront.
Siam Square.
Sampeng Lane.
Pantip Plaza
Is Bangkok part of China?
Bangkok is the capital and most populous city of Thailand. It is known in Thai as Krung Thep Maha Nakhon or simply Krung Thep. … The city is now a regional force in finance and business.
What is the best nightlife area in Bangkok?
Here are 13 of the best places for fun nightlife in Bangkok.
Chinatown. Image credit: Ninara (via Flickr) …
Khao San Road. Image credit: Justin Vidamo. …
Rambuttri Village. …
RCA. …
Patpong. …
Soi Cowboy. …
Nana Plaza. …
Thonglor.
Is Bangkok nightlife safe?
Bangkok is safe for solo travelers, and a great first city to solo-travel in. I've been going there for the past 15 years and have rarely encountered any problems. However, there are areas of Bangkok that are all about partying and drinking, and the biggest incidents happen when people are drunk and stupid.