Want to explore the blend of culture and heritage in India's capital? Old legacy of Mughals and New Delhi are totally worth to watch. Delhi's culture, cuisine, street life, shopping are totally a treat. You will get every destination dipping into unique story and culture. Take a trip to some of the best places to visit in India.
Delhi is blessed with many Mughal structures and World heritage. Delhi has got many fun places and flea markets for you. A perfect plan to travel for a solo trip or with family.
Humayun Tomb, Delhi
Looking for a place in Delhi for a wonderful evening trip? Humayun Tomb would be great for you. The last place of Mughal Emperor Humayun's resting, is Humayun Tomb. The splendid architecture of Humayun is adored by everyone.
The first garden tomb in India.
Made of red sandstone with great architecture. The designs are splendid day amazing. The tomb is huge from inside and have many corridors. You can strall im the tomb as you wish. The tomb is magnificently build in middle of Mughal Garden. The entire place is lined with trees and plants which are well maintained. The tomb sits on the banks of Yamuna. Very close to Yamuna river and the atmosphere is cool and comfortable.
Humayun Tomb is known for its picersqye beauty. It has big pillars, arches and beams and corridors. The huge hallways will make you feel like you are in royal palace. For Indians the charge is only 30 Rs. Depending on different nationalities the price may differ.
In Humayun Tomb you will see amazing other monuments in Delhi-
Tomb and mosque of Isa Khan- A mausoleum of Isa Khan Niyazi. An octagonal tomb surrounded with garden and beautiful structures.
Bu Halima's tomb and garden- Tomb on West side of entry of Humayun. Great tomb for site seeing. The gardens here is magistic.
Afsarwala tomb and mosque- Akbar's court and mosque.
Nila Gumbad- A magnificent "Blue Dome". Blue Done is beautiful and perfect for photoshoots.
Humayun's Barber's tomb: On East corner of Bagh. Resting place for Humayun barber.
You will get many things to do in Humayun Tomb. That's the reason why it's rated as one of the best places to visit in Delhi.
Haus Khas
Neighborhood to Delhi, Haus Khas is a very famous village of Delhi. Near to South Delhi, Haus is one of the best places to visit in Delhi. One of the popular ancient times village. The village holds the flavour of Islamic tradition and heritage.
Starting with Haus Khas? The heart of Haus Khas is Haus Complex. Mehak Ka chota quilla is another name to it. Surrounded by magistic parks of Gulmohor and Green Park.
The place is perfect combination of urban and rural life. Most Popular for "HKV". It's an intricate combination of nightlife in exotic bars and cafes.
The place popularly known for water recievors. Haus Khas Fort is another tourist attraction in Delhi. Fort is popular for its ancient patterns and grand Gardens. The gardens are perfect for you to chill out. Enjoy the beautiful events by many cafes. Shops are must visit in here. Haus Khas is the coolest place for nightlife in Delhi.
The place is known for its deadly combination of urban and rural lifestyle. From ancient structures to dazzling nightlife this place is perfect. You should not miss this place in Delhi.
Qutub Minar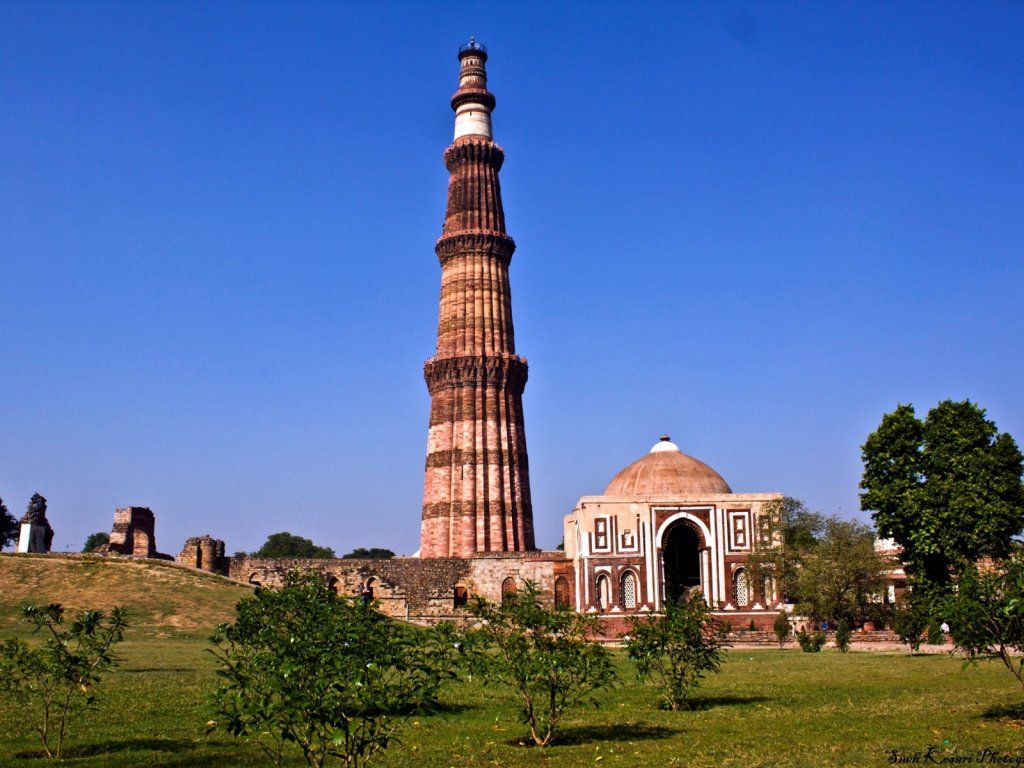 One of the India's pride structures. Hault your trip to this valuable structure of India. Declared as UNESCO world heritage site in Delhi. Rising high at 72.5 meters. The structure got the 2nd place for its height in Delhi. One of the popular destination in Delhi is Qutub Minar.
Made of red stone and structure consider of five stories. You can get at top of Qutub Minar by hailing by 379 steps. Replicates the "Minaret of Jam" in Afghanistan.
The Minar have other great structures like Qutub complex, Iron pillar, and many more. The beauty of the place holds in its entirety beautiful architecture.
Looking for a trip which have many great monuments at same place? Qutub Minar has got many other famous destinations around it.
Red Fort
Red Fort, Popularly signed as "Lal Quilla". Historical foundation and main residence for Mughal Emperors. The Mughal families enjoyed the glory of this place for thousands of years.
If you are searching for a place with great structures and to know more about Mughals history then this place is perfect for you.
This place holds a bunch of museums for you. The structure is glorified with Persian and Mughal architecture.
The architecture makes the name of the structure more meaningful. Fully made of impregnable red sandstones. This place has a great honour and Every year Indian prime minister connects to the country from here.
You will have a wonderful day strolling around and inside this magistic structure. Quilla is one of the famous and best places to visit in Delhi. Choose some comfy clothes with flat sandals. You will get many food stalls around to fill you up.
Delhi Zoo
Chidiya Ghar of Delhi is the most visited place in Delhi. Located near Old Delhi. Famous destination in Delhi for Children's and families.
Well maintained zoo and great sightseeing tour for wildlife lovers. The park has many big cats and birds of different species. The zoo is famous for tinest birds to big birds. The zoo caters canteens inside for you to take some rest. The real fun is exploring the site on your feet.
You will get to see many tourists heading to zoo. The environment is very cool and fun. At very low rates you can enjoy many fun activities in Delhi Zoo.
You should definitely head to this amazing zoo with your picnic box. It's important to wear some comfortable pair of clothes and shoes. Heels are not comfortable as you need to explore the place on your feets.
Akshardham Temple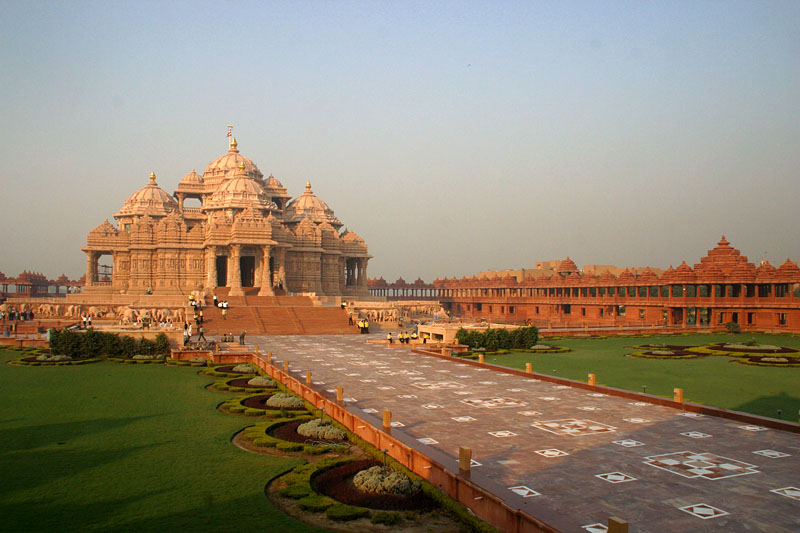 Want to see the religious side of Delhi? Akshardham is most famous religious spot in Delhi.
The epitome of Hindu religion and spirituality holds Akshardham in it. Temple depicts the culture and architecture depicting Hinduism. Lord Swaminarayan's temple and sign of great architecture. This amazing temple have its name written in Guinness world records for Largest Hindu Temple.
You will see 8 glorious architectures of Temple. See the teachings and practices on the walls of the Temple. Situated on banks of Yamuna you will find the place cool like water.
The magnificent idol of Lord and thousands deities shower the essence of Hindu religion. In Akshardham you will find the largest step well leading to Yamuna. Magistic structures lead this place a number of tourists.
Apart from religious significance you will find fun activities here. Take a stroll at the exhibitions here. Art, culture and spirituality is the main concept of the exhibitions. Sahajanand Darshan known as The Hall of Values is most famous attraction in Delhi. You will have great fun here seeing the 3D dioramas. The religious teachings are shown by 3D dioramas.
To know more about Hindu culture you will see many Darshans(short flims) in Temple. Must having glare should be the Musical fountain. The Water show is fun and exciting here. Experience the Sahaj Anand show showing the Vedic culture. The pool has nine lotus designs which look beautiful in evening.
There's a lot to explore in Akshardham from food courts to amazing places. This things make Akshardham one of the best places to visit in Delhi.
Chandni Chowk, Delhi
One of the busiest market in Delhi, Moonlight square (Chandni Chowk). Chaotic market which is best place to visit in Delhi. It's always referred to as must visit place in Delhi. If you don't visit this place in Delhi then your tour to Delhi is not completed.
Market is popular to sell everything from A-Z. One of the cheapest Market in Delhi. October to March is best for shopping in Chandni Chowk. Take a look at every srall in here. This wholesale market has got many shops and stalls. You can have a wonderful day here shopping and after that visiting Red Fort. Red Fort is opposite to Chandni Chowk. It's speciality is narrow roads and feel of Delhi shopping.
You will see a range of different markets for sarees, jewellery, footwear, accessories, sherwanis and everything you may think.
Must try in Chandni Chowk is the Dahi Bhalle. The Parantha Wali Gali is also most popular attraction in Delhi. You will have a delightful chaat of Delhi here.
Chandni Chowk is must visit place in Delhi for all reasons. You will get huge discount in this wholesale market. The prices are worth for your every Penny.
Waste to Wonder Park( best park in Delhi)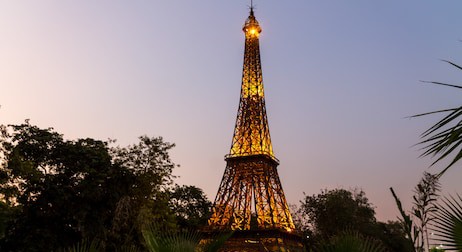 Wondering why the name of the park is Waste to Wonder Park? Basically, the park is made of industrial and other Waste materials. The creation of such a splendid park out of waste will keep you in awe.
The park is created to replicate the seven wonders of the world. The glory holds in its construction and it's one of the best places to visit in Delhi for all.
It has famous models like – Statue of liberty, Taj Mahal, Eiffel tower, the Colloseum, and others. The park has many lights and decorations. You will have fun seeing the dynamic replicas of the popular attractions. The park is highlighted to have beautiful gardens and parks.
The models looks replicas and are made out of pipes, metallic sheets, scarp materials, and other Waste materials. Great place for photoshoot and adventure seekers. The evening is dazzled with light that shines all over. A perfect picnic spot for family and selfie lovers.
Also check- 10 most exciting places to visit in India for a trip with family.
Is Delhi safe for tourists?
A- Delhi is safe for traveling. But you should be cautious about the surrounding. You should take a guide before you visit somewhere. Mostly it's recommended to stay in your group and don't go to suspicious Places with unknown person.
Which are top sightseeing sites in Delhi?
A- Delhi is loaded with fun places. If you are interested in historic places you should definitely visit here. Humayun Tomb, Haus Khas, red Fort are most famous attraction in Delhi.